L3Harris to pay nearly $2B for Viasat secure data business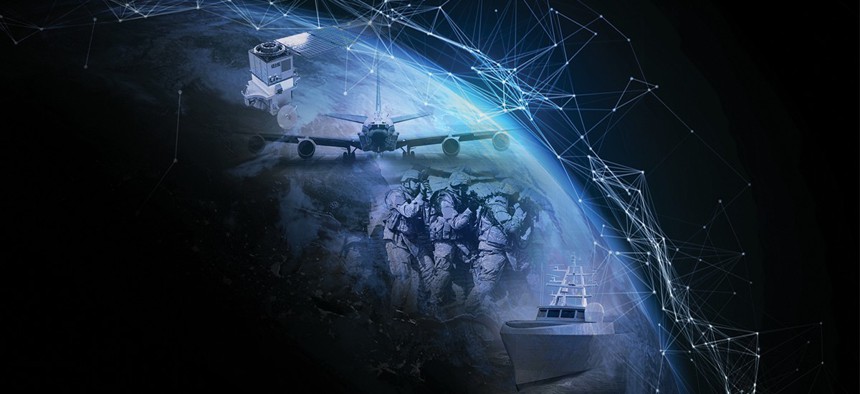 The seller is in the midst of its own acquisition that also represents industry consolidation.
All transactions involving two publicly traded companies say as much about the acquirer as it does about the seller. A case in point is the deal announced Monday involving L3Harris Technologies and Viasat.
L3Harris has agreed to pay $1.96 billion to acquire a portion of Viasat's government systems segment named Link 16, a secure communications network used by the U.S. military and NATO partners to move data between soldiers and systems.
The Link 16 tactical data link products include multifunctional information distribution system platforms and terminals for integration onto military aircraft, ground vehicles, surface vessels and operating bases.
L3Harris has been a major subcontractor to Viasat on Link 16 for nearly two decades.
All parties expect to close the transaction in the first half of 2023, subject to regulatory approvals and other conditions.
The buyer would also add nearly 450 employees of the Link 16 business, which Viasat said generated approximately $400 million in annual revenue at nearly 35% of government systems sales per year for the 12 months ended June 30.
L3Harris has been more of a seller over recent times as the company embarked on a divestiture agenda since the merger in 2019 that created the defense company touting itself as the market's Sixth Prime.
Melbourne, Florida-headquartered L3Harris sees the addition of Link 16 as extending its reach into the U.S. military's Joint All-Domain Command and Control construct.
Also known as JADC2, the construct envisions an interconnected force that can send information seamlessly between soldiers and systems. L3Harris and Viasat are two of at least 200 prime contractors that have been selected for the JADC2 effort since awards began in 2020.
"Viasat's TDL product line naturally aligns with our proven communication capabilities, and we are excited to partner with our customers and coalition allies as we modernize the Link 16 enterprise," L3Harris CEO and chairman Chris Kubasik said in a release.
L3Harris announced this transaction nearly one month after revealing it was named to a five-company consortium responsible for developing JADC2's digital backbone for the Air Force.
The Advanced Battle Management System Digital Infrastructure Consortium also includes Leidos, Northrop Grumman, Raytheon and Science Applications International Corp.
Along with the Air Force work, L3Harris is also the lead integrator for the Navy JADC2 architecture and integrated fires capability under a contract secured in July.
"This acquisition is part of our strategic effort to ensure operators have access to the most advanced, multi-function Joint All-Domain Command and Control (JADC2) solutions available," added Kubasik.
From the Viasat perspective, the satellite communications network company says it will fetch approximately $1.8 billion in net cash proceeds after adjusting for expenses such as taxes and transaction fees.
Carlsbad, California-headquartered Viasat is also working to complete its acquisition of fellow network operator Inmarsat, a transaction the U.K. government in mid-September cleared to proceed. The Committee on Foreign Investment in the U.S. has also given its approval.
The Federal Communications Commission and Justice Department in the U.S. are still reviewing the acquisition's antitrust aspects, as is the European Union.
In a blog post, Viasat CEO and Chairman Mark Dankberg acknowledged it is "unusual for us to part with one of our businesses" given its history of acquisitions.
But he also hinted at how the defense industry's merger-and-acquisition environment involving L3Harris has shaped Viasat's thinking about where it stands.
"Continued defense consolidation, and a rapidly evolving tactical network environment, deserve more ongoing investment in terrestrial data links than we can support," Dankberg wrote. "The L3Harris portfolio of related data links and tactical radios, combined with our TDL business will be very well positioned for sustained growth."
Viasat is holding onto its portfolio in satellite services and technology, information and cybersecurity, earth observation and sensing, space data relay, and alternative PNT (position, navigation, and timing).
Those areas are among several that drove Viasat to be a consolidator in its market and bring Inmarsat into the fold, especially as the former is preparing to begin launches for its ViaSat-3 constellation to start in 2023.
Dankberg wrote the sale of Link 16 will allow the Inmarsat transaction to go forward with less stress on the balance sheet. Viasat sees the sale as cutting net debt by more than 70% and the debt leverage ratio by roughly that same number.
Viasat expects its government systems annual revenue to go down to $700 million post-close, then back up to $1 billion after the Inmarsat acquisition closes.
Citi acted as financial adviser and Sullivan & Cromwell LLP acted as legal counsel to L3Harris. J.P. Morgan Securities LLC is the lead financial adviser to Viasat, which also retained PJT Partners to help on the financial aspects.  Latham & Watkins LLP is the legal adviser to Viasat.
Defense contractor L3Harris is set to buy the communications unit of satellite operator Viasat in a nearly $2B deal, @MorganLBrennan reports. $LHX $VSAT pic.twitter.com/81qqNg8YtM

— Squawk on the Street (@SquawkStreet) October 3, 2022