Forget Silicon Valley, Octo brings high-end innovation to Northern Virginia with new lab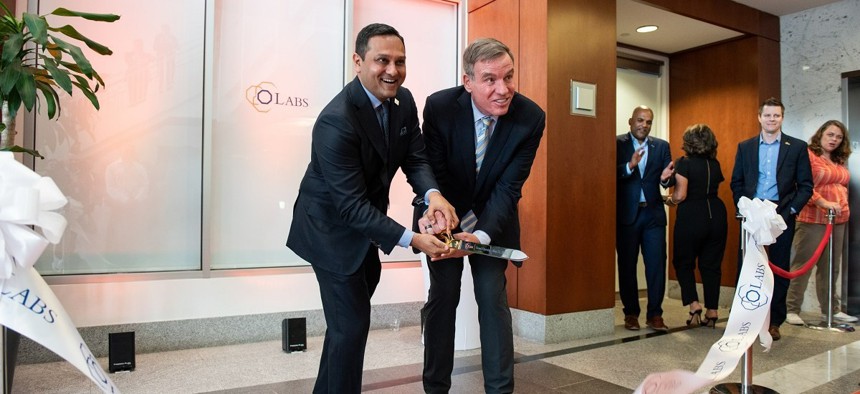 Octo technologists and their customers now have "oLabs" as a place to gather to make and try out new tools.
Octo's founder and CEO Mehul Sanghani wants the entire network of federal government customers to know, and believe, that Silicon Valley does not hold a monopoly on speed and agility in technology.
Sanghani's general response to agency leaders who call for "Silicon Valley-type innovation" (in his words) is that the government contractor ecosystem in Greater Washington, D.C. has plenty to offer as both a funnel and creator of emerging advanced technologies.
Reston, Virginia-headquartered Octo now has a showcase for its own innovation push: a 14,000-square-foot facility it calls "oLabs" to house up to 50 technology specialists at a time and present new creations to customers.
OLabs threw its doors open Monday afternoon with a ribbon-cutting ceremony. Holding the giant scissors were Sanghani and Sen. Mark Warner (D-Virginia), who chairs the Senate Intelligence Committee.
From his vantage point, Sanghani believes that often-spoken mantra of how government should pursue new technologies refers to the idea of innovation being weighed down by a bureaucratic and procedural acquisition system.
"That speed, that path to solution: you need the type of infrastructure we've invested here, you need the R&D (research-and-development) infrastructure, you need that footprint, you need skilled technologists," Sanghani told me.
"Most importantly, the missing piece, and I think this is where Silicon Valley often times struggles: they need individuals who know and understand the missions they're supporting," he said. "It's a difficult cocktail for government to pull together, and I think that's the essence of what we're trying to pull together here."
Rob Albritton is one of Octo's point people for pulling together all of what happens inside oLabs as senior director of its artificial intelligence center of excellence.
The oLabs facility is home to all of Octo's centers of excellence for cloud computing, cybersecurity, data science and the software development practice known as DevSecOps.
Defense and national security will be a main focus area for oLabs to take new technologies from the testbed into the field for soldiers, he said.
But that is not the only domain. In describing oLabs' portfolio, Albritton also referenced efforts supporting health care programs such as one involving the potential of using computer vision to detect cancer cells.
Computing power and resources are a must-have for all of that, so Octo has installed 15 petaflops of AI compute and 2 petabytes of FlashBlade storage on-site.
During our conversation Monday, Albritton referenced this 2018 speech by former Joint Artificial Intelligence Center leader Lt. Gen. Jack Shanahan that emphasized the size of computing stacks as key to technology advancement.
"If companies aren't investing in the infrastructure, they likely are not serious about it," Albritton said. "We invested, put our money where our mouth was, and now we see one of GovCon's most capable supercomputing facilities, at least on the East Coast."
Octo has invested $10 million into the expansion of oLabs, a move the company sees as necessary to keep its agility as a mid-sized business but with more resources and physical space to work with.
Not lost on anyone at Octo is the juxtaposition of cutting the ribbon on such a facility to gather people in one place amid ongoing discussions about the post-pandemic future of work.
The future of work concept arguably has become the present to some extent with hybrid becoming more of the norm across the industry and at Octo, where people have certain in-office days and work remote for other days.
Octo found that its technologists were clamoring for an in-person environment to work closely with one another when the time calls for it, Albritton said.
For example: many of Octo's machine learning engineers repeatedly asked Albritton in recent weeks and months when the oLabs hub would open.
"There is no replacement for the energy that engineers feel when they're collaborating face-to-face," Albritton said. "They don't want to do remote."
OLabs is also one of the company's tools to win at least a sliver of the hot competition for talent in technology fields like machine learning, computer visualization and others.
"Having infrastructure like this is a must if you're going to attract folks that have that skillset," Sanghani said.