Revisiting CACI's IT thesis and the big question it poses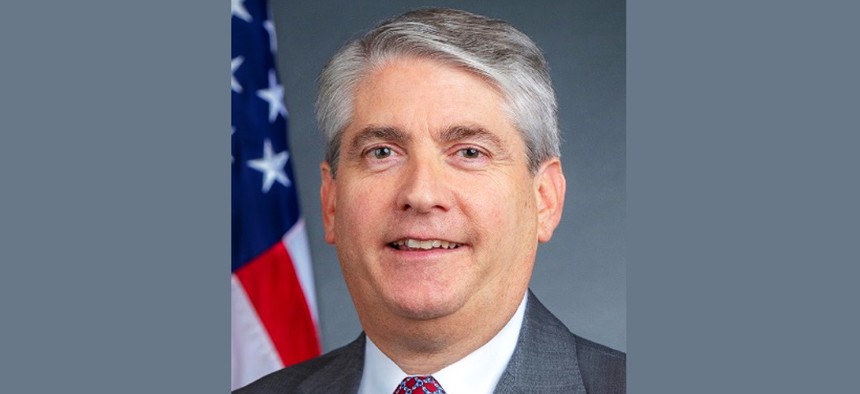 In explaining the product piece of its strategy, CACI International has said that it will not push into manufacturing larger platforms made by blue chip defense hardware companies.
CACI's approach instead is to be an enabler of those systems by focusing on the digital capabilities embedded inside of them, including the transfer of data and signals between them.
Something else not on their business agendas also gives a better understand of CACI's past, present and future.
During the investment bank Cowen's Aerospace/Defense & Industrials Conference on Thursday, CACI CEO John Mengucci said the company does not pursue what he called "large, managed service enterprise IT jobs."
Those contracts are where a contractor essentially takes on the responsibility of continuously operating and upgrading a federal agency's IT environment under an outsourcing model.
Mengucci told the (virtual) audience of investors that while larger opportunities remain a focus for CACI, the company made a decision when it was a $3 billion-annual revenue business to move away from pursuing large enterprise IT contracts.
Reston, Virginia-headquartered CACI evidently arrived at that conclusion around the same timeframe in 2012-14 that it began the shift into more of the technology direction and away from the services-defined work that shaped much of its history.
The shift coincided with the height of low-price, technically acceptable buying habits many agencies embraced.
"We just don't see the top and bottom line long-term sustainable growth model in those types of markets," Mengucci said of enterprise IT on a managed service basis.
"This company is focused on areas where technology becomes that differentiator, whether it's IT modernization, electronic warfare, cyber, AI (artificial intelligence), space," Mengucci said. "Those are the areas that we're going to play in because it's not margin dilutive."
How do we reconcile those comments about the IT work that does interest CACI versus what is not? Much of the answer depends on how one defines enterprise IT, plus the type of financial return CACI wants.
Mengucci referenced the example of CACI's $1.8 billion "BEAGLE" contract with Customs and Border Protection to modernize that agency's back-office systems with digital applications and agile delivery methods.
Example number two he cited is the work to help the National Geospatial-Intelligence Agency roll out more computer vision tools that have artificial intelligence as a core functionality.
Of course, there also are all the acquisitions CACI has made over the past 10 years of companies whose technologies and techniques allow CACI to get ahead of and even start to shape customer requirements.
Most recently, that led CACI to its acquisitions of SA Photonics and ID Technologies in quick succession over the course of this winter.
SA Photonics puts CACI where it wants to be in making space-based communications happen, while ID Technologies is about being the lead partner for helping agencies with remote access to their systems.
"It's been a long time since I've looked at us as a pure government services contractor," Mengucci said. "We're going to have a nice mix to make sure that we're moving up that chain, where technology is going to differentiate where CACI plays and where we don't."
One big question after listening to that and reviewing the narrative CACI is telling: just how many of those large, managed service enterprise IT contracts are out there for industry to chase?
There is the nearly $11 billion Defense Enclave Services competition due for an award any day now out of the Defense Information Systems Agency, whereby the winner will be responsible for consolidating and upgrading all IT systems of so-called "Fourth Estate" Defense Department agencies outside of the service branches.
Recall that the market also just went through a deluge of one large defense IT services contract after another, many of which were contested by the same group of companies.
Sizing up the market opportunity for those large IT jobs is no easy task, but pretty much all of them get protested by the same group of companies.
As contracts get larger and more consolidated, the field of companies that can afford to both pursue and work on them just gets smaller. But the losses are certainly more magnified, especially if it is a recompete situation.
Nothing wrong with shooting the shot at a large prize of course and especially if it's to take away another firm's business.
But in this market, all (in theory) should not be lost after a loss.