Top 100 changes show up in the numbers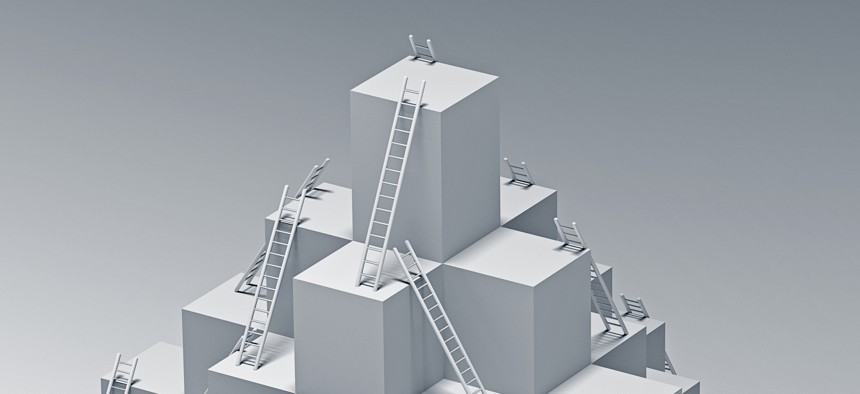 Our annual rankings of the largest federal contractors show a market of continuous change as those companies evolve and adapt.
Washington Technology's annual Top 100 rankings measure more than just the prime contract dollars going to each individual company.
After taking a step back, you see rankings as a barometer for how the federal contracting market is changing and how companies are adapting.
Let's first look at some of the numbers.
In aggregate, the 2022 Top 100 companies were obligated $136.7 billion in prime contract dollars during the 2021 fiscal year. That shows an increase of around $2.3 billion over last year, or 1.7%.
While not quite the $6.2 billion increase we saw between the 2020 and 2021 lists, this marks the sixth year we've seen growth in the total after five years of declines between 2011 and 2016. For 2011, the Top 100 peaked at $132 billion.
Now both the 2021 and 2022 lists have surpassed the 2011 peak. We don't believe this year's total is a new peak.
Civilian obligations totaled $65.4 billion for the 2022 Top 100, compared to $60 billion for the 2021 Top 100. Both are the highest we've seen. We don't expect civilian spending to drop with the infrastructure bill ramping up and the response to the COVID-19 pandemic continuing.
Interestingly to us, the defense side showed a slight drop of 2% year-over-year. The 2022 Top 100 pulled in a total of $71 billion in defense contracts compared to $72.4 billion in 2021. In 2020, the Top 100 companies received $66.3 billion in defense contract dollars.
Does that mean the defense side of the market has peaked?
Probably not. The Biden administration requested significant increases in the defense budget before Russia invaded Ukraine. China also remains high on the administration's agenda.
Civilian opportunities may grow faster, but we don't anticipate drops in defense spending either.
The 2022 list has 14 newcomers, or at least companies that were not on the 2021 Top 100.
Both Elon Musk's SpaceX and HP Inc. marking returns to the Top 100 after dropping off for a year or two. Room was created for new entrants because of acquisitions, most notably the absorption of PAE into Amentum and Guidehouse's acquisition of Dovel Technologies.
The 2022 Top 100 also reflects another growth area in the federal market in space.
SpaceX came in at No. 58 with $450 million in prime contract obligations, while Blue Origin ranked at No. 85 with $275 million.
Sierra Nevada Corp. is the other Top 100 company primarily focused on space and they have been on the list for several years. For 2022, Sierra Nevada takes slot No. 38 with $790.3 million in prime obligations.
Payload support, ground stations and mission requirement development are among the most significant categories of space work we saw emerge in this year's Top 100.
Even the No. 1 company -- Leidos with $9.6 billion in prime obligations -- views space as core market and that especially is seen in its acquisition of Dynetics two years ago.
Leidos holds the top spot for the fourth consecutive year thanks in large part to its practice of never standing still.
Acquisitions and investments in emerging technologies have allowed it to remain at No. 1. While a competitor's protest is ongoing, Leidos did capture the $11.5 billion Defense Enclave Services contract earlier this year to help the 22 non-combat Defense Department agencies move to a single IT network.
The Top 100 welcomes new entrants each year and showcase the resiliency of established federal contractors. Change and adaptability must be in their DNA in order to succeed. We see it in the acquisitions many companies make, as well as the partnerships and alliances they form with commercial technology companies.
High on their list of acquisition targets and partnerships are solutions built around important technology areas such as cybersecurity, cloud computing, artificial intelligence and data analytics.
The need to shift from legacy IT systems to more efficient, scalable and secure environments has gained momentum over the last decade and is a top priority for nearly every government agency.
We see the responses to that trend in strategic moves by companies up and down the Top 100. See No. 28 company Guidehouse's acquisition of Dovel Technologies in October as an example.
A second strategic trend we see in the Top 100 is the creation of middle-tier companies focused on national security. One example is Axient Corp. at No. 69. That company didn't exist until its launch in June 2021, when private equity firm Sagewind Capital combined four previous acquisitions into a single entity.
Axient focuses on counter-unmanned systems, multi-domain testing, digital models, software development and cybersecurity. Space Force, NASA and the Missile Defense Agency are among Axient's customers.
Each year's Top 100 shows the successful companies as the ones who embrace change. It allows new entrants to crack the rankings and the established players to continue adapting and thriving.
That's one thing we don't expect to change.