Leidos' retiring CEO explains his decision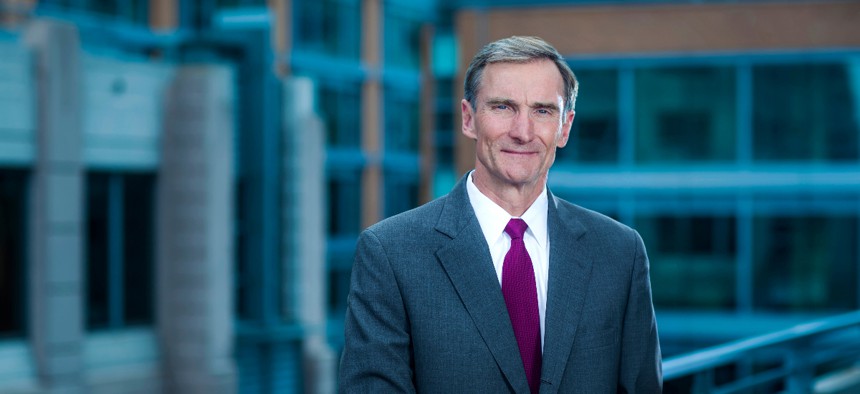 In talking to investors about why his time is now, Roger Krone also cites what boards of directors have to do as part of the succession planning process.
At a J.P. Morgan-hosted investor conference on Wednesday, Leidos chairman and chief executive Roger Krone offered a glimpse into why he believes now is his time to retire.
For Krone: it is the mix of the right age and right level of performance by Leidos, as well as their need to work through market changes caused by COVID's emergence.
Krone sat down for a fireside chat at the conference with Seth Seifman, an executive director at J.P. Morgan who covers the company as an equity research analyst.
It was Krone who first broached the subject of his pending retirement before they talked about it. That was interesting to me, and I would think it was top of mind for many in the room.
On the business side of things, Krone said that Leidos' financial performance in terms of growth and expanding margins mean that he is leaving the company to his incoming successor Thomas Bell at a good time.
"I think it is a great story," Krone said at the J.P. Morgan Industrials Conference.
Bell is currently CEO of Rolls-Royce North America and will join Leidos on May 3 when the company's annual stockholder meeting takes place. Krone will support Leidos as a full-time adviser through July. The board's lead independent director Robert Shapard will become chair on May 3 as well.
"I'm really pleased with what we have been able to do with the company and handing it over to Tom," Krone said.
When turning to his age, Krone shared a reality of many public companies and the responsibility that boards have for long-term stability:
"I'll be 67 when I leave. Of course I'll tell you, I think I'm not going to retire until I'm 80. But in corporate America public companies, after you hit 65, the board starts to ask hard questions like 'How healthy is he? What's his tenure? How long is he going to stay?'"
But there are plenty of examples in the world of CEOs who worked well past 65 or even 70, so one thing I think Krone left out is company culture. That is where I see one of the strongest signs of the culture that came with the 2016 acquisition of the Lockheed Martin IT services business.
Lockheed's list of CEOs prior to its current chief executive Jim Taiclet includes Norm Augustine, Vance Coffman, Bob Stevens and Marillyn Hewson. Lockheed has a long history of steady and predictable succession, even when a wrench gets thrown into the works.
That culture permeated the company as you can see in this story I wrote after interviewing Linda Gooden, who led the Lockheed Martin IT business up until her April 2013 retirement. She walked me through the company-wide succession planning that Lockheed had (and still has) in place, such as how each leader had to have two people ready to step in and replace them.
Internal candidates may be more favored under that plan, but more importantly it emphasizes the stability that is critical for public companies.
Krone joined Leidos from Boeing and not Lockheed, and he is being replaced by someone outside the company. But the succession plan at Leidos presents that same picture of stability. There are no sudden needs for change. There is plenty of time and support for a transition.
Krone will be 67 years old when he leaves, two years past the age when he said boards start asking questions. What was happening when Krone hit 65? The COVID-19 pandemic started.
"My goal was to get the company through COVID, stabilize in the post-COVID world," Krone said. "A lot of things changed in the way you run a company in a post-COVID world."
Workforce mobility and flexibility and workforce attrition were the major changes he mentioned.
"You want to manage through that and we've done that," he said.
The proof points he highlighted include a record backlog and being on-track for Leidos to meet its three-year goals.
"It is a good time to transition," Krone said.
The specific timing of May 3 had to do with the scheduled annual meetings and getting proxies out for shareholders.
For Bell, Krone said there is plenty of upside at Leidos and particularly for international growth that Bell has experience in given his role at Rolls-Royce.
Job number one for Bell will be executing on the backlog and "he gets to put his own spin on the strategy, so I'm really excited about the future of the company," Krone said.