9 technologies that are changing federal health IT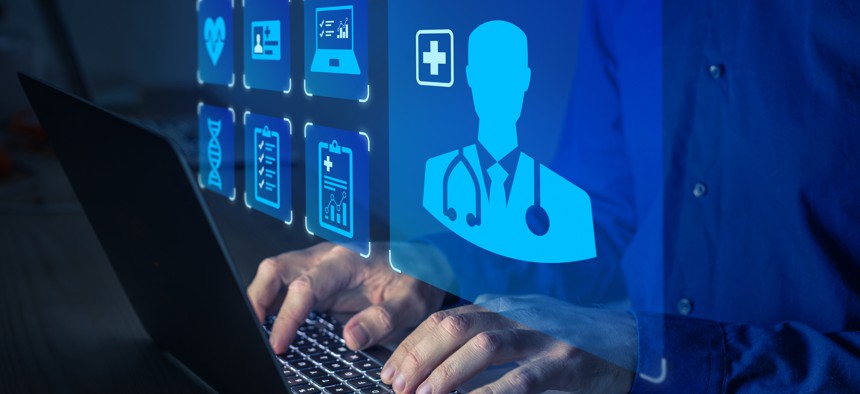 Large initiatives such as electronic health records are driving significant opportunities across a broad set of technologies including the cloud, cyber, wearables and artificial intelligence.
NOTE: this is the second in a series about the federal health care opportunity. Click here for more.
The Department of Health and Human Services expects the federal Public Health Emergency for COVID-19 to (finally) expire on May 11. As the country moves beyond COVID, agencies across the federal, state, and local government landscape are focusing on the future of health care. Contractors that work with HHS, the Department of Veterans Affairs, the Defense Health Agency, and others have an opportunity to lead the way.
At the federal level, health mission agencies are leveraging IT to advance medical research, strengthen and empower care, track disease permeation, and improve medical supply chains. They're investing with a few critical objectives in mind, including:
Improving patient care and outcomes
Expanding health equity and access for those in underserved populations
Reducing the costs of delivering and managing health care
Securing patient data and minimizing instances of fraud that cost taxpayers billions
With federal expenditures on health care projected to climb to $2.2 trillion by 2030, the market for technology companies and service providers – and the potential for them to contribute to the public good – is enormous. Many of these opportunities aren't new; they've been in play for years. But if your business offers solutions in one or more of the following nine segments, and you are not currently positioning yourself as a competitive player, it may be time to dive deeper.
Electronic Health Records Integration and Optimization
The first article of this series discussed how revised schedules and budgets for EHR implementation at VA and DHA, along with related IT infrastructure upgrades, have influenced overall federal spending on health IT. The mandated move to provide digital versions of patient health records that can be accessed from any location offers the promise of more efficient and accurate communication between health care providers, leading to improved patient outcomes. While this train is in motion, significant opportunity still exists for contractors to assist in the integration and optimization of these systems. Consider how you can offer services for data migration, implementation, customization, and training to help your customers realize the full potential of EHRs.
Wearable Technologies
Fitness trackers, smart watches, and related sensors can revolutionize how health care is managed and delivered. These devices collect a wide range of data on an individual patient's health, from heart rate and sleep patterns to activity levels and other vital statistics, enabling providers to remotely monitor their patients. The result is more targeted, timely, and personalized care and diagnoses in both preventative and emergent situations. Patients using wearables can take a more proactive role in monitoring and managing their own health care with access to real-time feedback on their wellness, which can improve outcomes and reduce costly burdens on the system. Additionally, these technologies can be game changers for law enforcement officers, EMTs, fire personnel, and warfighters by generating real-time biometric data that can lead to life-saving actions. Look for pilot programs and investments in this emerging area with the potential to protect the health, safety, and mental well-being of first responders.
Analytics and Big Data
Data is becoming more important in health care by the day, with federal agencies consuming billions of dollars annually in areas such as health research funding. They can utilize medical, patient, and business data to improve outcomes, from biomedical research and disease surveillance to avoiding racial bias in health care delivery and improving preventative care for individuals. Organizations that can help government agencies manage their data, identify patterns, surface useful insights, and draw conclusions can add significant value.
Cloud Computing and Application Development
All that data needs to live somewhere and be utilized within a variety of applications, tools, and platforms. Cloud solutions can store, manage, and analyze large amounts of patient data while offering the potential for infinite scalability, agility, flexibility, and efficiency. As health agencies like HHS attempt to improve service delivery while controlling costs, a key consideration is the growing role of open source and low-code platforms to support cloud-native application development and modernization of legacy systems. Low-code development simplifies the process of integrating data and workflows into various platforms while open source software has become "vital in the development of new services, systems, and technologies." Together they allow for more rapid deployment of cloud applications and faster time to market.
Artificial Intelligence and Machine Learning
With data flowing into databases and the cloud from connected health systems and wearables, AI and ML have grown in popularity. These tools can process large amounts of patient information to identify patterns that may be missed by human analysis. They're also automating administrative tasks, thereby freeing up health care providers to focus on patient care. In addition to increasing efficiency and reducing costs, AI and ML are helping providers make more accurate diagnoses, develop more effective treatment plans, and enhance their decision-making processes, all of which lead to improved patient outcomes. Check out the HHS Artificial Intelligence Strategy for details.
Process Automation
Working hand in hand with cloud technology, automation is another important aspect of outcome-based digital transformation. Sometimes referred to as robotic process automation or RPA, this software facilitates interactions between disparate systems and applications to manage high-volume processes. It reduces manual work, automates common tasks, and eases the strain on overburdened health care workers by removing repetitive tasks that consume their time and attention.
Telemedicine and Virtual Care
Amplified and accelerated out of necessity during the pandemic, virtual care and videoconferencing platforms extended the ability of providers to offer remote medical consultations, diagnoses, and treatments. Moving forward, these tools have the potential to significantly reduce health care costs, increase accessibility for underserved populations, and bring more equity to the health landscape. Furthermore, as 5G connectivity becomes ubiquitous, the market will see more use cases involving medical applications to support troops, augmented reality capabilities, global access to specialists, and even more efficient ways for remote veterans to access care.
Health Information Exchange for Improved Data Management
HIE is the process of sharing patient health information electronically across different health care providers and organizations. Driven in part by a GAO report last year on data management challenges during the pandemic, agencies such as the Centers for Disease Control are releasing their strategies to make progress over the next two years. The goal is to improve outcomes while promoting health equity across all levels of government. With the growing focus on data interoperability, contractors can provide services and technologies that ensure this sharing is efficient and secure.
Cybersecurity
With so much sensitive patient health information and research data being stored, accessed, analyzed, processed, and shared at scale, cybersecurity remains atop the list of challenges that keep federal CIOs up at night. Cyberattacks, breaches, ransomware threats, malicious actors, changing regulations, and complex compliance requirements create a constant need for new approaches for maintaining confidentiality and security, from technology through training and supply chain management. Be sure to follow developments with the Biden administration's new National Cybersecurity Strategy. This plan aims to protect critical infrastructure, disrupt cyber threat operations, and invest in a more secure digital ecosystem. If adopted into law, it will impact how health care organizations and contractors approach securing health data. It's also helpful to familiarize yourself with health care resources such as those provided by the Cybersecurity and Infrastructure Security Agency.
In my next installment, I'll cover some of the messages and qualifications you'll need to reinforce in your marketing campaigns to position your company for success in this complex, ever-evolving market segment.
---
Allan Rubin is a senior marketing executive with nearly 20 years of experience in the public sector IT community. He has held marketing leadership positions at companies such as Conduent, Verizon, Arrow Electronics, and immixGroup. Connect with him on LinkedIn at https://www.linkedin.com/in/allanrubin/.