What's ahead in federal health IT?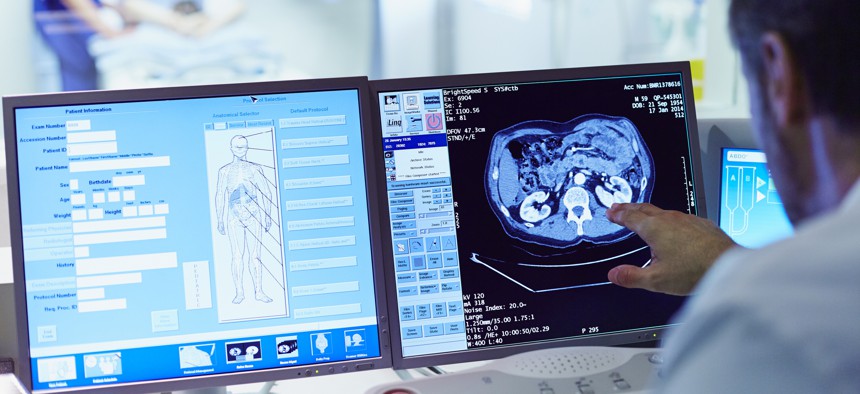 This analysis explores the breadth and depth of opportunities in the federal market, including infrastructure, cybersecurity and artificial intelligence.
Health agencies at the federal, state, and local levels have led the country through an unprecedented set of public health challenges over the past few years. The pandemic tested our legislators and regulators. It strained every element of the healthcare supply chain, from pharmaceutical companies, healthcare providers, and distribution networks to the military, our courageous first responders, and civilian agencies at all levels of government.
With the world of government healthcare IT rapidly evolving, government contractors, technology vendors, and solution providers will continue to have significant roles to play in the future of this ecosystem. It is because of their efforts that the potential exists for many exciting developments that will revolutionize and improve the delivery of healthcare services in both the public and private sectors.
Follow the Money
The Office of the Actuary at the Centers for Medicare and Medicaid Services projected federal expenditures on healthcare to rise to $2.2 trillion by 2030. For technology companies and service providers, the market – and the potential to contribute to the public good - is enormous.
Even as post-COVID spending in government healthcare cools off, agencies are looking to the future and exploring investments in areas such as:
Public health infrastructure
Disease surveillance and population health
Biomedical research and vaccines
Enhanced patient care
Deltek's recent Federal Health IT Market Report for 2022 to 2024 forecasts that federal spending on contractor-supplied health IT products and services will reach $9.3 billion in FY 2024. That's down slightly from $10.6 billion in FY 2022, a change attributed mainly to the reassessment of the schedule and budget for implementation of Electronic Health Records (EHRs) at the Department of Veterans Affairs (VA). But it still represents significant opportunity at a pivotal moment for health mission agencies such as the VA, Department of Health and Human Services (HHS), Defense Health Agency (DHA), and many others.
A January 2023 analysis of federal contract opportunities by GovTribe cites "more federal contract opportunities in health IT than ever" and points to a short list of contract vehicles, indefinite delivery vehicles, and grant programs at HHS and DHA.
The Driving Forces
Initiatives in these areas seek to accelerate research and improve medical outcomes for patients while also making access to healthcare more equitable and efficient. Agencies want to empower individuals to have better access to their records and more control over their healthcare decisions while protecting privacy and reducing the incidence of fraud, a major issue for states and localities during the height of the pandemic.
"There's a lot of attention on health equity to address disparities in access and outcomes faced by marginalized communities, as well as privacy due to concerns about data breaches and illegal use of patient data," said Lloyd McCoy, director, market intelligence at TD SYNNEX Public Sector. "We're also seeing a growing focus on mental health, especially given the impact of the pandemic in that area."
McCoy advises vendors to be very explicit in their communications to demonstrate how their solutions can address these administration priorities.
The integration and optimization of EHRs, along with associated IT infrastructure upgrades, represent a major area of focus that will impact federal health IT spending in the foreseeable future, particularly at VA. The federal government has promoted EHR adoption by healthcare providers for many years, stretching back to the 2009 passage of the HITECH Act and strengthened with electronic medical records (EMR) mandates under the American Recovery and Reinvestment Act.
As reported here only two weeks ago, "Sen. Jon Tester, D-Mont., indicated that technical and performance issues with the Oracle Cerner EHR system's rollout do not undercut the fact that VA's legacy health information system—known as the Veterans Health Information Systems and Technology Architecture, or VistA—needs to be updated." Tester's position was clear: "Make no mistake, modernization of the electronic health record is not optional—one way or another, it has to be done. And I will keep demanding results on behalf of every veteran and dedicated VA medical professional until we get this right."
Beyond the EHR
EHRs are only the tip of the spear. For IT vendors, VARs, and integrators, opportunities will be plentiful in the following areas:
Telemedicine and virtual care
Artificial Intelligence (AI) and Machine Learning (ML)
Analytics and big data
Cybersecurity
Cloud computing
Health Information Exchange (HIE) and interoperability
Automation
5G and virtual/augmented reality capabilities
Wearable technology
Data and infrastructure modernization
Contractors must demonstrate to their government clients how their solutions will help to improve patient outcomes; increase healthcare access for underserved populations; reduce costs; and enhance security while combatting fraud.
I'll dive into many of these topics in my next article.
---
Allan Rubin is a senior marketing executive with nearly 20 years of experience in the public sector IT community. He has held marketing leadership positions at companies such as Conduent, Verizon, Arrow Electronics, and immixGroup. Connect with him on LinkedIn at https://www.linkedin.com/in/allanrubin/.