What 2022 tells us about 2023 and beyond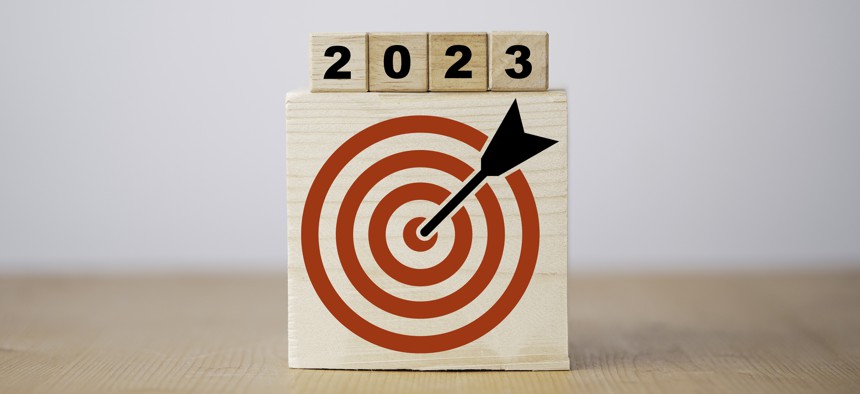 A look back at the top stories of 2022 offers us some insights and foreshadowing into what government contractors will care about in 2023 and the years after that.
The past informs both the present and the future, so it is good to look back at 2022 as the year comes to a close.
William Faulkner said it best: "The past is never dead. It's not even past."
So what does the past year tell us about the future?
To answer that, I decided to look back at our website traffic as it reveals the most important trends and topics in the government contracting market.
Sticking with the Faulkner motif, what was important during 2022 also tells us what matters going forward.
Our Top 100 rankings for 2022 and 2021 are among our top four most-visited pages. The 2020 Top 100 is in the top 15 most visited pages. Only our home page gets more traffic than the 2022 Top 100.
Why is the Top 100 so popular? It is a great research tool to learn about the largest companies in the market. Both the 2021 and 2020 Top 100s also remain popular because they provide another layer for history.
That history matters for anyone trying to a sense of the market's overall landscape, and for researching competitors or partners.
That is example number one of looking back in order to find your way forward.
One pattern clearly emerges when looking at the traffic patterns of our stories: People like stories with big dollar signs. Business journalism must have some equivalent to the old TV news axiom of "If it bleeds, it leads."
For us, people turn their attention to headlines with the word "billions" in it. People are going to read it, at least that is what the data tells us.
The size is important because more often than not, these multi-billion-dollar contracts are indicators of trends in the market. Both in what the customer is buying and who is winning them.
Leidos is not only the perennial No. 1 company on the Top 100, but they also scored several multi-billion-dollar wins over the past couple years. At least two of those wins have been takeaways from competitors including incumbents.
For example, a story on Leidos winning this $2.5 billion NASA IT services contract known as AEGIS got more traffic than any other single story since it was published in February.
Leidos shows up more than any other company in the top 30-most visited stories. They win big contracts and they are the largest company in the market. People want to know what they are doing. They either follow Leidos' lead or take actions to better compete against that company.
A second big contract award story worth noting is this $5.7 billion Air Force win by CACI International that is still mired in a protest.
If CACI retains the work, then they can tout their largest contract win ever. CACI also can promote its enhanced position as a major provider of enterprise IT and digital transformation services.
This pair of acquisitions also holds a prominent position among our most-read stories: IBM's purchase of Octo Consulting and Guidehouse's buy of the Grant Thornton public sector practice.
Guidehouse sought more consulting and professional services capabilities on top of those the company already head. The transaction also further adds to Guidehouse's presence across the government market.
IBM's acquisition of Octo centers on enhanced capability to help agencies modernize their IT systems, an area Big Blue sees its future growth in.
On the sell side: it was another successful exit for a private equity investor regarding a middle-tier company. Definitely another trend we see continuing in 2023 and beyond.
The Amazon-Microsoft rivalry in cloud computing continues to stand out. It popped up in their competition for a $1 billion National Geospatial-Intelligence Agency contract.
Amazon Web Services won the contract and Microsoft filed a protest. NGA decided to look at their bids again and has not yet made a new award decision.
The heated competition between those two and with other cloud market players will only get hotter now that the Pentagon awarded its $9 billion Joint Warfighting Cloud Capability contract to AWS, Microsoft, Google and Oracle.
Our website traffic also tells us what the most constant discussion topics are in the market, just to name a handful: systems modernization, enterprise IT, cloud computing, mergers and acquisitions, and cybersecurity.
Those topics have driven and will continue to drive the market in the years ahead.