Mastering both the spoken and unspoken rules of GovCon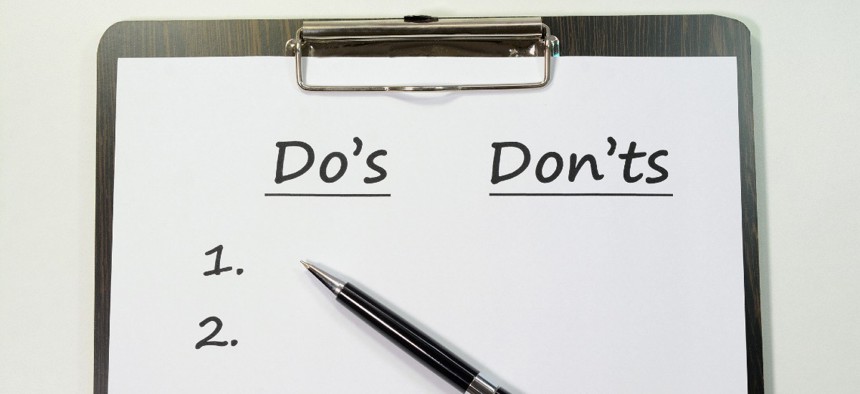 Entering the government market and being successful both have their own guidelines to go by, some often said and others not so much but just as important.
This is the second in a series of commentaries about on how industry can help make the government buyer smarter. Click here for part one.
There seems to be a few common "truths," some "givens," and a whole lot of conventional wisdom often spoken as to how to get into the door of government.
It might be worth a quick overview of those eight basic (and true) rules to gain your first foothold with the customer:
Know what the agency does and what it's looking for.
Bring specific ideas, not a panoply of promises.
Show specific examples of applications that have worked in similar situations (government examples are best, but private sector ones are helpful too).
Send a senior executive who can connect with the federal IT professional.
Network, network and do more networking.
Partner with other companies.
Make strategic hires, especially those who know government from the inside.
Use government contract vehicles and know which one(s) your customer turns to.
Winning presents its own guidelines to go by in order for that run of success to continue, however.
Here is another set of seven rules for what continues that positive cycle:
Read the procurement, re-read the procurement.
Read the contract, re-read the contract.
Get competent assistance at the beginning.
EXECUTE -- Be prepared to implement what you win.
Be prepared for change after you win.
Know who wanted the contract awarded.
Communicate continually.
But there are also some unwritten/unspoken rules, less often discussed but equal in importance as those noted above.
Let's start with one expert that could be seen as slightly left-of-field, but surely had GovCon in mind.
"He who does not lay his foundation beforehand may by greater abilities do so afterwards -- although with greater trouble to the architect and danger to the building" -- Machiavelli, The Prince, 1532.
When a government customer is interested in working with your company, one of the first questions s/he will ask is "How do I reach you?," meaning what contracting vehicle could our agency use to acquire your products or services.
So know what government-wide contracting vehicle(s), schedule or agency-specific contract is most convenient, available and more often used? Do they give priority to one or more small or disadvantaged business categories (veteran-owned, HUBZone-certified etc.).
Be ETDBW = Easy To Do Business With. Deliver MVA = More Value Add.
Companies usually deliver a product or a service. Think of that as the first rung of a ladder. Now start climbing the ladder, rung by rung.
What do your customers do with your product or service after receiving it? Distinguish between what you are selling and what your customers are buying. What are the broader problems those customers have?
Take a broad view of your customer's underlying problems that go beyond you and your product or service. What more can your company do to help them solve those problems? See what your customers do with what you give them, and either do it for them or help them with it.
As you answer those questions, you'll be able to add more value. You'll be delivering a solution, not just a product or a service. You will be able to price in terms of value rather than cost.
Part three of this series will fold in voices closer to the world of GovCon that help show the roadmaps for long-term success.
---
Alan Balutis is the president of APB Ltd and managing partner with the CIO Collective. He's also a former senior director and distinguished fellow at Cisco Systems Inc. 
Dennis Lucey is a vice president with TKC Global, part of the Akima family of companies. He has over 40 years of business development experience in the federal market.