The James Webb telescope can teach us more than just space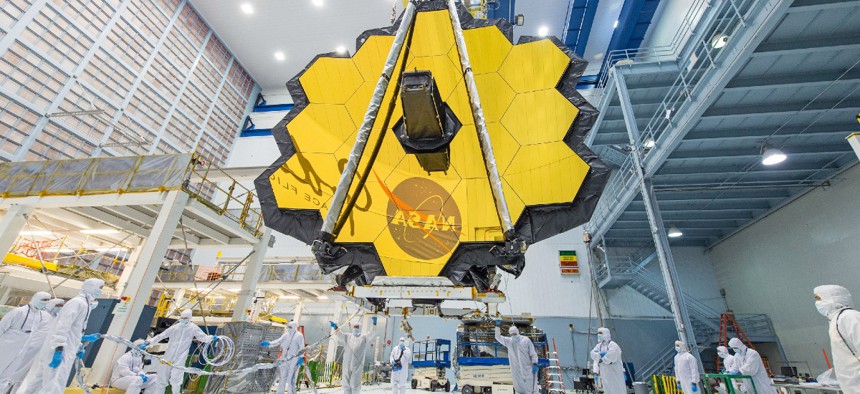 Project management lessons from this program serve as an instruction manual on how to leverage mistakes and mitigate risks.
In a few weeks, NASA will release the first images taken by the James Webb Space Telescope -- a nearly $10 billion project collect data and images from deep in space while in orbit around the sun.
This article from The Conversation has an excellent breakdown of the telescope. Also click here to see the industry coalition NASA assembled for the program, which saw Northrop Grumman be the lead industrial contractor.
JWST accomplished several firsts, particularly the way it unfolded its heat shield and mirror and sensor arrays. The complex maneuvers were made even higher risk because any mistake would not be correctable as was the case with Hubble telescope.
In 1993, a crew flying on Space Shuttle Endeavour retrieved Hubble and corrected issues with its mirrors before that telescope could start to capture groundbreaking imagery.
The Webb telescope is expected to render unprecedented images and data on distant galaxies and planets. Because of its orbit around the sun, it is out of the shadow of the earth and moon. Its ability to target distant objects is higher.
There is a lot of first-time science and engineering at work on Webb telescope, but it also is an incredible achievement of planning and project management.
Yes, the project had numerous delays and cost overruns since development began in 1996. But that does not diminish the achievement.
Think about it. NASA launched the Webb telescope into space and sent it on a nearly 1-million-mile journey to the sun. Once launched, there were multiple points along the journey where the risk of failure was high.
Soon after launch, a huge solar array had to be deployed. A sunshade was deployed to keep the telescope and its sensors from overheating.
Every step had test and validation requirements. By and large, the telescope responded and everything deployed as hoped. NASA hit no worst-case scenarios.
Again, an amazing achievement. Each mistake and problem that NASA ran into while building and testing on earth paid off with a nearly flawless deployment in space. Each mistake, problem and miscalculation was fed back into the system.
That's the lesson for just about anyone working on a complex and risky project. Embrace the mistakes. Don't be afraid of the lessons learned. Let go of the sacred cows.
For the James Webb Space Telescope, there was no room for error. But even the most earthbound project deserves the same level of scrutiny and commitment.
Get ready for some amazing images from July 12 and onward.