GSA previews its plan for $919M supply chain monitoring software buy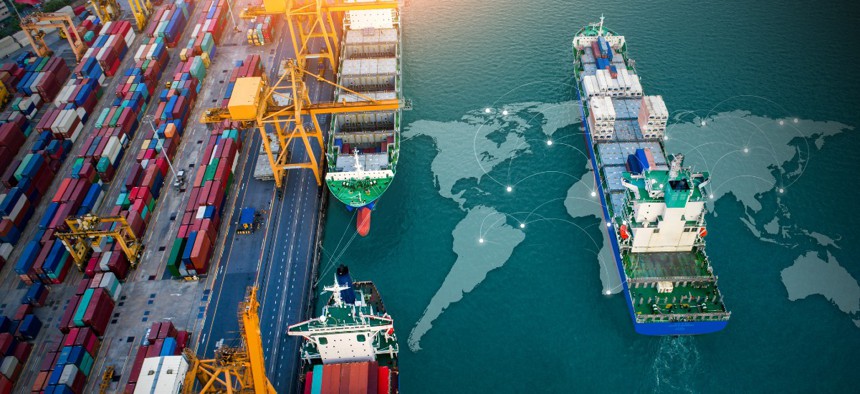 The General Services Administration is putting the security and stability of government supply chains front and center in this planned procurement.
The General Services Administration has given industry its first draft of a potential 10-year, $919.7 million blanket purchase agreement for acquiring supply chain risk illumination software tools and related analytic support services.
GSA envisions the Supply Chain Risk Illumination Professional Tools and Services, or SCRIPTS, BPA as helping the agency bolster its ability to mitigate the risks of fraud, abuse and other adversaries' actions against supply chains the U.S. government relies on.
Nov. 14 is the due date for questions and comments on the draft request for quotes. An industry day is scheduled for Dec. 12, and registration closes on Nov. 8, GSA said in a Friday notice to Sam.gov.
The security and stability of supply chains has been front-and-center over the past three years for essentially all sectors including public sector, given the well-documented shortages of people and parts needed to make products and systems.
While the situation has shown more improvement over recent months, GSA's unveiling of this SCRIPTS BPA is an indication that the government wants to better position itself for responding to and helping mitigate future disruptions.
GSA designed the BPA as being available to both defense and civilian agencies seeking new illumination tools to evaluate vendors, build up cyber hygiene and gain visibility into foreign investments that may present risks to supply chains.
SCRIPTS will be a multiple-award contract with an initial five-year base period followed by a single option for five additional years. A portion of the BPA will be set aside for small businesses.
GSA will compete the BPA through its Multiple Award Schedules program for acquiring commercially oriented products and services.
The agency also encourages parties that are interested in participating in the SCRIPTS BPA to submit an e-offer via the FASt Lane process no later than Dec. 31.