ManTech grows Army footing through C5ISR transformation contract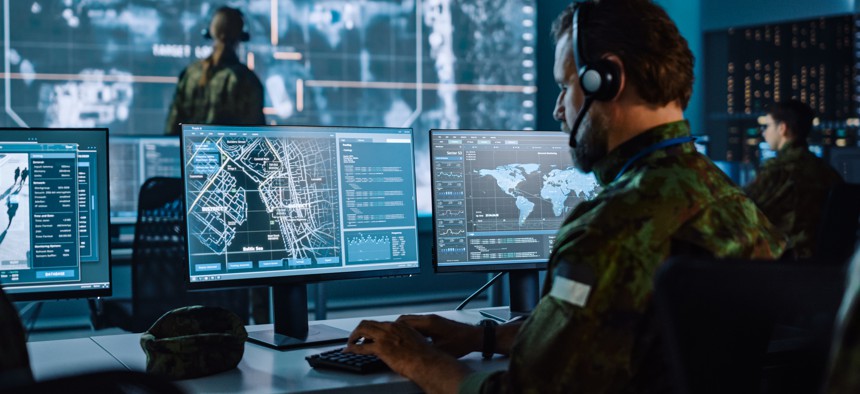 ManTech International's leadership is pointing to its recent capture of a potential $662 million Army as an example of the kind of work the company relishes.
The Army Technology Insertion Transformation Unified Services contract was an opportunity to bring what CEO Matt Tait called the "whole of ManTech."
"The objective here was to put together all types of intelligence for the Army at speed," Tait added. "We decipher, gather and synthesize information to support well-informed decisions that advance the mission."
ManTech fended off one other bidder for the TITUS contract that was awarded in June, according to Federal Procurement Data System information. The order has one base year and up to four option years.
The work will support the Army's Combat Capabilities Development Command and its C5ISR center. Tait said this is a new Army customer for the company.
ManTech has been doing similar work for other customers such as the Marine Corps, the Defense Department and intelligence agencies.
"This brings together the kind of things we are doing around artificial intelligence and machine learning, high-end digital engineering and predictive analytics," Tait said. "At the end of the day this is taking all of those things and developing rapid prototypes and fielding mission capabilities."
ManTech is tasked to help the Army collect data and analysis from multiple sources and funnel that down in a way that creates near-real time intelligence.
"We want to deliver that in a way that is actionable and helps them determine what the next best action is."
As Tait described it, they are starting with the problem and then building backwards in a way.
"What are the right components you need to bring together for a solution and make that happen?" he said.
Speed is critical for defense customers because they have to stay ahead of their adversaries.
"We take all this high-end engineering and systems engineering work and we take the intelligence and use it to deliver on the mission."
In addition to the technology, ManTech is also bringing subject matter experts that the mission and the problem set.
"When you talk about delivering a user interface that shows the next best action, you have to be able to do that in a way that makes sense and gets a good outcome," Tait said.
ManTech has already booked one task order under TITUS called Project Lynchpin.
"We are defining AI/ML for providing actionable intelligence faster for ISR systems at the edge," Tait said.
AI will be used to look through huge stacks of data, then refine the high-value data and come up with ways to develop tools and methodologies.
"This is an area that the Army has stated they want to focus on," he added. "We think this is going to be transformational for the Army. Getting this this right is so critical for our soldiers who are at the tip of the spear."