Booz Allen touts $919M award for 'Soldier-as-a-System'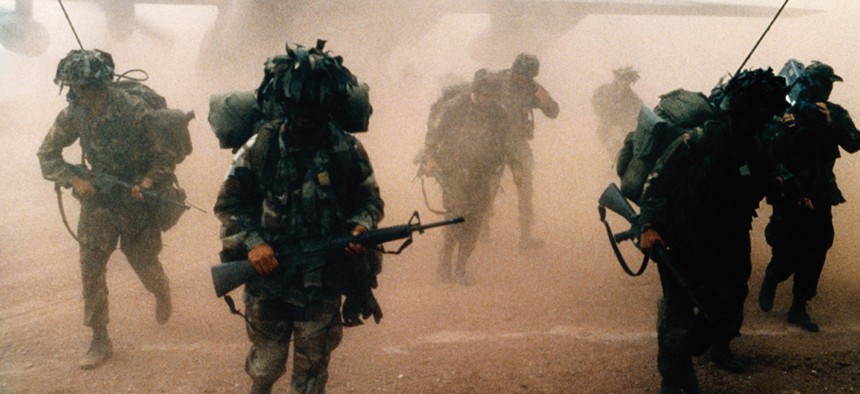 The goal is to further advance technologies for this concept that includes items worn, carried, or used by soldiers.
Booz Allen Hamilton will work with Defense Department agencies and components to identify, research and develop new technologies for use in combat under a potential five-year, $919 million task order.
The goal is to further advance a "Soldier-as-a-System" concept that includes items worn, carried, or otherwise used by soldiers. Work under the Engineering, Development, Integration and Technology-based Solutions program also known as EDITS includes prototyping, testing and evaluation support.
Booz Allen said Tuesday that the EDITS order primarily supports these DOD components: Army Program Executive Offices to include PEO Soldier, elements of Special Operations Command, Army Development Command Soldier Center and Joint Personnel Recovery Agency.
"The EDITS contract represents a cultural shift intended to foster collaboration early in technology development, as we will help facilitate open communication across service boundaries and posture for the integration of future technologies through system-level architectures," Judi Dotson, Booz Allen's global defense sector president, said in a release.
"The ultimate goal of the work is to enable the tactical unit as a fully integrated combat platform by supporting warfighters—at home and abroad—and providing solutions that increase lethality, survivability, and situational awareness that enhance the Soldier as a System," added Senior Vice President Joel Dillon.
Booz Allen was the lone offeror for the order that was finalized in February, according to Federal Procurement Data System records. The General Services Administration's FEDSIM acquisition organization awarded the order through the governmentwide ASTRO vehicle for manned, optionally manned and unmanned platforms and services.