Army wants ideas from industry on autonomous, anti-drone capabilities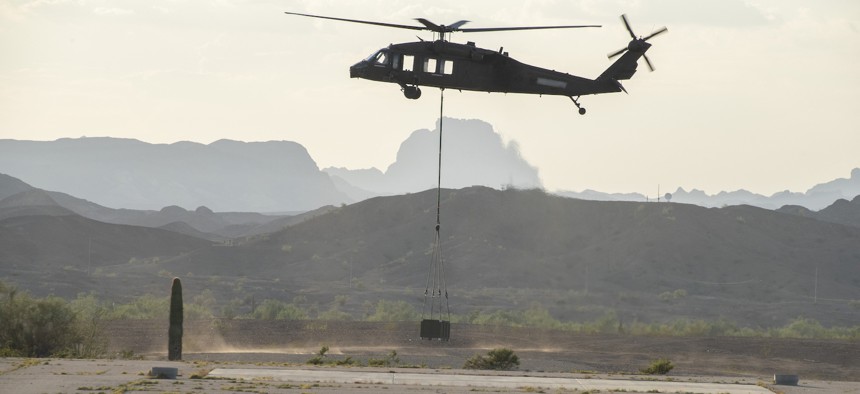 Army Futures Command called on industry for white papers outlining potential technology capabilities it will look to deploy as part of its modernization strategy.
Army Futures Command is on the hunt for new tools ahead of its next Technology Gateway program this fall and is looking to industry to determine what solutions it will experiment with.
In a special notice released Friday, AFC called for industry white papers outlining potential technology capabilities it will look to deploy as part of its modernization strategy.
The Technology Gateway series is part of the military service's Project Convergence effort, a broader campaign that began in 2020 to integrate emerging technologies like artificial intelligence, robotics and autonomy into plans for Joint Warfighting Concept and Joint All Domain Command and Control.
"Technology Gateway is a collaborative experiment between industry partners and the Army, intended to enable collective innovation and identify novel technology capabilities that will help the Army achieve its modernization goals," the notice said. "It provides industry a structured opportunity to demonstrate their technologies to government representatives in a controlled and operationally relevant environment."
AFC held its first Technology Gateway at the Yuma Proving Ground, Arizona, in October 2022, as part of last fall's Project Convergence event, and this year's edition is also slated for October.
The Feb. 3 special notice calls for focus areas on solutions that utilize tools like autonomous technology to deliver large quantities of supplies at scale, like fuel and management systems to help efficiently oversee hundreds of autonomous capabilities simultaneously.
Other requests include tools to help defeat the targeting and delivery capabilities of loitering munitions drones and unmanned aerial systems, solutions to help defense against electromagnetic warfare threats, innovative tools for reconnoitering and securing river — or "wet gap" — crossings and new innovations for multi-domain obscuration and maneuver.
Army modernization priorities include long range precision fires, next generation combat vehicles, future vertical lift, network, air and missile defense and soldier lethality. 
White paper submissions will go through a two-step evaluation process based on technical merit and operational merit reviews, with qualifying companies being invited to the Technology Gateway based on the final operational merit review.  
Interested companies have until 4 p.m. EST on March 31 to respond.