By Light acquires flight simulation tech outfit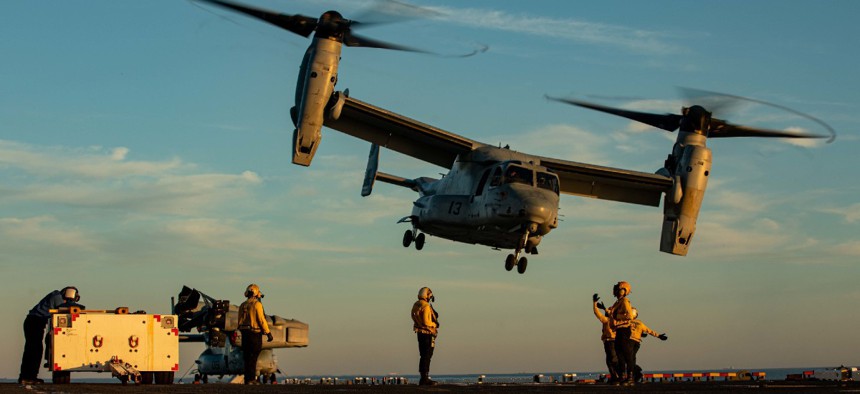 Private equity firm Sagewind Capital purchased By Light in 2017 and has since supported three acquisitions of training-focused businesses.
By Light Professional IT Services has acquired flight simulation training technology provider Veraxx Engineering Corp. to gain new footprints in programs involving the maintenance of military aircraft.
Terms of the transaction announced Monday were not disclosed.
Chantilly, Virginia-headquartered Veraxx was founded in 1999 as a designer and developer of immersive simulators for mission rehearsal exercises.
Veraxx supports training efforts across the Army, Navy and Marine Corps with hardware and software to help pilots of aircraft such as the V-22 Osprey, CH-53 King Stallion and MH family of helicopters.
"The acquisition of Veraxx strategically broadens By Light's existing capabilities within modeling & simulation and virtual training," By Light's CEO and founder Bob Donahue said in a release. "Veraxx further enhances our efforts to expand our product offerings and technology solutions.
"We look forward to augmenting By Light's synthetic training environment capabilities to include Veraxx's full-flight simulators and expand our expertise to include additional platform aircraft."
By Light was itself acquired by private equity firm Sagewind Capital in 2017 and has since prioritized the training market as one of growth.
Three acquisitions with Sagewind's backing have focused on that domain: Metova Federal and Cole Engineering Services in 2019, as well as Raydon in 2020.
In total, By Light has acquired six other companies since it became a portfolio business of Sagewind.
For more on By Light's strategy and its owner, check out this episode of our Project 38 podcast featuring Sagewind's founding partner Steve Lefkowitz and managing partner Raj Kanodia.