NASA pushing prize competitions with new awards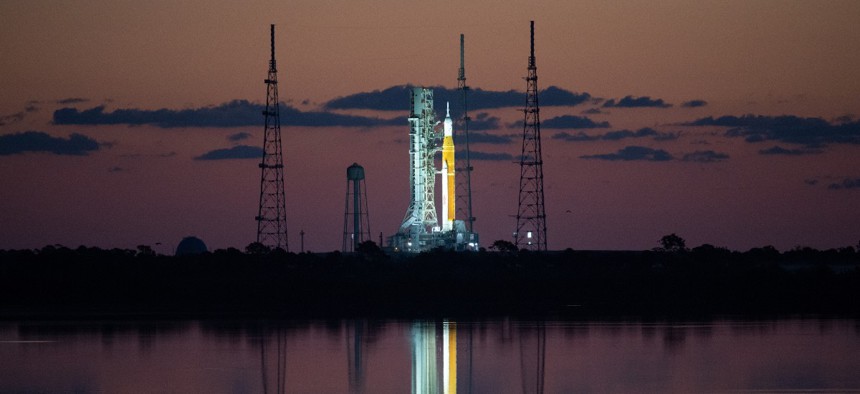 Challenges like this are an avenue for companies to both help NASA solve hard technical problems and find potential partners.
A couple of winners already made their announcements, but NASA has now released the full slate of 13 companies that have joined its Open Innovation Services 2 vehicle through an on-ramp process.
NASA uses that vehicle to run challenges, where companies are tasked with solving some of the agency's hardest technical problems.
On top of adding that group of 13, NASA also raised the vehicle's ceiling from $24.9 million to $175 million.
The NOIS 2 contract's expansion is the latest of example of how agencies are using challenges and prize competition to tap into a broader base of expertise, a method also known as crowdsourcing.
Accenture's federal subsidiary and small business Blue Clarity already disclosed their wins of places on the vehicle.
NASA has published a slate of notices on Sam.gov naming all of the on-ramp winners:
Accenture Federal Services
Blue Clarity
Capital Consulting
Communo
Floor23 Digital
Ibility
Innovawin
Kolabtree
Nesta
SecondMuse
Spire Starter
Tongal
YET2COM
They join 19 other companies that won spots on the vehicle in 2020. At that time, the NOIS 2 vehicle had a $24.9 million ceiling.
NASA runs the contract through its National Tournament Lab, which is building a global network of experts that can be tapped for new ideas, to scout new technologies, share best practices and measure outcomes.
To date, the Open Innovation vehicle has worked on improving enterprise search capabilities, optimizing user interfaces, and the use of artificial intelligence to predict risk.
GovTribe data on the contract shows that about $15.4 million in obligations have been made with Herox PBC being the largest recipient so far at around $8 million in spend.
Challenges and prize competitions have become more prominent over the last decade as agencies look for innovation and ways to tap into a broader set of expertise than via traditional contracts.
Following the money agencies spend on challenges and prize competitions is difficult. Sometimes they are done through a contract such as NASA Open Innovation Services 2.
Small Business Innovation Research grants are another method agencies use to run competitions. But for others, it just isn't clear what bucket the money comes from.
The task orders can be small, which compounds the challenge of following the money. Herox's $8 million in NOIS 2 flowed through 13 task orders valued anywhere between $69,000 and $4.1 million, according to GovTribe.
Size may not matter however, because the customer and the opportunity to show off your innovation and technical skills do.
Look at the now 32 companies on the NASA Open Innovation Source vehicle and few traditional contractors are on there.
Carahsoft and Guidehouse are on the list of the original 19 winners, while Accenture won a spot through the on-ramp. All three companies are on the Washington Technology Top 100 rankings of the largest government contractors.
Despite the relatively low ceiling, they see a business opportunity.
A search on the term "prize competitions" on the Government Accountability Office website found multiple reports from the last five years that included examples of agencies using challenges and prizes to address problems. That included civilian agencies such as the Energy and Agriculture departments, as well as the Army and the Federal Trade Commission.
In its report on the Army, GAO recommended the service branch improve its oversight of these kinds of procurements so it can both gather information and share lessons learned.
Your company may not be one to pursue these challenges now, but tracking who is chasing those opportunities might help in finding the partner with the kind of technology or solution that makes the next bid stand out over the field.