AOC Connect looks to make next big jump after acquisition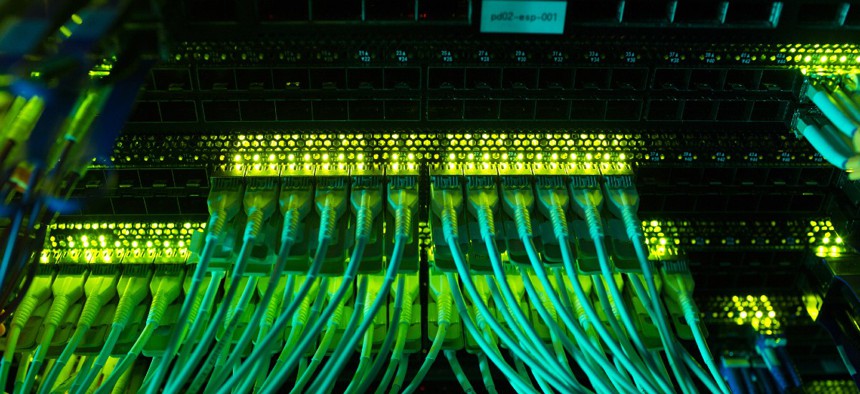 AOC Connect is now on the government's main telecommunications network modernization contract vehicle after closing an acquisition and sees runway ahead of it.
In the span of less than a year, AOC Connect has made a pair of major decisions that will alter the federal telecommunications carrier's trajectory.
Major decision number one: Go out and find an owner to provide both capital and connections to help steer the small business through this new phase of its strategy. The effort to drum up interest and seek to identify a buyer got underway in 2021.
"As a family-owned company, we were a little more risk averse and a little less likely to make big investments," AOC Connect's chief executive Al Horton said.
Investment firm JLC Infrastructure purchased AOC in April of this year. JLC is led by Loop Capital's co-founder and chief executive Jim Reynolds, plus the basketball legend Earvin "Magic" Johnson.
Horton said AOC now has more financial runway to expand its network, which covers approximately 5,000 fiber miles across the Washington, D.C., metropolitan region with the ability to hit at least 1,000 government buildings and carrier points of presence.
Those statistics indicate that Chantilly, Virginia-headquartered AOC is unique in the small business landscape for having its own network.
Horton told me that means AOC does not have to rely on offering wholesale solutions from other carriers. By working with AOC directly, agencies can still fulfill their small business goals.
Now for major decision number two: What else can AOC do with the backing of JLC?
AOC's management team knew that many of the company's contracts were with federal agencies that have moved or are already moving to Enterprise Infrastructure Solutions, the government-wide contract vehicle for telecommunications network modernization.
Horton said that fact presented two potential avenues for AOC, which prioritized gaining a place on the EIS contract after discussions with JLC on the nature of that vehicle.
Two small business awardees have graduated since EIS was opened for business in 2017, while two others remained.
"The first one would be to take a lot of time, energy and money and petition GSA (the General Services Administration) to do an onboarding for that contract to generate more small businesses," Horton told me. "Then the second option was to get on the contract through an acquisition, find someone who was not using the contract and wanted to sell it or find someone who was interested in being acquired as a whole company."
AOC's eyes quickly fell on Core Technologies, a small business EIS awardee that secured a potential $474 million task order in 2020 at the Interior Department. That transaction closed in August.
Horton characterized CTI as being able to "win twice and overcome that age-old barrier," referring to the effort needed to gain an initial seat on vehicles like EIS and then chase the task orders afterward.
More task orders are out there for the taking, according to Horton. He told me the initial sprint of orders were primarily focused on transitioning agencies away from EIS' predecessor contracts and legacy telecom environments.
"We're getting close to the point where we're done with that and we can look at modernization," Horton said. "We expect that there's going to be a lot more tasks coming out for more modern telecom solutions."
One relationship AOC will maintain in this new era is with Charter, the owner and operator of the telecom and media services branded as Spectrum. Charter held a minority interest in CTI prior to the transaction involving JLC.
AOC will act as a reseller of Spectrum services to federal agencies as part of bundled IT and telecom solutions, Horton said.
Bringing AOC and CTI together over the next 100 days is the first priority for the management team, then the pursuits of EIS-related work will follow.
"After that period, I think we'll be at a position where we're fully integrated and ready to start scaling up to a point where we become a major player on this particular contract," Horton said.