AeroVironment to acquire robotic control system maker for $120M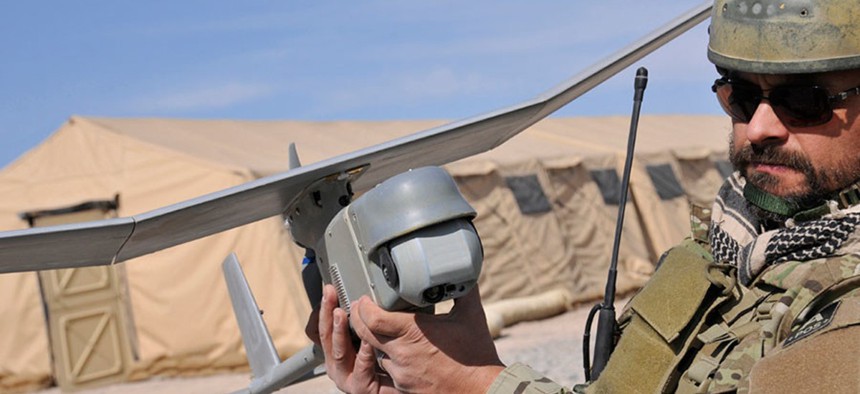 This purchase of Tomahawk Robotics takes place amid the companies' ongoing partnership to integrate their technologies.
AeroVironment has agreed to acquire robotic control system maker Tomahawk Robotics for approximately $120 million in a push to further extend the interoperability and interconnectivity of unmanned systems.
Through this transaction announced Tuesday, both companies are also looking to more deeply integrate their technologies with an eye toward having more singular control platforms for managing the deployed system.
In 2022, Tomahawk Robotics' Kinesis control system was integrated into AeroVironment's family of small unmanned aircraft including the Raven B and Puma 3 AE.
Kinesis designed as a open architecture common control system that is enabled by artificial intelligence as it integrates networks of unmanned vehicles and other assets onto a single pane of glass.
"The acquisition of Tomahawk Robotics will not only provide AeroVironment with strong new members of our team, but a quality brand and products that are widely respected in the industry. Tomahawk Robotics will become part of the small UAS (SUAS) business unit within AeroVironment's unmanned systems segment," AeroVironment chief executive Wahid Nawabi said in a release.
"We will support all existing Tomahawk Robotics customers and their products will remain platform agnostic to the market and within the industry. We also plan to introduce Tomahawk Robotics solutions to AeroVironment's growing network of more than 55 allied nations."
Much of AeroVironment's acquisition activity in recent years has centered around the area of autonomy, as shown in its purchase of the Progeny Systems Intelligent Systems Group in 2021 and buy of navigational technology provider Planck Aerosystems in 2022.