IBM partners with U.S. and Japanese universities on quantum supercomputer R&D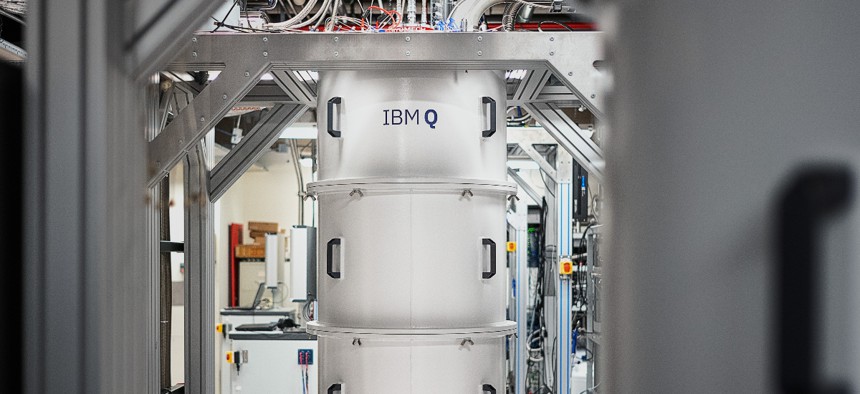 With funding from IBM, universities in both countries will collaborate to develop a quantum supercomputer to spur further innovation in the field.
IBM is slated to launch a new, decade-spanning partnership with both a Japanese and U.S. university to develop a "quantum-centric supercomputer," as the emerging technology stands to change the broader computing and cybersecurity landscapes.
Detailed in a draft press release obtained by Nextgov, the partnership is set to be announced on May 21 during the G7 Summit in Hiroshima, Japan and will include both the University of Tokyo and the University of Chicago.
IBM Chair and CEO Arvind Krishna is expected to appear at the G7 Summit and sign research contracts alongside university presidents, with government leaders—including President Joe Biden—present. 
"Over the past several years, IBM has been at the forefront of introducing quantum technology to the world," said Krishna in the press release. "We have achieved significant progress along our roadmap and mission to globally establish useful quantum technology, so much so that we can now, with our partners, truly begin to explore and develop a new class of supercomputing anchored by quantum."
Over the course of  the program's 10 years, $100 million will be invested in creating a supercomputer operating on applied quantum physics. This machine is intended to be able to process 100,000 qubits—the unit of information processed by a quantum computer—which theoretically translates to being able to solve more problems through processing larger quantities of data. 
Quantum computing and other quantum information sciences have received growing federal attention as the technology matures and stands to revolutionize digital networks and communications. 
In the U.S., Biden has repeatedly issued multiple federal directives to bolster the nation's quantum information technology research posture, including releasing guidance for post-quantum cryptography and promoting education in the field. 
The forthcoming partnership with Japanese academic institutions mirrors the Biden administration's broader push to deepen international partnerships in QIST research ––something experts predict will continue as the nations race to develop a viable quantum computer.