An initial look inside the combined IBM-Octo team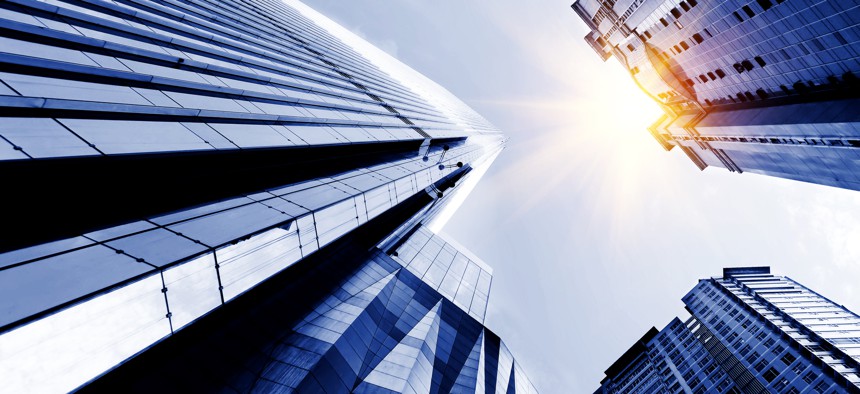 This transaction was easily the government market's most surprising one of 2022, both the largest in the history of the IBM Consulting business and a move that Big Blue's chief executive signed off on.
The prospect of a global commercial technology company acquiring a federal tech integrator almost never comes up amid the endless wonder of who's a buyer and who's a seller in the government market.
Then came IBM's announcement on Dec. 7 of its plan to acquire Octo Consulting, which candidly caught Team WT by surprise and likely so many others in across the entire public sector ecosystem.
Why the two companies decided to join forces and what IBM's consulting shop is up to today with Octo in the fold was the keynote topic at WT's Power Breakfast Friday focused on mergers and acquisitions.
Here were my main takeaways from asking that big-picture question and many others to Susan Wedge, managing partner for the U.S. public and federal market at IBM Consulting, and Octo's founder and chief executive Mehul Sanghani.
The CEO had to be on-board
Understanding what Big Blue wants to achieve in public sector requires one start by listening to how CEO Arvind Krishna answers the question of "What is IBM?" Krishna did so in this interview from November at the Economic Club of New York, where he explained the company's tech and business priorities artificial intelligence and hybrid cloud computing.
IBM is four years removed from its big-ticket acquisition of Red Hat to move in that direction, while 2022 saw Big Blue buy eight companies including Octo. That surprising transaction is the largest in the history of IBM Consulting at a value of approximately $1.2 billion, a figure revealed in IBM's annual report for 2022 to investors.
Making an investment of that size requires buy-in from just about everyone in IBM's leadership team. Wedge said the review and ultimate decision to acquire Octo went all the way up to Krishna and IBM's entire C-level executive team.
"It was really painting the picture of where we were today, what could the future look like coming together with Octo, and then what would the numbers behind that look like," Wedge said. "We ultimately had to lay that out and talk not only about the financial impact, but also the brand impact within the market."
This second point Wedge brought up also stood out when describing how her team made the business case for the acquisition because of who listened.
"We actually have a CEO who's passionate about the federal government. He reads the federal emails that come out. I get personal emails on a regular basis asking me questions, he's inquisitive about the market, he's curious about the market, he's got some relationships in the market," she said.
Building a third culture, i.e. something new
Big Blue turns 112 years old this June and is all over the world.
Sanghani founded Octo in 2006 and often quips, and did so at our event, that the company's origins go back to his garage. Octo has also been on a fast expansion track over the past four years with the backing of private equity firm Arlington Capital Partners.
IBM Consulting's U.S. public and federal market organization added 1,500 Octo employees to become a 4,200-strong workforce. Which means that in order to make it all work going forward, the combined team has to maximize what each side did best before the transaction.
Sanghani said Octo's experience of integrating four acquisitions as an Arlington Capital-backed company provided a series of lessons learned along the way on how to bring teams together and new employees onboard.
"There needs to be this cultural overlap, but at the end of the day, every organization has their sacred cows," Sanghani said. "Being able to lay those out, enumerate those, has been important.
"There are things we have been able to take from a process and procedure perspective, from an organization of the size and scale of IBM, but we've been able to bring concepts and ideas to the table too," Sanghani added.
As a reminder: IBM wants to double its federal business over the next three years with the consulting organization as a big part of that push. IBM's technology and consulting businesses in federal ended 2022 at $1.9 billion in revenue, but wants to go bigger and make a greater impact.
"You don't do that by doing more of the same. So I think we're coming into this from the perspective of,  we need to change our business," Wedge said. "We know we need to learn from the best of Octo, and the best of IBM, and bring those together to create this third culture, really grounded in that purpose.
"We have lofty goals, to do that we've got to change the way we're doing things as well."
What the combined team is working on together now
To make any integration a success, finding engagements and opportunities to start collaborating on as-soon-as-possible is key so that the employees become a single team quickly.
The General Services Administration is one customer where that teamwork is happening today. Sanghani often calls GSA the "Amazon of the government," and also did so at our event, because of how embedded that agency is in so many facets of the federal government's business and operations.
For the Transportation Security Agency, the IBM Consulting and Octo teams are working together on modernizing mission IT systems. Both teams also are working "side-by-side" at the Veterans Affairs Department, Sanghani said.
But those are merely the starting points for working together. How they use that foundation for tomorrow's opportunities will determine the success of this business combination.
"Places where we're not working today, we've brought in our teams together to learn from each other," Wedge said. "We're early on in that process, but just starting to get everyone educated, know who's who in the zoo, and what are we doing collectively, what's the impact we have together as a team."