Why 2021 was a record year for mergers and acquisitions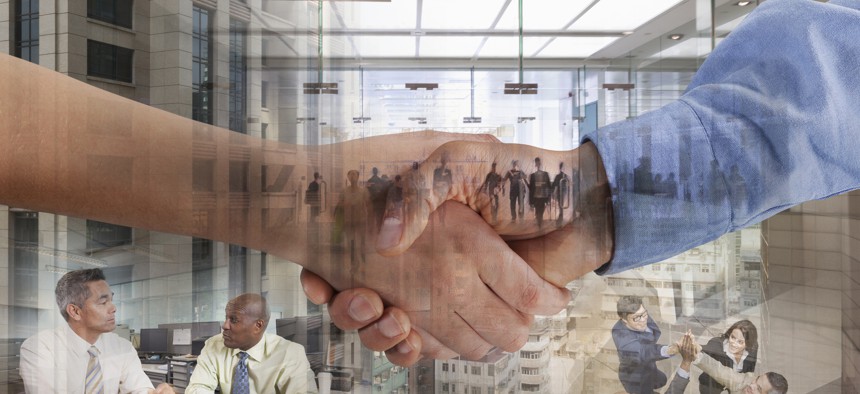 The market saw 190 mergers and acquisitions close in 2021, far more than any prior year. Our analysis and coverage dives into who the buyers were and their reasons why, plus what it means for the federal market.
Both the volume and pace of mergers and acquisitions in the federal market last year made 2021 a year like no other.
We tracked 190 transactions, far out distancing any other year since we began our annual M&A round up in 2004. Before 2021, a stellar year might see 100 closed transactions.
Multiple factors made 2021 a surprisingly strong year for acquisitions:
Buyers with plenty of cash
Financing that was easy to procure
Well-cultivated targets
Strong valuations to motivate sellers
Lingering fears capital gains taxes
Even with the raw number of transactions, there are several that stand out. Topping that list is the creation of "New Peraton," which we've covered extensively. But given the back story and the sheer size of its deals, we can't write about M&A in 2021 and not zero in on Peraton.
Late in 2020, Veritas Capital-backed Peraton announced it was buying the IT services business from Northrop Grumman for $3.4 billion. That move alone pushed Peraton from around $1 billion in annual revenue to $2.6 billion.
That purchase of the Northrop IT unit would rank as one of the top deals of the year. But Peraton was not finished of course.
In January 2021, Veritas announced it would acquire the publicly-traded Perspecta in a $7.1 billion transaction and fold that company into Peraton.
The Northrop deal closed in February and Perspecta in May, and Peraton became a privately held company with $7 billion in annual revenue.
Peraton also closed two more deals to complete in 2021. The acquisition in September of the as-a-service business from ViON for an undisclosed amount and the divestiture in November of a systems engineering firm that Veritas set up as Arcfield.
Others worth noting:
I call those five dealmakers out because while private equity and other financial sponsors may have driven the majority of the activity, publicly-traded companies still are throwing their weight around.
Several market trends emerge in digging through the roundup. One is a recognition that defense spending will not subside under the Biden Administration, which held true in its request this week for an increase in the defense budget.
At the same time, you'll see deals for civilian focused businesses because of increases in spending from those agencies and especially around health and the environment.
Those expected increases are driving companies to either buy their way onto contracts or into customer sets.
You'll also see the hot capabilities that companies are pursuing as well. In-demand capabilities include cloud, artificial intelligence, cybersecurity, digital services, and IT modernization. And there are niche acquisitions around space, unmanned systems, and other bleeding edge technologies.
The acquisitions are in part a reaction to customer demands but also an attempt to anticipate future demands.
The deals in 2021 also show a fair amount of portfolio shaping by some of the larger companies.
Peraton and Veritas Capital spun out Arcfield as we mentioned. Booz Allen made a divestiture. AT&T sold its defense IT professional services business so the public sector unit could focus more on FirstNet and the EIS network modernization contract vehicle.
A few examples emerge of companies that were buyers earlier in the year, only to be acquired themselves later in 2021.
BlackHorse Solutions acquired Emerett in January to bring in data and intelligence capabilities. Then in July, Parsons acquired BlackHorse for $203 million.
Washington Technology Top 100 companies were among the more active buyers in 2021 with 30 transactions by these companies. Leidos, ICF, SAIC, CACI, Maximus, CGI, Booz Allen and Smartronix made more than one purchase each.
Another group of buyers emerged this year with five Alaska Native Corp. and tribally-owned companies making acquisitions during 2021. Command Holdings, owned by the Pequot tribe, made two acquisitions. Chickasaw Nation, Cherokee Federal, Koniag Inc., and Island Empire Community Development, a Hawaiian Native Corp., each made one acquisition.
Chenega Corp. divested a business as well when it sold ADG Creative to the Proximas Group.
While 2021 was a record breaker for mergers and acquisitions, the same market conditions continue in 2022. Our expectation is another year of high-volume activity.
Publicly-traded government contractors have the resources and the need to continue making deals. Private equity firms made more acquisitions than sales in 2021, so that has created a growing pool of targets for the publicly-traded companies. Sellers also seem keen to take advantage of high valuations.
We might not see 190 closed transactions, but the pace will still be well above the historical average.