How X-Bow mixes the old and new in rocket tech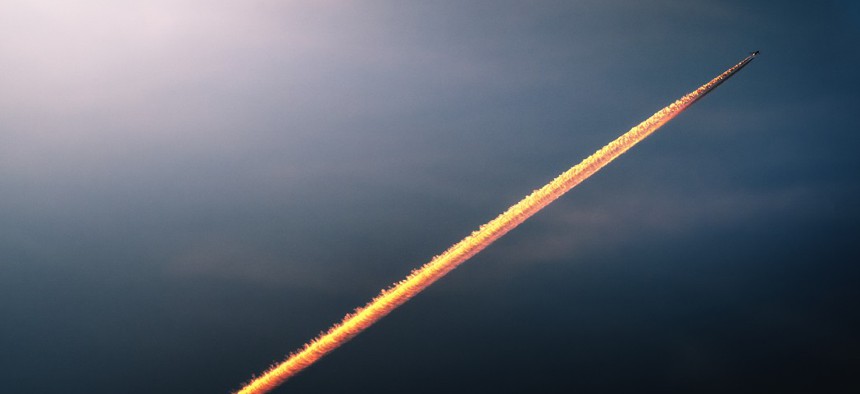 Now out of stealth mode, this six-year-old company wants to become a major player in solid rocket motor production.
Fewer products in the government market have as high a barrier-to-entry as solid rocket motors, which is part of the reason Northrop Grumman and Aerojet Rocketdyne are the two major suppliers.
Northrop Grumman entered the market four years ago through its acquisition of Orbital ATK. Aerojet Rocketdyne remains an independent provider of those systems after Lockheed Martin earlier this year ended its effort to acquire that company in the wake of an antitrust lawsuit.
Is there room in the market for a third maker of such products?
A six-year-old company that pronounces its name as "Crossbow Launch Systems" says yes. X-Bow CEO Jason Hundley said the company blends traditional and modern techniques to make the motors that then go onto the company's launch vehicles.
The way these motors have been made over five decades is similar to cooking with a KitchenAid mixer, according to Hundley.
"What the traditional process does is mix up the ingredients very slowly, very carefully and then pour all those ingredients into a rocket motor case, then wait for about three or four weeks," Hundley told me in an interview Monday.
X-Bow's method is multi-phased in that the company still blends those ingredients—called energetic chemicals—together in smaller increments with no more than 200 pounds running through the systems at once. Then the company taps tools like digital twins to enhance manufacturing processes.
Now out of stealth mode, X-Bow found some footing before its unveiling to the market with awards from agencies within the Defense and Energy departments.
Contract number one was with the Defense Advanced Research Projects Agency to develop the technology for both orbital and suborbital use, Chief Revenue Officer Maureen Gannon said in that same interview.
X-Bow then leaned on Small Business Innovation Research awards and other contracting mechanisms like it that are typical for new and emerging companies starting out in the federal market, Gannon added.
Some of the other customers X-Bow has lined up include the Air Force Research Laboratory and its AFWERX technology accelerator, along with the Los Alamos and Sandia national laboratories.
"As they continue their work, they would like to do a more consistent and accelerated testing program," Gannon said of the effort at Los Alamos.
Using digital twins—virtual representations of the motors—are an example of how X-Bow embraces newer methods. Hundley said the company is working with the Air Force on further developing those replicas of physical assets in order to speed up the manufacturing process, as well as to build up a database of information on how the parts come together.
"We are confident that it will take a database of a few years that between machine learning, algorithms, and machine vision inspection, that we can eliminate several of the post-motor inspection processes because we're going to have that information built into our system as we manufacture the energetics," Hundley said.