Kratos' 2021 acquisitions foreshadow its 2022 goals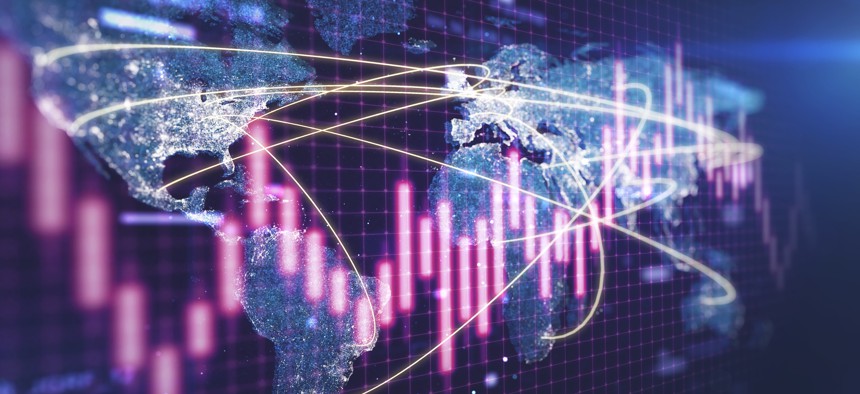 Kratos Defense & Security Solutions' optimism on its space and satellite business can be found in a pair of acquisitions the company made as 2021 was coming to a close.
Kratos Defense & Security Solutions put a ribbon on the last calendar year with a pair of acquisitions closed two weeks apart in December to further its space, satellites and cybersecurity strategy.
During Kratos' fourth quarter and year-end earnings call with investors Tuesday, executives disclosed the company paid roughly $60 million in cash for microwave application component maker CTT and communication product firm Cosmic Advanced Engineering Solutions.
The transaction involving CTT closed on Dec. 10 and the purchase of Cosmic AES closed on Dec. 27, according to Kratos' annual 10-K report filed alongside the financial release.
CTT's catalog comprises of power amplifier products for use by commercial, military and homeland security customers in satellite communications.
Without giving much specifics, Kratos CEO Eric DeMarco told analysts that CTT "will provide a channel to additional new customer opportunity sets" through the business' combined microwave product library and joint focus on space and satellite systems.
DeMarco was only slightly more descriptive about what Cosmic does given the majority of its business is classified, as apparently CTT's is also. But he characterized Cosmic as a company that believes national security needs outpace the requirements coming from agencies through the procurement and acquisition cycles.
Cosmic's technology focus areas cover radio frequency, digital signal processing, geolocation, overhead persistent infrared, mission cybersecurity and embedded hardware.
San Diego-headquartered Kratos also likes the path Cosmic had gone down prior to the acquisition.
"Cosmic's margins are currently lower than Kratos' space, satellite and cyber business, including due to the existing nature and maturity of certain work they perform in their contractual arrangements," DeMarco said in his opening remarks. "However, the margins are expected to increase as we move forward, as certain Cosmic work matures or transitions to higher end products and execution delivery."
Meanwhile, Kratos reported fourth quarter revenue of $211.6 million to register 2.5-percent growth over the prior year period. Sales for all of last year totaled $811.5 million to show an increase of 8.5 percent.
As for next year, Kratos' initial forecast sees sales in the range of $880 million-to-$920 million and that indicates growth of roughly 7 percent at the midpoint.
That outlook includes acquired revenue and work on current contracts, but alongside headwinds of supply chain disruptions and the COVID-19 pandemic. A protracted continuing resolution could also cause Kratos to adjust its financial outlook.
Operating income of $27.9 million for all of 2021 was 4.8 percent lower compared to the prior year, while this year's outlook for that bottom line metric is $27 million-to-$31 million.
Qualitatively speaking, the space and satellite business is where Kratos sounds most optimistic with regards to its overall trajectory.
Perhaps more known for its focus on hardware, Kratos has shifted to more of a software-oriented approach as seen in an open space virtualization offering DeMarco described on the call.
Which means that the revenue profile will look different as opposed to other multi-year hardware programs, DeMarco said. Kratos is designing more software into its offerings and the shipping of that is increasing as well.
"The open architecture approach that we've taken now and the non-program of record-centric approach we've taken on ground systems for the entire market, not a particular program, it's enabling us to address an entire different aspect of the satellite industry we were never able to address before," DeMarco said. "Those bids are in."