What's next for 'Amentum' after AECOM spinoff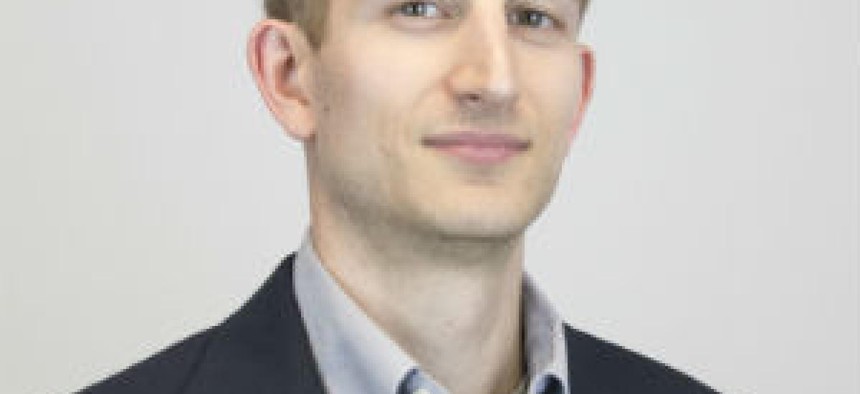 Government contracting now has a new player of sorts: yes it has a new name, but also has some recent precedent of taking market share to climb the food chain.
AECOM on Friday closed the sale of its management services business to private equity firms American Securities and Lindsay Goldberg for $2.4 billion. Out is the old AECOM Management Services brand, and in comes the new name of "Amentum" -- the word used for a leather strap attached to a javelin used in ancient Greek athletics.
Even as part of AECOM, the business was somewhat on its own given the nature of its work with U.S. government agencies. Though it did get support for some corporate functions such as tax and treasury given AECOM's status as a global publicly-traded company.
"Our (human resources) systems, our IT systems and our financial systems had to be pretty much closed," said Amentum CEO John Vollmer, who led the business for close to four years at AECOM.
"So not a lot of change in terms of the business infrastructure, which really makes the transition to Amentum very, very smooth."
So what is going to be different as Amentum?
"We're going to be much more agile, because we get to focus on exactly what we do so well, and that's the federal marketplace… and other key allied governments," Vollmer told me. "We have the agility to do whatever it takes to meet their mission requirements."
Amentum's top management team accompanying Vollmer all comes over from AECOM:
Jake Kennedy, chief financial officer
Dr. Karl Spinnenweber, general manager of the mission readiness unit
Jill Bruning, general manager of the "IS4" unit -- intelligence, systems engineering, security, services and solutions
Mark Whitney, general manager of the nuclear and environment unit
One clear difference now is that Amentum also hence no longer has the requirement of tabulating its financial results as part of a larger quarterly report from the corporation to investors, though we do have the most recent fiscal year's report to look at.
As AECOM Management Services, the business closed its most recent fiscal year ended Sept. 30 with $4.1 billion in annual revenue and a 5-percent operating margin. The business recorded 12-percent organic growth for the year and a $19 billion total backlog that is more than double the contracts inventory of three years ago.
"We've been on a little bit of a roll, we made some decisions four or five years ago on how we wanted to transform the business into a much higher-growth business," Vollmer said.
Vollmer said the word Amentum also aims to signify the momentum it has been on over that time.
That included investments in business development pursuits, plus AECOM's acquisition of the former URS Corp. in 2014 to help create what became the management services business focused on federal government and infrastructure clients.
A vast majority of Amentum's business is with the Defense and Energy departments. The company's almost 20,000 employees provide services such as environmental management, training, logistics, consulting, systems engineering and IT to customers in 28 countries.
Like at AECOM, Amentum's strategy involves implementing technology solutions related to cybersecurity and other areas as part of a larger professional services offering for agencies looking for cost and time efficiencies in their programs.
Vollmer told me much of the work Amentum does involves "high-hazard high-consequence activities" such as dealing with radioactive remnants of the Cold War at DOD facilities and supporting military test and training range activities.
"We want to overlay better solutions and better technology to truly up the game on what we think we already do so well," Vollmer said. "It's to be able to give clients better insight as to all of their programs and where they are at any given time… it's a true transparency that we want to build with our clients."
Amentum is also awaiting the outcome of the Army's re-evaluation of bids for the $82 billion LOGCAP V global logistics contract that could further expand in-theater support work for warfighters. AECOM Management Services' proposal was initially not selected for an award last year, but the Army has told a federal judge it is taking a second look in the wake of post-award protests by them and DynCorp International.
Vollmer said that Amentum initially will focus on organic growth with the backing of its new investors, both of which are familiar names in the market. American Securities formerly backed Alion Science and Technology before the latter's acquisition by Veritas Capital in 2015, while Lindsay Goldberg is exiting most of its investment in PAE and also was a minority owner of ECS Federal.
"We're their platform in the federal space," Vollmer said, and one with "all the business systems, so we're already self-sufficient from that perspective."
Likely not to move in the very short-term, Amentum does see itself as an eventual acquirer to participate in this this ongoing round of consolidation in the government services market.
"We want to be able to grow no matter what is put in front of us, whether it be organic or whether it be a perfect type of acquisition that will fill a niche that is important," Vollmer said. "Right now we can make it happen organically. If there is an opportunity there, I know American Securities and Lindsay Goldberg would be on board to pursue those."