Integrators are now scouts for new technology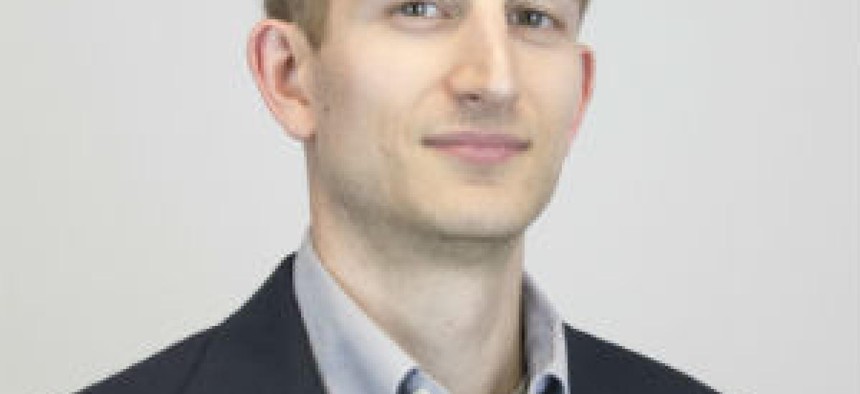 Traditional systems integrators are adopting the practice of scouting technology now that most innovation is driven by the private sector, not government.
Not unlike their larger aerospace-and-defense counterparts, federal technology systems integrators are increasingly embracing a technology scouting function that keeps them on the lookout for emerging and innovative tools from startups and other businesses outside the traditional government market.
For the most part, nearly every executive I have spoken with about that "tech scouting" approach has indicated this change in mindset was an inevitable one the market needed to make and in-line with how the pyramid of innovation has flipped from being mostly government-driven to private sector-driven.
"It may sound a little counter-intuitive that as a technology integrator I think that is a good development, but I think it is a good development because what it means is that we can get them solutions much faster and at less cost," as told to me in February by Charles Onstott, chief technology officer at Science Applications International Corp.
---
Want to hear more on this topic?
Attend the March 20 WT Power Breakfast where we'll feature executives from Deloitte, Booz Allen Hamilton, Leidos, Accenture and more talking about how commercial technology is helping them win business in the federal market. Click here to register!
---
Tech scouting by large A&D primes like Boeing, Lockheed Martin and Raytheon has largely taken the form of venture capital investments in emerging companies with technologies viewed as disruptive for customers, the market and the parent companies themselves.
As Onstott alluded to, the tech scouting function by integrators can take multiple forms: either through partnerships with technology companies mostly focused on the commercial marketplace, dialogue with private investors that back those businesses and of course conversations with government customers.
A pair of forums that saw all of the above happen were the RSA Conference held March 4-8 in San Francisco and the South by Southwest Festival during the same week in Austin, Texas. For example, Leidos Chief Information Security Officer J.R. Williamson said RSA has evolved beyond its heritage lineup of technical sessions and a showroom floor with suppliers.
"Nowadays, most senior security professionals use their time at RSA to meet with senior executives from both current partners as well as get introduced to new ones that could potentially fill a hole in your current portfolio," Williamson wrote to me in an email.
"As a CISO and security practitioner, this is a big focus for me at RSA: solve some existing nagging problems and learn about where my key partners are all heading...all in one place in one week."
Peder Jungck, vice president and general manager of BAE Systems Inc.'s intelligence solutions business, is another executive that has observed that shift in what RSA has become from an end-user show.
Jungck also described it as a centralized hub for current and potential partners of BAE's U.S. subsidiary and other integrators like it to ask questions about the current federal IT environment with security and technical requirements among the main topics.
"That's where these tech companies who don't want to go through all the hoops to be in a government cloud or a government contractor, they can say 'Hey I know one, how do I get there?'" Jungck told me.
"It's bringing the assistance we can do as an SI to the tech companies. At the same time, we're both hearing directly from the government (on) which ones they want and how they want that."
For its part, Booz Allen Hamilton has taken a piece of its tech scouting function in Silicon Valley and made it permanent with an office in San Francisco that houses a dozen people. These staffers not only talk to the startup community but also accelerators, incubators and venture capital investors with their eyes and ears to the ground on what innovations and new businesses are emerging.
The standup of that office also coincides with the government's own push to be present in the region through the Defense Innovation Unit (no longer Experimental) and other efforts.
"Being a part of this area and this ecosystem has really helped us understand how are the companies thinking, how are the investors thinking, where are things trending," said Jaime Fitzgibbon, a Booz Allen senior associate based in San Francisco.
"We're seeing what these portfolios are and if you want to know where investments and technology is going, follow the money… where are these people putting their skin in the game."
But do these companies outside the government market's traditional sphere want to enter it, and also what is their appetite to do so? The answer tilts toward "yes" but still has some caveats to it including who helps them get in, according to the executives I spoke with.
"Startups and nontraditionals don't think of their technology in terms of just use cases that the federal government is an easy pathway to get into," said Brian MacCarthy, also based in San Francisco and a principal for Booz Allen's Strategic Innovation Group.
 "One of the things we wanted to do is to create an on-ramp for us to be able to do that with current contracts that (we) have and open the kimono a little bit about the work that we do and bring some of these startups and nontraditionals on the contract with us."
The traditional barriers to entry such as security requirements and regulatory compliance still loom as that aspect directly implies increased cost and bureaucracy. Startups initially avoid looking at the government market because of those barriers as regulations only seem to be increasing, Williamson said.
Both getting the required security certifications for a product and "getting onto approved government purchasing lists can be a daunting, time consuming, and costly endeavor and many startups don't initially go down that path," Williamson said.
"It seems that mid-tier to larger companies that are looking to expand their footprint tend to the ones focusing on getting their products certified for government use," Williamson added.
Jungck said commercial tech firms cannot help but look at the government's large scale and reach, but are also mindful of the different sales cycles and business processes in the public sector.
This is where the integrators come in as the pathway to enter the market and partners can view the government as a channel versus through the approach of direct sales, he said.
"They're looking and they're willing to now look at other ways of going to market," Jungck said. "That's where I think we're starting to find a win-win."