Robotics market sees lift as DOD shifts to longer-term programs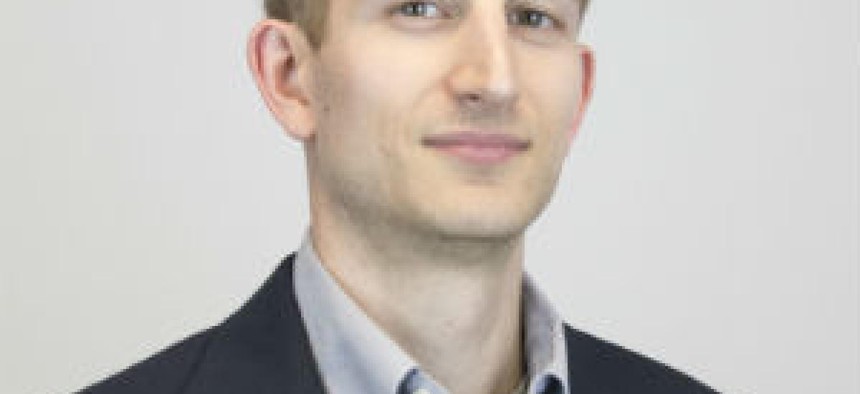 The Army rushed unmanned ground vehicles into use during the height of the wars in Afghanistan and Iraq and then dramatically slowed down its buys of the robots as forces drew down.
Some underlying data shows a recent bottoming out of this piece of the unmanned platform market before a rebound. According to federal market intelligence firm Govini, unmanned ground vehicle spending totaled almost $1.6 billion for fiscal year 2017 in a reversal from a six-year low of $681.8 million for FY 2014.
Those figures would put last year's fiscal year spend roughly level with that of fiscal 2012, according to the big data and analytics research company. This change in spending profile comes as the military is also moving from a rapid buying approach to longer-cycled, enduring programs of record that factor in the entire procurement lifecycle just like other big-ticket defense platforms.
Sean Bielat, CEO of unmanned ground vehicle maker Endeavor Robotics, defined the initial bow wave of ground robot procurements as when the military was "very rapidly acquiring the latest and greatest" for missions to diffuse roadside bombs and other assymetrical threats.
"But they were doing it in a fashion that didn't allow for ensuring that there were cross-platform accessories and interoperability," Bielat told me. Also largely missing from the procurement equation then were the usual maintenance and lifecycle upgrade items typical of other weapons and equipment programs.
"That's all changed with these programs of record," Beilat said. "Now you have large teams working on the government side to try to procure the best robots for the job and ensure that once they are procured, that they'll be able to maintain them, support them, upgrade them and do all the things to ensure that they have the right solution for not just today but the next 10-to-15 years."
Formerly the iRobot defense segment, Endeavor Robotics launched under its current name two years ago after private equity firm Arlington Capital Partners acquired the business. Endeavor Robotics has since prioritized its pursuits of those programs of record and seen some success in recently.
The Chelmsford, Massachusetts-based company is one of two finalists alongside QinetiQ North America for one of those programs of record: the Common Robotic Systems-Individual contract to build a set of maximum 25-pound vehicles for dismounted forces and with payloads for multiple functions.
A further downselect for CRS-I is scheduled for this fall and both competitors are at work in refining their offerings during the current potential $429 million engineering phase.
In October of last year, Endeavor Robotics secured one of those programs of record when they beat four other bidders for the $158.5 million Man Transportable Robotic System Increment 2 contract.
The company will build medium-weight, remotely-operated systems to counter threats such as explosives in the field and possible chemical, biological, radiological and nuclear hazards.
That program also is a touchpoint to consider the new procurement model for unmanned ground robots based on Bielat's description of how it works beyond just the production aspect.
"The lifetime value will be even greater as you consider the support for systems once they're fielded, the replacements for robots that are either blown up or subject to pretty rugged operations, planned upgrades and spares," he said.
Not only is Endeavor pursuing and working on active programs of record, but they are also laying the groundwork for those slated to start down the road as ground robot acquisitions further mature. The company's headcount has climbed by 30 percent so far this year and the main Chelmsford facility is getting an increase of 10,000 square feet for increased production and demand.
"We've got a lot of organic growth in front of us but we're also interested in potential acquisitions that would add capability and value to our company," Bielat said. Those deals would largely be more of the tuck-in variety, he said.
But the future of the unmanned ground robotics arena lies also in the underlying systems and technologies that make them work, particularly the interoperability and control aspects.
Bielat told me a large part of Endeavor's team focuses on software development and the company has embraced an open architecture approach and the Army's UGV Interoperability Profile also known as IOP to help further mature the overall technology.
"We're very happy to take other peoples' sensors, manipulators and any other pieces and parts and cohesively integrate them onto a single platform," Bielat said. "In doing so, we're helping support the broader robotics community infrastructure."
A broader robotics arena that is poised to see more activity.
"What you're seeing is all the services embracing this program of record approach and getting much more deliberate in their acquisitions," Bielat said. "That'll continue to be the trend, at least until the next conflict, and then once there is another confllict all bets are off. Then you start going back to that rapid contingency-funded acqquisition. But during this period, we see programs of record not only continuing but accelerating."