Northrop's BluVector spinoff brings DNA approach to cyber defense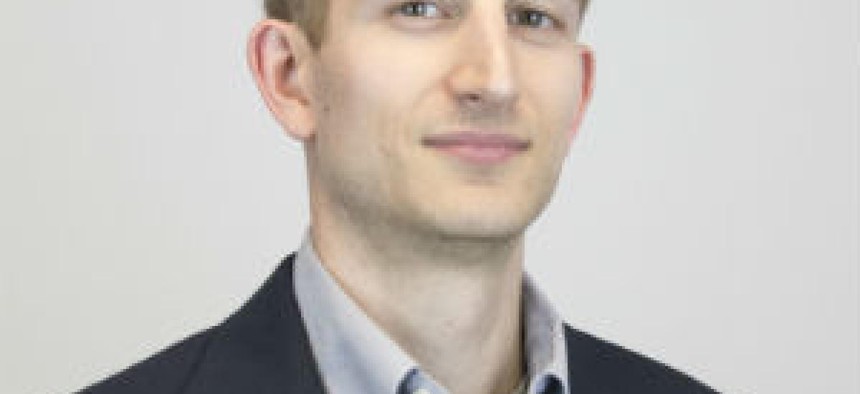 Once part of Northrop Grumman, BluVector's platform uses machine learning and a software genome to attack and adapt to cyber threats.
Northrop Grumman's intent all along for its former commercial cybersecurity business was to stand it up internally, build up the technology and then set the shop free to pursue the market on its own.
The defense contractor fulfilled that mission in January when it sold the "zero-day" cyber defense software outfit BluVector to private equity firm LLR Partners. BluVector officially started inside Northrop as Acuity Solutions in 2015 and later adopted the current brand after its flagship machine-learning product that works to detect threats before they are known.
Arlington, Va.-headquartered BluVector models its approach to cyber along the lines of how the human body recognizes and reacts to diseases, its CEO Kris Lovejoy told me. In fact, the origin of the idea behind BluVector coincides with the effort to map the human genome, she said.
"At the same time we were seeing the first 'zero day' attacks, forms of malicious code disseminated by the adversary, for which there is no signature," Lovejoy said. "They had this idea to create a genome for software."
Under that structure, the idea was that a machine learning platform can learn to identify features or detect their absence as an indicator of maliciousness. The idea to take that approach of teaching a machine to learn software code just like DNA code further developed under a pair of federally funded research programs.
Northrop then took those two projects and combined them to form what is now BluVector to continue the work on a new capability that puts context around what is found in cyberspace.
Cyber and biology are "inextricably linked," Lovejoy said, as the enterprise "is like this giant organism" that is bombarded with viruses and other threats.
"With some of the new technologies like ours, you can defend your organization against the most sophisticated attacks with the machine learning capabilities that are coming out today," she said. "Nothing is ever going to be perfect but it is possible to have defense in depth."
BluVector 's product is a self-adapting platform that uses machine learning techniques to achieve cyber defense with hindsight, insight and foresight.
The product uses artificial intelligence-based hindsight to learn patterns and rules, insight to find unusual behaviors or communications and foresight to come up with a solution against an attack based on what it has learned.
And now with the new BluVector 3.0 release unveiled Tuesday, the platform adds what the company calls a "fileless malware detection" capability. That type of malware hides in the memory of a compromised machine that gets infected without a trace on its file system.
BluVector 3.0 works to emulate how code behaves when executive in a machine and flag behaviors that could indicate where an application is vulnerable or potential code misuse. The company cites the recent Petya, NonPetya and WannaCry incidents that used such methods of attack.
The company's approach to machine learning in cyber is in a supervised form, Lovejoy said.
"When (our tool) looks at something and learns what it's looking at, it'll change its classifiers to recognize it the second time," she said.
BluVector's exit from Northrop ownership gave the business an opportunity to further hone in on commercial markets but that does not translate to a complete departure from the public sector market.
While declining to disclose specific financial metrics, Lovejoy said that 10 percent of BluVector's customer base resides in the federal, state and local government markets. The remaining 90 percent is in commercial, she said.
And Northrop continues to sell BluVector's cyber product to defense, intelligence and other federal customers "on our behalf," Lovejoy said. While declining to offer specifics, she told me the companies also collaborate on "certain technology projects."
"We continue the channel partnership, Northrop continues to have an expansive relationship with BluVector and is able to use (our) technology within its customer base," Lovejoy told me. Public sector IT product reseller immixGroup also offers BluVector's product in the government market.
BluVector's commercial customer pipeline comprises of what Lovejoy described as "the most bizarre pipeline you can imagine." Examples she offered includes insurance companies, law firms, home alarm companies, medical device manufacturers and even another major federal contractor.
"For me, it's really good news because this is a product that is ubiquitous and of value," Lovejoy said. "And that's what we were hoping for."
What BluVector is hoping for is a global footprint down the road with North America the initial focus in a market that is "fat and growing," she said.
"We are beginning to see a lot of pickup in Japan and inklings of pickup in Western Europe. Growth is going to happen internationally."
The company also sees opportunity in highly-regulated industries such as critical infrastructure, which includes water supply and nuclear energy facilities. BluVector is "seeing a lot of pull" in that sector, Lovejoy said.
"We're seeing a lot of growth in all sectors but probably more in commercial mid-market," she added.
The 60-employee company cut the ribbon on its Arlington, Va., headquarters in September in a ceremony attended by Virginia Gov. Terry McAuliffe along with county and state officials. Virginia is one of BluVector's public sector customers.
Northrop's strategy for the commercial cyber market with an eventual exit in mind has differed from several of its counterparts in the defense market, who entered and left later. Including Northrop, these companies now reserve their cyber products and services almost exclusively for federal customers.
Lockheed Martin acquired Industrial Defender in 2014 and two years later included that business in the 2016 separation and merger of Lockheed's IT segment with Leidos.
Boeing acquired Silicon Valley outfit Narus in 2010 and sold it to Symantec five years later for an undisclosed amount. General Dynamics acquired Fidelis Security Systems in 2012 and sold it to private equity firm Marlin Equity Partners four years later.
Like BluVector's relationship with Northrop, Boeing uses Narus' technology in cyber-related work for defense and other government customers.
Raytheon is the lone large defense prime still in commercial cyber through its Forcepoint joint venture, which operates as a fifth business segment within Raytheon. Forcepoint has its own management team and board of directors in an effort to let the business operate outside a traditional defense contractor business model.
The different cadences of federal cyber versus that of the commercial world has been a common theme in my conversations with industry analysts and executives, including those I've had this year with leaders at both Raytheon's services business and the Forcepoint venture.
Add Lovejoy's description of how federal and commercial cyber differ to that mix as BluVector continues on its own journey in the market.
"When you work for a federal contractor, the objectives that you work toward are very different," she told me. "When you sell to those customers they want to know what the product is; they want it built to their specification. The process is incredibly locked down so you're innovative in an enclosed environment."
One positive of that level of scrutiny, Lovejoy said, is that "you can absolutely be sure that what they have tested works in the way the product says it works."
On the other hand, federal cyber has a "surreal procurement environment" and one "you have to have a lot of patience" with, Lovejoy said.
BluVector does plan to remain in the public sector market even as it ramps up commercial market pursuits, Lovejoy said. But the company has a wider horizon to work across on its own now.
"Now we're into a new situation where our market is not two customers, our market is the world and every organization ranging from a YMCA in Kansas to a Fortune 10 financial services company," she said.