Author Archive
Marcus Weisgerber
Global Business Editor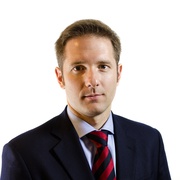 Marcus Weisgerber is the global business editor for Defense One, where he writes about the intersection of business and national security. He has been covering defense and national security issues for more than 16 years, previously as Pentagon correspondent for Defense News and chief editor of Inside the Air Force. He has reported from Afghanistan, the Middle East, Europe, and Asia, and often travels with the defense secretary and other senior military officials. Marcus' work has been cited by the New York Times, Washington Post, Los Angeles Times and many other U.S. and international publications. He has provided expert analysis on BBC, CNN, Fox News, MSNBC, NPR, SiriusXM and other television and radio networks. In 2018, he won a Neal Award for his coverage of the Pentagon and defense industry. Marcus served as vice president of the Pentagon Press Association from 2015 to 2022. An avid hockey fan, Marcus earned a bachelor's degree in English/Journalism from the University of New Hampshire.
Companies
The startup continues its expansion from software to weapons.
Companies
In the meantime, the company is pushing to have its electric drive technology integrated on more ship classes.
Exclusive
Companies
In an interview, the new president of what is now a segment of L3Harris Technologies also touted the rocket-maker's workforce.
---
Companies
Lockheed Martin has begun making investments in other rocket makers amid its concern over what L3Harris Technologies' agreement to buy Aerojet Rocketdyne means.
Companies
Greg Hayes also believes Aerojet Rocketdyne's work as a maker of solid rocket motors should improve if regulators greenlight its sale to L3Harris Technologies.
Podcasts
Lauren Williams and Marcus Weisgerber from our partner publication Defense One jump into the conversation to go over all things military, technology and budgets as they are always key watch items for companies.
By

Ross Wilkers, Nick Wakeman, Marcus Weisgerber and Lauren C. Williams
Companies
The nation's largest shipbuilder expects "mission tech" like artificial intelligence and undersea drones to outpace revenue from surface combatants.
Companies
The collapse of Silicon Valley Bank presents the Defense Department with both warnings and opportunities.
By

Patrick Tucker and Marcus Weisgerber
Companies
The chief executives at Lockheed Martin and Raytheon also say pandemic-era supply-chain woes are subsiding.
Companies
The Aerospace Industries Association begs lawmakers to avoid another sequestration deal.
Companies
Chicken sandwiches and WiFi for starters, says the head of HII's Ingalls Shipbuilding segment.
Companies
Defense industry leaders have credited the multibillion-dollar tax break with spurring innovation.
Exclusive
Contracts
Already watching over Ukraine, Leidos' ARTEMIS is part of the service's growing fleet of contractor-owned intelligence aircraft.
Companies
The war in Ukraine, worker shortages, inflation and many other factors when all added up have me it more difficult and more expensive to produce the most in-demand weapons.
Companies
The reorganization is part of a wider culture change pushed by the business unit's new CEO.
Contracts
The newest service's acquisition chief also calls for more fixed-price contracts and fewer classified programs.
Contracts
One trade association says Pentagon would lose $110 billion in buying power.
Contracts
But the multibillion-dollar deals raise questions about just how far along the Next Generation Air Dominance program is.
Companies
The White House-backed compact is also part of an effort to make supply chains more resilient.
Companies
The Biden administration needs to invest in apprentice schools, CEO of top aerospace and defense firm says. 
By

Marcus Weisgerber and Bradley Peniston