Anduril buys drone maker amid Pentagon push for autonomous aircraft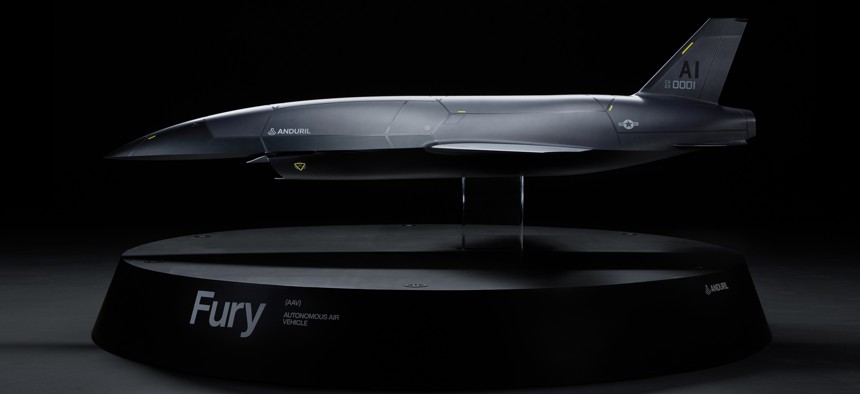 Defense startup Anduril has acquired autonomous drone maker Blue Force Technologies, a move that positions the company as a contender amid a Pentagon push to buy large quantities of jet-powered drones that will fly in concert with human-piloted warplanes.
The acquisition marks the California-based startup's expansion from software to military weapons. The company purchased robotic submarine maker Dive Technologies in 2022 and rocket firm Adranos in June. Terms of the deal were not disclosed. 
"This, for us, is about building a different kind of industrial base that can support real large scale autonomous system production and fielding," said Chris Brose, the company's chief strategy officer.
Blue Force Technologies makes Fury, an in-development jet-powered drone that Brose called "a mature aircraft." Anduril plans to "marry" its Lattice for Mission Autonomy with Fury. 
"This is a capability that they've been working on for several years," Brose said. "They are very far along [in development] and this is something that we're going to be putting even more investment against, to accelerate the development and fielding of this system."
The Air Force calls these new drones "collaborative combat aircraft" or "loyal wingmen." Officials want to buy at least 1,000 of them to fly with F-35 stealth fighters and the B-21 stealth bomber.
"I see this as a huge opportunity," Brose said. "We will continue running in the direction of opportunities like this [by] getting out in advance requirements, making our own investment to build capabilities that we believe the warfighter desperately needs quickly."
Brose said these types of advanced drones are ideally suited for different types of military missions, from offensive operations and training.
"The potential market for capabilities like Fury, I think, is considerable, if there is imagination and will and the associated funding on the part of the government to really build that market," he said. "That's something that we're counting on. That's certainly something we're seeking to influence and it's definitely something we're excited about."
Investment bank The McLean Group worked as the financial adviser to Blue Force.