M&A is a critical tool for growth for Top 100 companies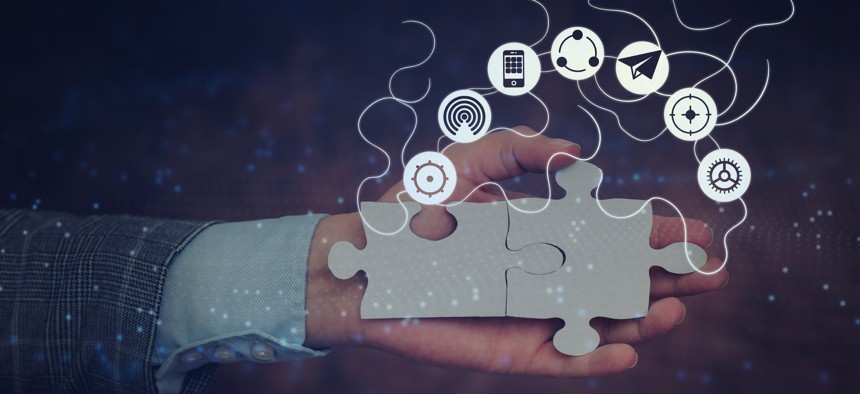 Top 100 firms were involved in 37 deals over the last 18 months as they made acquisitions, divested business units and merged with other companies.
Mergers and acquisitions are a powerful tool for government contractors on the 2023 Washington Technology Top 100.
Over the last 18 months, there have been 37 transactions involving Top 100 companies that acquired other firms or divesting business units.
In the case of 2022 Top 100 firm Octo Consulting, it made an acquisition and then was acquired by another Top 100 company in No. 28 IBM.
The buying starts with No. 1 Leidos, which acquired Cobham's Australian aviation support business in October.
Also in October, No. 3 Booz Allen Hamilton acquired Everwatch after a protracted legal battle over antitrust concerns. For the record, a judge said there were no antitrust issues.
No. 49 ICF made the most acquisitions of any Top 100 company as they closed three: Creative Systems and Consulting, SemanticBits and Blanton & Associates.
These three companies were all acquired in the past year by private equity firms: No. 27 ManTech, No. 28 LMI Consulting and No. 90 Maxar Technologies.
A second M&A trend that jumped out at us is the number of divestitures Top 100 companies made. Five companies divested parts of their businesses: No. 10 Science Applications International Corp., No. 41 ASRC Federal, No. 53 Leonardo DRS, Booz Allen and LMI.
Company leaders felt the need to shape their portfolios to increase their prospects for success.
One of the market's biggest divestitures is in the works after No. 19 Jacobs announced in May that it was spinning out its government services business to create a new $4.4 billion-annual revenue company. The spinout will take over a year to complete and won't close until the end of 2024.
A deal worth noting that did close in the past year was the merger of Vectrus and Vertex to create V2X at No. 38. At close to $4 billion in overall annual revenue, V2X now has greater scale to pursue a broader range of opportunities.
In looking at the deals that closed among the Top 100 companies, the diversity of them also stands out. Traditional systems integrators, large engineering services firms, consulting firms, resellers and IT services companies are all making acquisitions.
The message is clear: No one is immune from the need to change and adapt in today's market. Embracing change is critical to long-term success.