Who and what drove GovCon M&A in 2022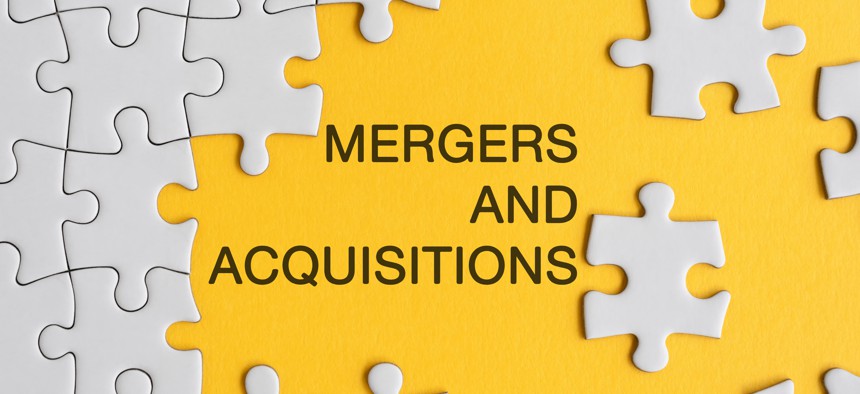 Our annual roundup shows that 140 mergers and acquisition transactions took place in the government market during 2022 thanks to a diverse set of buyers and sellers.
Mergers and acquisitions continue to be an important strategic priority for companies in the government market.
Each year we track those deals for our annual roundup, which the latest edition shows 140 closed transactions for 2022.
That number is down from the 2021 total of 190 transactions, but 2022 was still much higher than the historical average. On a general basis, an active M&A year sees around 100 transactions. Other years have closed deals in the 70s or 80s.
Costs of debt, growing agency budgets and ever-increasing interest by private equity firms are among the biggest drivers of the the deal-making.
The government services market has a low barrier for entry for new companies, with many literally started in the founders' garages. Opportunities for small businesses can often lead to rapid growth, but things get harder once these companies and their executives hit the middle tier.
Founders face a few choices in the middle tier. They can stay in that zone between small and large. They can sell to a private equity firm or a strategic buyer.
But we are seeing more of the third option: Finding that private equity firm to partner with. The founder stays and continues to lead the company, but now he or she has an infusion of cash and other resources to continue fueling their growth.
Our roundup of the closed 2022 transactions in 2022 highlights many of those firms that are led by the founder but backed by private equity.
DMI's founder Sunny Bajaj continues to lead that company, which was acquired by OceanSound in 2021. DMI bought two companies in 2022 and a third in early 2023.
You also see companies such as Aeyon, which was formed by the private equity firm Enlightenment Capital in September 2021 when it merged two properties in Artlin Consulting and Shelke Consulting.
Aeyon then made two acquisitions of its own in Marick Group and Manufacturing Technical Solutions to add capabilities in the automation, analytics, RPA and technical and programmatic support areas.
Private equity firms account for many of the deals we've tracked. Among the biggest of 2022 was Carlyle Group's acquisition of ManTech International to take that company private in a transaction valued at $4.2 billion.
Then there are the traditional strategic buyers.
Leidos acquired the Cobham Special Missions business in Australia to broaden the footprint in that country and in platforms.
That transaction is also an example of a divestiture in the market because U.K.-based parent Cobham was looking to streamline its portfolio by selling the special mission business to Leidos.
ICF closed three acquisitions in 2022, while Booz Allen Hamilton completed two. IBM probably made most surprising acquisition of the year when it bought Octo Consulting.
Several companies made acquisitions earlier in the year and then were later acquired themselves.
ManTech, Octo and Avantus Federal fall into this category. QinetiQ acquired Avantus as part of a strategy to expand in the U.S.
LMI was acquired by a group of private equity firms and later made an acquisition with that backing.
These are just some of the highlights from this year's M&A roundup. I'm sure as you stream through the list, you'll see more and we'll be writing and talking about more of these transactions in the coming weeks.
And if we missed your deal, please let us know at nwakeman@washingtontechnology.com
Click here for the roundup of 2022 closed mergers and acquisitions.
A special thanks to Baird & Co. and KippsDeSanto for helping us collect the deals of 2022 for our roundup.