Which path will, and should, small business contracting follow?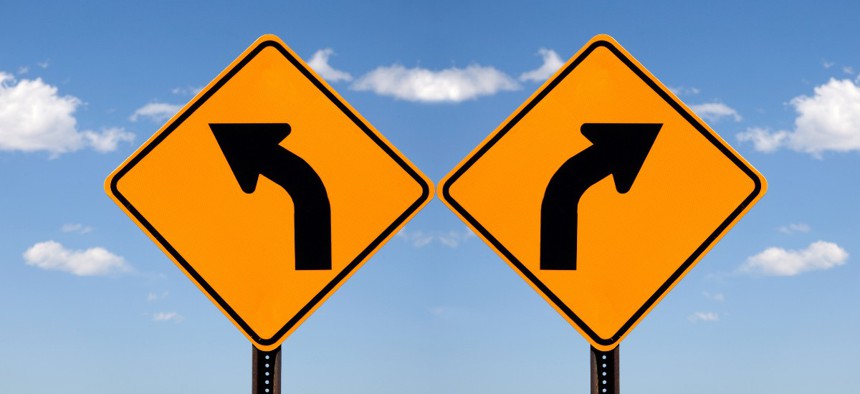 Another new initiative to increase small business participation in federal contracting brings up the disconnect between the amounts of money and companies in the system. It's time to ask whether growing both of those numbers is possible.
The Biden administration's vision of widening the aperture for small businesses to participate in federal government contracting has ambitious goals and requires hard work by agencies to hit them, along with a potential hard choice.
Yes, the overall dollar amount of contract awards for small businesses is trending upward. That figure hit a record $159 billion in federal fiscal year 2022, according to GovCon market intelligence company HigherGov. On the other hand, the number of small businesses receiving those contracts continues to trend downward.
The General Services Administration and the Small Business Administration are looking to remedy that second trend through several programs, including a new effort announced Friday that focuses on small disadvantaged businesses.
Under the 8(a) MAS Pool Initiative, companies with an 8(a) designation get another one that tells agency buyers that a business is eligible for 8(a) sole source awards and competitive set-asides. All of that will take place across GSA's Multiple Award Schedule contracts for buying commercial products and services at pre-negotiated pricing.
Contractors of all shapes and sizes know by now that the MAS program is going through, well, a "MASsive" restructuring that will result in the 24 different schedule contracts becoming one. Agencies can start placing 8(a) directed awards once the MAS solicitation is refreshed and the MAS 8(a) companies are in the pool, beginning later this year.
GSA and SBA are seeking to make it easier for procurement officials to locate and contract with small, disadvantaged businesses across different verticals that apply in the government market.
It is important to contextualize this joint effort into GSA's high level small business contracting goals it set out in 2022 -- $100 billion in contracts for small businesses over the following five years and a 50% increase in opportunities for small disadvantaged companies over that time.
The Biden administration is pushing for 12% of all federal contracting dollars to go to small, disadvantaged businesses in the government's current fiscal year.
But back to the HigherGov report referenced earlier: the number of small businesses receiving federal contracts has shrunk by half between 2010 to 2022.
That "old conundrum" of more money for fewer companies remains current after looking at this litany of challenges small businesses face when trying to crack the code of market success.
Contracts and the task orders within large multiple-award vehicles are getting more bundled and complex, which means they are more expensive for companies to bid on and then resource so they can do the work.
What it takes to be a federal contractor is also getting more complicated with increasing cybersecurity requirements and new regulations in particular that cost money to implement and comply with.
For the record: there is discord among some small businesses about that landscape. But always remember that in life and business, people who are unhappy are louder than those who are happy or at least content.
More money does not translate to more opportunity, and thus more small businesses being part of the federal contracting fold.
It seems from this perch that the government will have to make a choice between either more money for small businesses or having more small businesses, both of which have positive and negative consequences to either magnify or mitigate.
The entire federal contracting ecosystem will have to live with all of those consequences no matter which pathway it goes down.
Which path should it go down? Which path will it go down? You tell us the answers to those two questions.