How government support can transform the quantum sector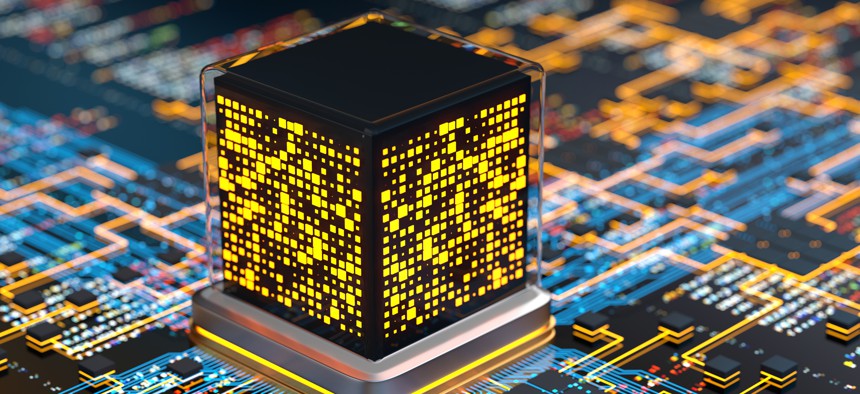 The best and fastest way to bring real quantum computing to the commercial market is the government's role as a backer of research and development and as a buyer of quantum systems.
It's common to imagine that startups grow and flourish by force of will and exceptionally clever ideas. Some certainly do. But this simple narrative misses an important part of understanding how the innovation ecosystem actually works, especially as we look to grow the quantum sector.
Behind the scenes, the government can be a powerful customer in deep tech sectors where capability with sovereign appeal may suffer from a long lead time to commercial returns.  Sometimes government grants go to academic institutions to seed the development of ideas which later become commercialized - as in the case of Google.
 In other circumstances, the government directly purchases capability under R&D or technology acquisition contracts from established companies.
In my time working at DARPA - the US Government's premier research funding organization - we competitively acquired new advanced capabilities under R&D contracts, from advanced optically interconnected microprocessor architectures through to early work in quantum computing. DARPA framed its role at the time as "bridging the gap" from technology demonstration to capability deployment.
On one program I was close to, a small company called Luxtera was a performer developing Silicon photonics devices. This came at a time well before major investment in photonics from the semiconductor industry, leaving a large technology gap to be filled in making photonics compatible with conventional Silicon fabrication processes while achieving performance at the levels needed to deliver truly unique capability.
Luxtera successfully competed for several DARPA programs over the years, building up an impressive set of capabilities and IP. This eventually led Luxtera to be acquired by Cisco in 2018 for $660 million. 
The work undertaken by Luxtera was inarguably deep tech. It was capital intensive and reliant on high-risk/high-reward research activities. While the company raised over $130 million in private capital to fund its operations, there's no doubt that the revenue and support provided by DARPA contracts was essential to their technical and commercial development.
Or for a more extreme example look at Palantir and its rise to decacorn status, largely - if not almost entirely - through early contract engagement with the US intelligence community. 
In the case of quantum computing, early commercial adoption is growing rapidly.  Nonetheless, today's serviceable market is clearly not as large or mature as a more conventional B2B software-as-a-service or data analytics company might see and there remains substantial technology development to be undertaken prior to full commercial viability. 
We can therefore see similar dynamics playing out right now with respect to government investment, with some companies scaling exceptionally rapidly, largely based on major government funding inflows. 
In an area with strategic importance, like quantum computing, government investment in local capability is already leading "nontraditional" players to have strong emerging quantum industries. This story is perhaps most pronounced in Europe, which has used government programs to offset a less mature venture capital sector relative to the U.S. 
There are several different mechanisms in use - from guaranteed loans to equity co-investment.  These can provide bridging capability but sometimes lead to ownership structures that are unattractive for long-term private-sector investors. 
The largest accelerant is almost always when the government is a customer.
There are pitfalls to look for in this approach.  It's important to ensure contracts are structured with the long-term commercial viability of the performer companies in mind.
In some cases, these contracts come with onerous IP ownership clauses or restrictions that make them commercially unattractive to future investors - like full ceding of IP to the sponsoring agency. 
Alternatively, "government purposes" clauses can be used to undermine the effective commercial monopoly rights of an inventor to their long-term detriment; a new government sponsored invention that can be handed to a competitive system integrator in five years can kill the prospects of a growing business.
Despite these considerations, in general we see major acceleration in technology development when government leans in to forward-purchase new technical capability.  The revenue and capital access are often transformational for the small businesses in question, and the scales needed to deliver huge outcomes are immaterial to most governments.
Against the backdrop of increasing techno-nationalism, restrictions on foreign ownership, and limits on technology exports, governments seeking strategic ownership of sovereign quantum capability have a single powerful lever available to pull - buy it.
---
Michael J. Biercuk is the CEO and founder of Q-CTRL, a company that develops software and tools for quantum computing.