Drone strike in Syria highlights risks faced by contractors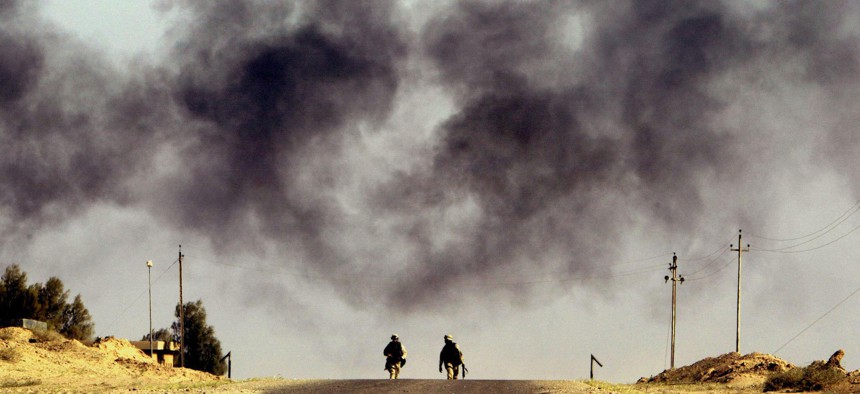 Contractors have lived and worked in war zones since the Sept. 11 attacks, a fact government agencies do not acknowledge enough.
Few details are available on the contractor killed in a drone strike in Syria, but the death is a reminder of the risks they face face when supporting their government customers customers in warzones.
Thursday's strike is believed to have been launched by Iranian proxies in Syria. The strike also wounded five U.S. service members and another contractor. The wounded contractor and three service members were evaluated to coalition medical facilities in Iraq, according to published reports. The others were treated and remained on site.
The drone struck a maintenance facility at a coalition base in northeast Syria.
The Defense Department has not released the deceased contractor's name, nor the company the person worked for.
The U.S. responded with a series of overnight airstrikes against facilities used by groups linked to Iran's Islamic Revolutionary Guard Corps, the Pentagon said.
Published reports indicate the U.S. has more than 900 troops in Syria and unknown number of contractors.
Since the Sept. 11 terrorist attacks, contractors have very much been side-by-side with their government customers in warzones around the globe. Contractors provide logistics, IT support and other mission-critical services.
Research figures from Brown University indicate that at least 8,000 contractors died in post-Sept. 11 wars in Iraq, Afghanistan and elsewhere. Service member deaths totaled close to 7,000.
Contractor casualties have often not been recognized by the government. ProPublica reports that civilian injuries and deaths in Iraq and Afghanistan were not part of the official casualty reports issued by DOD until nearly 10 years into those conflicts.
In the aftermath of the Sept. 11 terrorist attacks, DOD did create the Defense of Freedom Medal for civilian government employees killed or wounded in terrorist attacks and in combat conditions. It wasn't until 2012 that contractors became eligible for the medal, and they could only receive the medal if they were killed.
But employers have worked to recognize and honor their personnel.
The lobby of Lockheed Martin's Center for Leadership Excellence has a memorial for five employees killed in Iraq and Afghanistan. Fortunately, Lockheed has not had to add any more names to that memorial.
One Lockheed Martin employee received the Defense of Freedom medal in 2013. Also in 2013, 17 DynCorp employees killed in Iraq and Afghanistan received the Defense of Freedom award. All of them were police officers working to train Afghan and Iraqi police forces as part of a State Department contract.
It appears that DOD no longer gives the Defense of Freedom Medal to its own civilian employees or to contractors.
Medal or no medal, the risks faced by contractors are real and should get recognition.