Fallen DynCorp employees honored with Defense of Freedom medals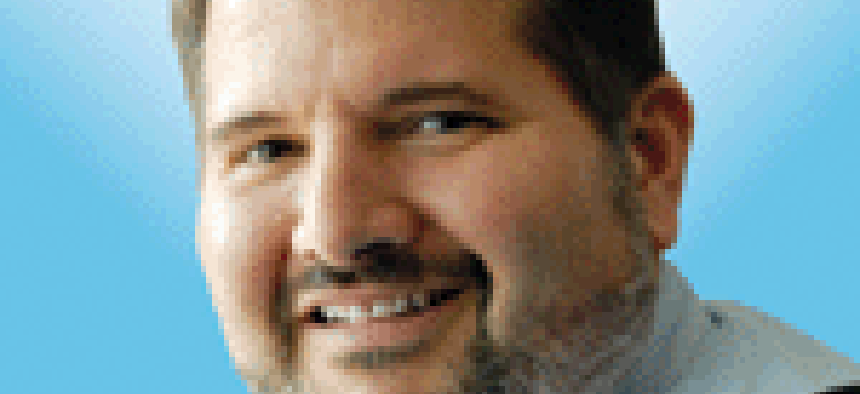 State and Defense departments step up efforts to recognize contractors who made the ultimate sacrifice.
Earlier this month, DynCorp held a ceremony at the Gaylord National Harbor just outside of Washington to honor 17 employees who were killed in Iraq and Afghanistan.
Families of the 17 received the Defense Department's Defense of Freedom medal, which is the civilian equivalent of the Purple Heart.
The DynCorp employees were killed between 2004 and 2011, and were working on State Department contracts providing police training, according to a company press release.
"There about 17,000 DynCorp personnel serving in a combat theater today. They are serving alongside our warfighters and protecting our freedom. Bottom line - contractor personnel and all they do remains vital to our nation. We depend on them, we rely on them, and they are extraordinary for their execution of the mission," said Lt. Gen. William N. Phillips, who represented the DOD at the event.
In the photo above, Lt. Gen. William N. Phillips presents the Defense of Freedom medal to Ranger Studie, grandson of Mike Dawes, a DynCorp employee killed while working on a State Department contract.
The death of contractors has been underreported, including here at Washington Technology. The most recent data I could find was that, through the first quarter of 2012, contractors killed in Iraq and Afghanistan numbered 2,994.
According to research by Steven Schooner of George Washington University, contractor deaths as a proportion of all of those killed has risen. Early in the wars, they were less than 10 percent, but in 2011 contractor deaths represented more than half of all U.S. deaths.
As part of DynCorp's ceremony, the State Department announced that it was creating a memorial to honor civilians, including contractors, who were killed during police training missions.
"On the thirteenth of May this year, with the support, assistance and my personal gratitude to Under Secretary [Patrick] Kennedy, I hope we will unveil and dedicate a memorial to all those civilian police personnel who have given their lives up in overseas operations," said Ambassador William R. Brownfield, who along with Kennedy represented the State Department at the event.
In addition to DynCorp, I know that Lockheed Martin has created a memorial to honor five of its employees killed in Iraq and Afghanistan. I'm sure other contractors also are recognizing their dead.
Now that Afghanistan is winding down, I imagine will see more being done to honor contractors who have died in warzones. The wars in Iraq and Afghanistan have seen an unprecedented level of contractor support at the front lines.
It's right and appropriate that their sacrifices, and the sacrifices of their families, be recognized.
DynCorp's chairman and CEO, Steve Gaffney, said it well: "We often talk about their bravery and strength. But I also want to highlight the bravery and strength of those family members who are here tonight, and who continue to share the stories of their loved ones."
Too often I think I'm guilty of just focusing on the business of government contracting: who's winning, who's buying, who's hiring. After all, that is what you read WT for. But it is important to remember that these are people's lives, and contractors have risked and lost their lives protecting the rest of us.
I know an executive whose son served at least one tour in Afghanistan. I heard him speak about the gratitude he felt for the other contractors who built the information and communications systems that his son and his platoon touched every day -- systems that helped them do their jobs and helped protect and preserve lives.
That's a legacy far beyond dollars and cents that contractors should be proud of.
The Defense of Freedom medal went to the families of the following DynCorp employees killed in Iraq and Afghanistan:
Roland Carroll Barvels of Aberdeen, S.D.
Brett Patrick Benton of Dry Ridge, Ky.
Brian Morgan Brian of Camden, Ark.
Michael Wayne Butler of Rembert, S.C.
Mike Dawes of Stilwell, Okla.
Arsenio Ducusin Domingo of Wadmalaw Island, S.C.
Richard Thomas Hickman of Cave Springs, Ga.
Leon Vincent Kimbrell of Boiling Springs, S.C.
Deborah Dawn Klecker of Redman, Ore.
Rudy Guerrero Mesa of Maxwell, Texas
William Lawrence Juneau of Orange County, Calif.
Douglas Stephen Thomas of Lexington, S.C.
Robert McDonald Timmann of Tallahassee, Fla.
Donald Bruce Tow of Lake Havasu, Ariz.
Darrell Leroy Wetherbee of Raymond, Maine
Gary Wayne Willard of Resaca, Ga.
Ronald Austin Zimmerman of Glenwood, Ind.