Shield AI joins a small club with its latest funding round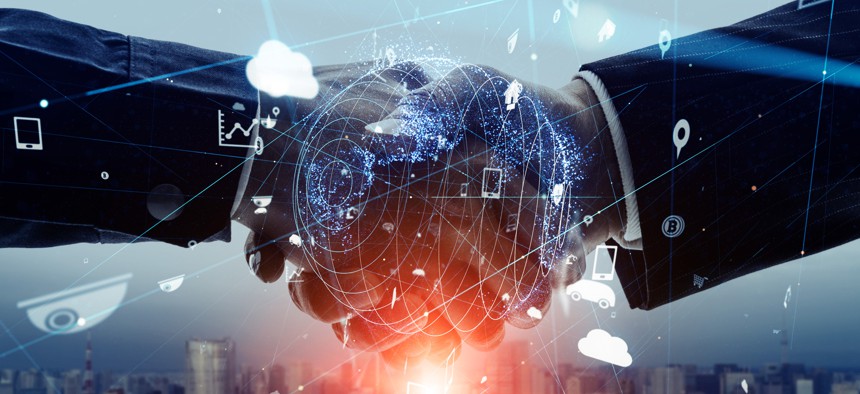 Venture capital and other investors want to find the next startup company, or companies, with the potential to join what we call a "Group of Four."
With the completion of its most recent funding round, Shield AI joins a small group of venture capital-backed defense technology startups that have achieved valuations in the multibillion dollar territory.
Only three other companies can say they have done so in the past 20 years: Anduril, Palantir and SpaceX.
Shield AI's touted valuation is $2.3 billion, a figure it arrived at through a Series E round that fetched $225 million. That includes a nearly $60 million equity capital investment announced Tuesday from the U.S. Innovative Technology Fund, a private investment vehicle led by former film producer and entrepreneur Thomas Tull.
Founded in 2015 and headquartered in San Diego, Shield AI develops autonomous software and unmanned aerial vehicles. The company's flagship Hivemind product is designed to enable full autonomy of systems in the field, including while disconnected from a cloud computing architecture and networks.
"We fundamentally believe that the greatest victory requires no war, which is why deterrence technology like AI pilots for defense are so crucial," Shield AI's cofounder and president Brandon Tseng said in a release. "We are racing to put up swarms of highly intelligent aircraft to deter the next conflict and this new capital accelerates our efforts."
USIT revealed its involvement nearly five months after Shield AI closed the initial part of that fifth-stage funding round that raised $90 million in equity and $75 million in debt.
Recall that USIT also was a participant in the most recent funding round for Anduril that fetched $1.48 billion in investments, which pushed that company's touted valuation to $8.48 billion.
Shield AI's Series E round was led by Doug Philippone, head of Palantir's defense business since 2008 and leader of the investment firm Snowpoint Ventures.
Anduril, Shield AI and the other members of that aforementioned group of four are examples of companies that have been able to cross the business version of the "Valley of Death" and not just the one related to technology acquisition.
Version one has to do with a business' pathway to achieving sustainable positive cash flow, while the latter is of course about the gap in government acquisition between technology development and getting the funding.
Not every company can get past the treacherous business valley, but the venture capital investment community is evidently looking for more firms with the potential to do so and have creations with possibilities in more than one market.
Pitchbook, a database and news service focused on private capital, reported in October that $7 billion in venture investments have gone toward aerospace and defense companies year-to-date.
That article also highlights at least one firm inching closer to the $1 billion valuation milestone, which means the "Group of Four" highlighted at the top of this story seems certain to grow in numbers.
Not every company looking for venture money will get it of course, but those that do evidently have the kind of commercial revenue profile they can lean on while their work to secure government business goes on.
But those contracts with federal agencies including defense have the benefit of stability amid wider shifts in the global economy. Margins on government contracts may be lower than those in commercial markets, but the revenue and cash flow in public sector is far more predictable in a market that is countercyclical in many respects.
It also helps that the Defense Department knows it needs the kind of technology developed by companies in commercial sectors. See DOD's just-announced establishment of a new strategic capital office as one leg of its strategy to steer private capital toward key technology priority areas.
Seems to us like all involved in the public sector ecosystem, both across industry and government, have the same ideas in mind related to time and money. 
For a deeper discussion on venture capital and defense technology, see this recent episode of our podcast featuring the leadership team at Razor's Edge Ventures.