Ukraine war teaches the value of early collaboration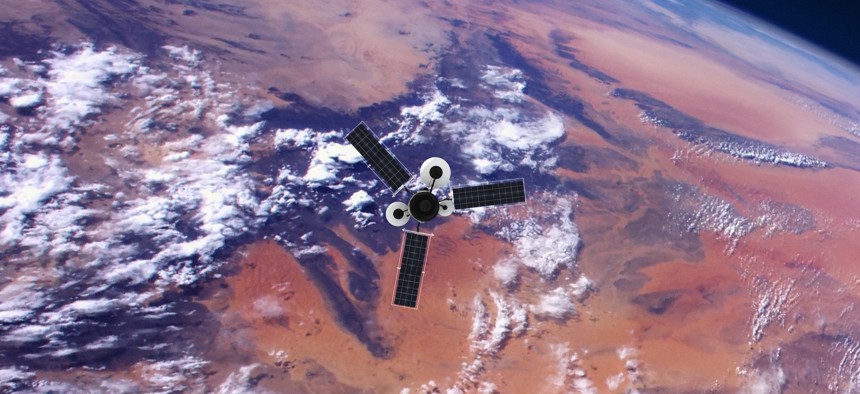 This conflict's biggest lesson might be found in the need to build more of a "connective tissue" between the commercial satellite industry and the military before the next war.
When looking for lessons for the U.S. from the war in Ukraine, it is important to look back as well.
That's what Space Force Lt. Gen. Michael Guetlein, commander of Space Systems Command, did during a panel session on space at Baird's annual government and defense conference on Wednesday.
"Let's jump back to mid-2015, 2019 before Space Force was stood up," he said. "We were very enamored with the Middle East and I could tell you without a shadow of a doubt who the combatants were and who the non-combatants were, who were my allies and who were my industry partners."
But space is different. There are no shiny lines.
"We are all in the exact same domain, fighting and operating at the exact same time, operating on the same networks, fighting over the same amount of physics and space. We're all intertwined," Guetlein said.
Before Space Force's start, the Defense Department believed it had to build and own the capacity by itself.
"I didn't believe I could rely on my commercial partners and my industry partners to be there in times of crisis," he said.
There were questions of whether the commercial systems would be up to the quality and scale DOD needed. Guetlein said there were similar concerns about allies, but U.S. technology was so much more mature.
"That was the lens we went into Ukraine with," Guetlein said. "What we are learning from Ukraine is that our industry partners will be there. That the capabilities they bring are going to be resilient and bring redundancy to the fight."
In fact, Guetlein said DOD has learned that it can't deliver the capacity needed by solely relying on its own systems.
There were concerns that by using commercial satellite systems, that DOD was painting a target on their backs.
"They aren't a combatant, but are we making them a combatant?" Guetlein said.
Then Russia came out and said everyone is a target.
"Well, if we are all a target, we better figure out how to collaborate together, operate together, integrated together, network together and survive together," he said. "That's the biggest thing we've learned from Ukraine."
The war in Ukraine was like "pickup basketball" at the beginning, said HawkEye 360 John Serafini. He leads a satellite firm that provides space-based intelligence systems.
"Everyone wanted to get involved and help but there was no infrastructure, no contract vehicles, no relationships, particularly with the Ukrainians," Serafini said.
Ukraine, the U.S. and its allies lacked what he called "connective tissue" and that took time to build.
"When we think about the future and potential conflicts in the South China Sea and Taiwan etc., we need to build that connective tissue beforehand, during times of peace," Serafini said.
In the early days of the war in Ukraine, much of the work happened over the phone and it could take weeks or even a month to get answers to questions.
"Ukraine's allowed us to build those machine-to-machine connections and the relationships between companies and the government so that when we do need answers you get that answer in minutes, not days or weeks," Guetlein said. "The relationships are a massive gamechanger going forward."
The war in Ukraine also has changed how the commercial providers look at their relationship with the government, Serafini said.
"One of the biggest lessons for the commercial space ecosystem was realizing that the sun doesn't revolve around you and your company," Serafini said. "You are part of a larger ecosystem and you have to understand that interoperability and doing the integration work beforehand allows you to be able to deliver a valuable capability. So can we do that in advance this time rather than having to do it on the fly?"