GovTribe's top 20 contracts for October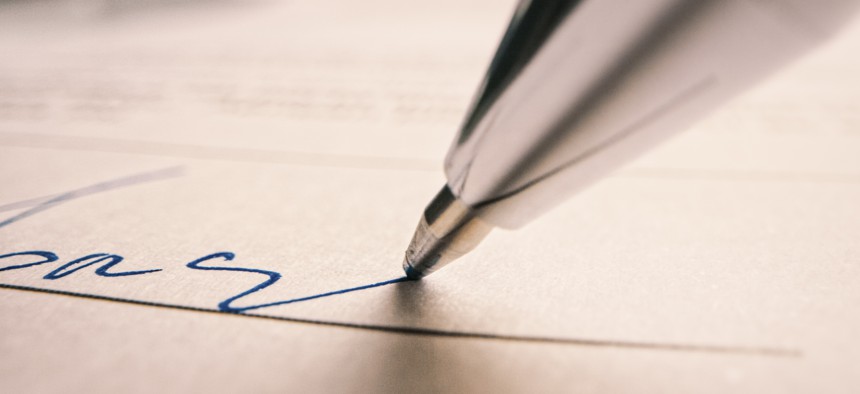 Based on an analysis of their website traffic, our colleagues at GovTribe have picked the top 20 contracts for October that are being closely-watched across the industry.
We have the latest download from GovTribe analyzing their traffic to establish their monthly Top 20 government contracts.
GovTribe, our sibling organization here at GovExec, based their rankings for October on 260,000 unique users and millions of interactions.
They call out the top three.
1. SEWP VI DRAFT RFP- 80TECH23R0001
Posted by: National Aeronautics and Space Administration
NAICS Category: 541512 - Computer Systems Design Services
PSC Category: DA01 - IT And Telecom - Business Application/Application Development Support Services (Labor)
This opportunity is for the sixth iteration of Solutions for Enterprise-Wide Procurements Government-Wide Acquisition Contracts by NASA's Information Technology Procurement Office.
The contract provides the federal government with an acquisition vehicle for IT products and services. The contract will have a 10-year effective ordering period, with the anticipated contract award date in October 2024 and a contract effective date of May 1, 2025.
2. FDA SCIENTIFIC SUPPORT SERVICES IN THE HEALTH SECTOR IDI
Posted by: Food and Drug Administration, Center for Drug Evaluation and Research
NAICS Category: 541990 - All Other Professional, Scientific, and Technical Services
PSC Category: R799 - Support - Management: Other
This opportunity will provide scientific support services in the health sector, specifically for the FDA. The contract is an IDIQ type with a maximum aggregate dollar value of $99.9 million over four years.
Services include research and technical guidance, scientific consultation, scientific investigations, procedures and analysis, publishing, laboratory technical and administrative support, task management, and transition services.
3. Business System Development and Maintenance Support Services
Posted by: Defense Health Agency
NAICS Category: 541511 - Custom Computer Programming Services
PSC Category: DA01 - IT And Telecom - Business Application/Application Development Support Services (Labor)
The United States Army Medical Research Acquisition Activity requires business system development and maintenance support services for the Electronic Grants System and the electronic Biomedical Research Application Portal.
These systems, which are part of the Platform for Research Administration, support the funding lifecycle of government-sponsored biomedical research. The contract also includes support for tasks such as information assurance, data management, network and hosting services.
| | | |
| --- | --- | --- |
| RANK | NAME | AGENCY |
| 4 | DRAFT - NGA - Boosting Innovative GEOINT - Science & Technology Broad Agency Announcement (BIG-ST BAA) | National Geospatial-Intelligence Agency |
| 5 | Request for Information for Threat Intelligence Enterprise Services (TIES) | General Services Administration, Assisted Acquisition Services Region 8 |
| 6 | U.S. Department of Energy (DOE) Request for Information (RFI) to identify potential sources to provide IT Professional Services across the DOE enterprise (CBOSS 2.0) | Energy Department, Headquarters |
| 7 | U.S. Customs and Border Protection Office of Training & Development Enterprise Training & Resource Management System & Support Services | Customs and Border Protection |
| 8 | USDA STRATUS Cloud Agreement (BOA) Pool 3: SaaS Providers | Agriculture Department, Assistant Secretary for Departmental Management |
| 9 | NTIA Federal Spectrum Data Systems Modernization RFI | Commerce Department, Office of the Secretary |
| 10 | Mike Monroney Aeronautical Center (MMAC) Admin Support Services | Federal Aviation Administration, Franchise Acquisition Services |
| 11 | SETA IV Support Services Request for Information | Department of Homeland Security, Office of Procurement Operations |
| 12 | TECS Modernization Stabilization, Enhancements, and Sustainment Support (SESS) | Immigration and Customs Enforcement |
| 13 | | Department of Health and Human Services Headquarters |
| 14 | Information Analysis Center MAC (IAC MAC) On-Ramp Pool 1 (Unrestricted Full and Open) and Pool 2 (Partial SB Set-aside) | Air Force Materiel Command |
| 15 | | Veterans Affairs Department, Technology Acquisition Center |
| 16 | FMS-ACES Official Announcement | Army Contracting Command, Rock Island |
| 17 | ARTIFICIAL INTELLIGENCE AND NEXT GENERATION DISTRIBUTED COMMAND AND CONTROL | Air Force Research Laboratory |
| 18 | FSS Website Design | Air Force Space Command |
| 19 | Administrative Support Services - 4 Locations Indiana & Illinois | General Services Administration, Public Buildings Service Region 5 |
| 20 | Charter Flight Services | FBI Headquarters Division |
For more on GovTribe's data and other services, click here.