State Department wants IT support for modernizing its consular systems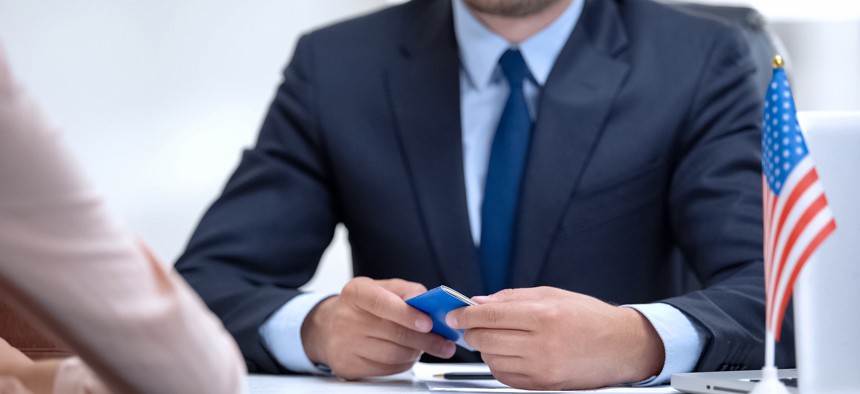 The department is conducting market research for modernization capabilities to help improve customer experience at passport agencies, its global queueing system and embassy and consulate waiting areas.
The State Department is planning to modernize the customer experience for some of its Bureau of Consular Affairs operations and is conducting market research to help inform a potential contract. 
In a sources sought notice released Monday, the Bureau of Consular Affairs' Office of Consular Systems and Technology outlined designs on a possible IT support contract to assist the worldwide implementation of its Consular Affairs Queue Management program. 
The CAQM aims to modernize technology systems for some of the bureau's customer-facing services, particularly by applying analytics to queuing software suites to help process and reduce wait times. 
"The objective of CAQM is to modernize, engineer, integrate, implement, secure, deploy and maintain the capabilities that support the customer experience at CA's domestic Passport Agencies lobbies, global queueing system and waiting areas at the agencies, and of U.S. Embassies and Consulates worldwide," the notice said. 
CAQM's enterprise queue management software platform, Q-Flow, has already been deployed to all of the bureau's domestic passport agencies, in addition to various overseas posts, "at varying stages of construction."
To help expand those efforts worldwide, the notice calls for a contractor to assist in consolidating the IT environment into one technology framework and helping ensure interoperability between legacy and newer systems.
The bureau is specifically seeking a contractor to help deploy the CAQM to "approximately 230 overseas posts, 24 domestic passport agencies, two domestic visa processing centers and visa nonimmigrant and immigrant locations," with Secret-cleared personnel providing onsite to two or more consular posts a month. 
"The scope of work is to obtain Q-Flow Enterprise Licenses, Q-Flow Hardware, Q-Flow Software, Q-Flow Tier III Technical Support and Q-Flow Integration Support or other enterprise queue management platform cloud-based solutions," the notice said, in addition to seeking a contractor that can provide project management, technical support services and help to implement up to five CAQM installs a month.
The contractor would also be responsible for helping maintain or provide a CAQM cloud solution to help further scale and modernize the program's capabilities, while ensuring interoperability with existing systems. 
Qualified contractors must have a current Secret-level facility clearance and be located within 25 miles of Consular Affairs headquarters in Washington, D.C. Interested stakeholders have until 11 a.m. on Aug. 1 to respond.