Blue Origin wins $3.4B shot to build lunar lander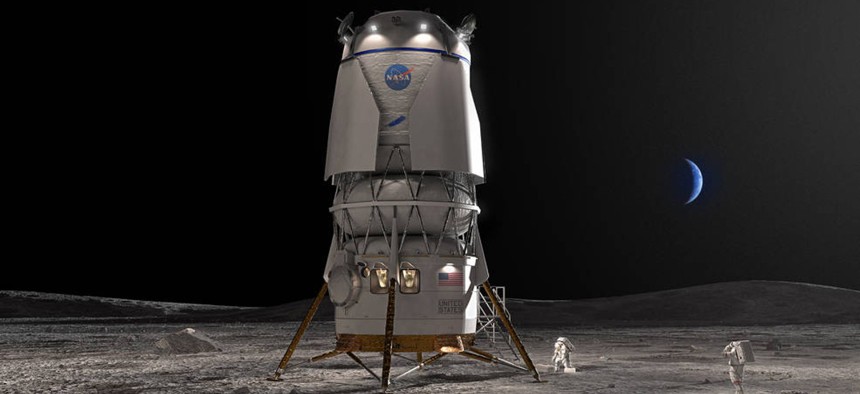 The company won the competition to build a second lander for NASA that will ferry astronauts to the surface of the moon as part of the Artemis program.
Blue Origin has made a comeback in the race to provide NASA with a lander to ferry astronauts from a lunar orbit to the surface of the moon as part of the Artemis program.
The company lost an earlier competition to SpaceX, which is building the landers for the Artemis III and Artemis IV missions. Blue Origin also lost its bid protests but when after getting a boost in funding, NASA ran another competition to add a second lunar lander.
Blue Origin bested a team led by Leidos subsidiary Dynetics for the $3.4 billion contract. The company will build a lander for the Artemis V mission, which likely won't happen until the end of the decade.
The contract includes an unmanned demonstration mission to the surface of the moon followed by a crewed demo in 2029.
"Today we are excited to announce Blue Origin will build a human landing system as NASA's second provider to deliver Artemis astronauts to the lunar surface," said NASA Administrator Bill Nelson, in an agency statement.
NASA's intent was always to have two companies building landers as a way to foster competition, drive down costs and build in redundancies. It made the single award to SpaceX because it couldn't afford two contracts, the agency said at the time.
Blue Origin will design, develop, test, and verify its Blue Moon lander to meet requirements for recurring astronaut expeditions. Astronauts will use Blue Moon to travel from the Gateway, an orbiting space station, to the surface and back.
The Artemis program is NASA's plan to explore more of the moon and prepare for human flights to Mars.
"We are in a golden age of human spaceflight, which is made possible by NASA's commercial and international partnerships. Together, we are making an investment in the infrastructure that will pave the way to land the first astronauts on Mars," Nelson said.
For the Artemis V mission, NASA's Space Launch System rocket will carry four astronauts to lunar orbit aboard the Orion spacecraft. Once Orion docks with Gateway, two astronauts will transfer to Blue Origin's human landing system for about a weeklong trip to the Moon's South Pole region where they will conduct science and exploration activities.