AFRL wants white papers for $500M quantum information science solicitation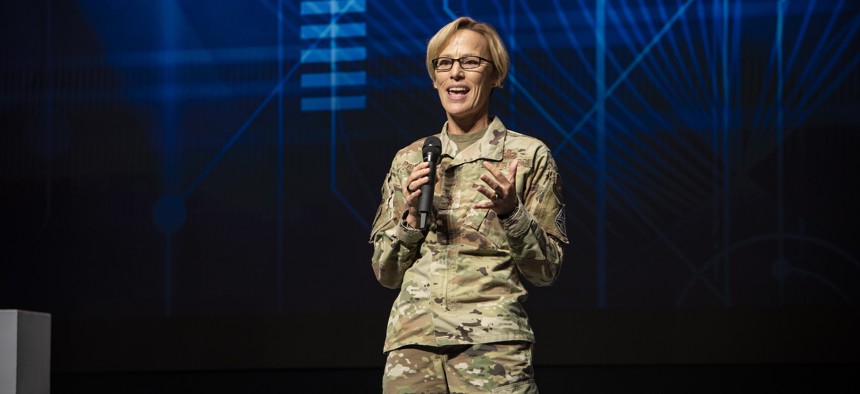 The Air Force's scientific research component issued a broad agency announcement calling for the research, design and development of quantum technology.
The Air Force Research Lab is calling for new quantum information science solutions, including advanced algorithm designs and quantum networking, under a broad agency announcement unveiled Tuesday.
The four-year, $500 million follow-on BAA is part of a two-part procurement where the Air Force's scientific research component will solicit white papers outlining possible quantum information science solutions that could be applied to C4I—short for Command, Control, Communications, Computers & Intelligence-related information and communications technologies.
The new contract will pick up quantum work from a previous BAA awarded in 2020 and is set to expire by the close of fiscal 2024. The 2020 vehicle included a $50 million ceiling, but the new contract includes $500 million in funding dispersed over five years, starting with $93 million in fiscal 2023.
The presolicitation includes initial submissions for the research, design, development, concept testing, evaluation and experimentation of potential quantum-based solutions that could be applied to the ARFL's Information Directorate and its work on C4I. 
Those initial submissions are expected to include research on quantum algorithms and computing, memory-node-based quantum networking, quantum information processing, heterogeneous quantum platforms and quantum information sciences.
"This effort seeks to advance and assess advanced algorithm designs and technologies harnessing emerging quantum computing techniques, and to investigate entanglement distribution across a heterogeneous quantum network, to support AFRL/RI's C4I mission," the presolicitation notice said.
Quantum information science continues to be a sought-after capability within the Defense Department, both for its potential to revolutionize computing power and over concerns about the emerging technology's possible ability to break modern encryption.
Once the AFRL has reviewed submitted white papers and identified possible future solutions, it will request a formal technical and cost proposal from the chosen applicants.
Step two of the process will include a request for proposal and ultimate contract award, which could take the form of procurement contracts, assistance instruments or other transaction authorities. If an OTA results in a successful prototype, there may be potential to transition the award to a follow-on production contract.
Individual contract awards are expected to run three years and could include anywhere from $500,000 to $27 million in funding, though there is potential for awards up to $100 million.
The program is open through fiscal year 2027 with funding set for awards to be made annually. Participants interested in a fiscal year 2023 award should have white paper proposals in by April 28, 2023.