Peraton gets second chance at $800M in Social Security IT work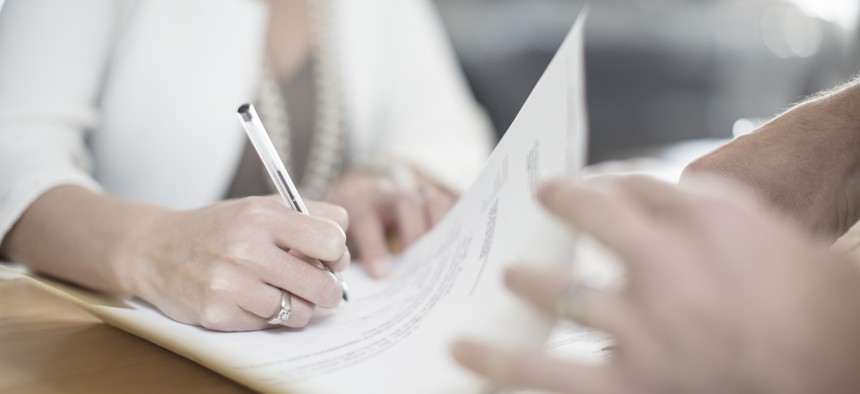 Peraton has scored an early victory its fight to wrestle away a pair of Social Security Administration IT task orders worth more than $800 million combined rom Leidos.
Both companies battled for the task orders to provide SSA with IT infrastructure and programmatic support. SSA picked Leidos at the end of June, but Peraton quickly followed with a protest.
SSA decided this week to pull back the awards and undertake several revisions before making a new award decision.
Peraton had four primary complaints:
The technical evaluation was unreasonable.
There was no price realism analysis.
The award decision was improper.
SSA changed course and made a single award for the task orders.
The price realism challenge seems to be the sticking point for SSA. As part of its corrective action, the agency has told bidders it will not conduct a price realism analysis in the new evaluation.
SSA will accept new price proposals, as well as re-evaluate the technical aspects of both bids.
A new best value tradeoff analysis will be followed by a new award decision.
Leidos and Peraton were only two bidders for the task orders, Federal Procurement Data System records indicate.
Based on Peraton's protest and SSA's corrective action, it appears that Leidos understood that there would be no price analysis and Peraton didn't realize that. The wording in the solicitation apparently was ambiguous to Peraton.
Let's think for a minute about what the lack of a price realism analysis means.
It was explained to me that when there is no price realism analysis as part of the evaluation, bidders may feel more leeway to lower their prices because there will be no evaluation that will determine if the pricing is too low.
When one company bids with that mindset and the other competitor thinks there will be a price evaluation, an agency might end up with wildly divergent prices.
By asking for revised price proposals, SSA is giving Peraton a chance to correct its pricing. Leidos can also change its pricing, but probably doesn't have same wiggle room as Peraton.
Just because SSA isn't doing a price realism analysis, that doesn't turn the competition into a simple price shootout. SSA may be focused more on the technical proposals, but it could turn into a price shootout.
We'll have to wait until a new award decision is made before we learn which way SSA is going.
FPDS data puts the infrastructure task order award at a $128.1 million ceiling, while the programmatic support order is worth up to $709.6 million if all options are exercised. Both task orders run up to March 2028.
The orders fall under the potential 10-year, $7.8 billion SSA IT Support Service II contract vehicle awarded to Leidos, CGI Federal and Northrop Grumman in 2017.
Peraton gained access to that vehicle after its acquisition of the Northrop Grumman IT services business last year.
Given the value of the task orders, it isn't surprising that Leidos CEO Roger Krone spoke about them during the company's Aug. 2 earnings call with investors.
Krone said the task order for programmatic support including software development consolidates work done previously by Leidos and other contractors. The IT infrastructure task order represents new work. Leidos could double its revenue at SSA if it secures both orders.
The infrastructure task order seeks a contractor to help modernize and manage SSA data centers, data operations, networks, telecommunications, cloud computing and user services.
SSA had not taken its corrective action yet when Krone spoke to the task orders with analysts. But he offered some commentary on the frequency of protests.
"If a program is over $1 billion, I think the customer runs the acquisition process with the knowledge that there will be a protest," Krone said. "A protest is almost the normal and the bigger the program, the more likely the protest."