AIS' blueprint focuses on workforce and consumer tech in government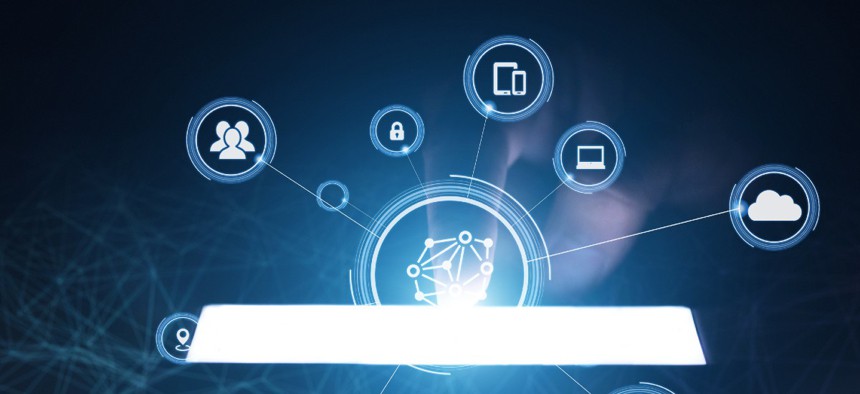 Applied Information Sciences has tripled in size over seven years and has in place a new federal business leader to help steer the next phase of its strategy.
Applied Information Sciences has approximately 1,000 employee-owners that will drive their company's push to take on larger programs in the next phase of its strategy.
The four-decade-old provider of cloud engineering and other technology services has tripled in size since 2016, certainly an elevated upward curve for any company in the government market over that duration.
"When we say grow the company, it's not growth for the few, it's growth for everyone," AIS' co-founder and chief executive Larry Katzman said in an interview. "We are so fortunate to have people that have been here for five years, 10 years, sometimes decades, and their entire career with us."
In the spring of 2022, AIS acquired fellow cloud services firm Xgility to bring over 100 more technologists. AIS is also one of several integrators backed by Blue Delta Capital Partners, the government market-focused venture investment firm.
Reston, Virginia-headquartered AIS also has a significant book of business with commercial and highly-regulated customers that include Fortune 100 companies.
Focusing on the federal side, AIS' positioning for this phase of its growth push included its hire of industry veteran Kim Pack to lead that business as president.
Pack joined AIS in early November after 12 years at Wolf Den Associates, which included the transaction to form what is now Deep Water Point & Associates. She led Wolf Den as CEO and then became president of the combined entity.
During our interview, Pack told me one of her top priorities at AIS will be employee engagement and workforce culture amid what she called a "paradigm shift" in how all of that happens at companies.
Perhaps no megatrend in the government market and broader economy has taken the attention of business and public sector leaders as much as the matters of employee recruitment, development and retention.
"One of the dynamics that I think is important is the social collaboration and getting to the best idea wins wins and not making that formal," Pack said. "I think the new paradigm is working and finding old and new ways to collaborate wherever we are and where we can meet the employees."
Being a technology company can provide some advantages on how to do that in this era of disaggregated workforces and teams, Pack and Katzman said.
"We just have to be more intentional to protect our culture," Katzman added.
Then there is the work AIS does for federal agencies across its four touted focus areas of artificial intelligence and automation, cloud computing adoption, application development, and data and analytics.
Katzman indicated that AIS is looking to further fill out its service offerings beyond the technical services core it has been known for throughout its history.
Given AIS' commercial footing and key relationship with Microsoft, a core leg of AIS' strategy is to have prime positioning at the intersection of technology consumerization and government adoption of those tools.
That includes work on bringing into more government environments the technology tool that has dominated the agenda above all others: generative artificial intelligence.
In speaking with Katzman, he pointed out that AIS is in substantially every early Microsoft adoption program as part of their partnership. That means AIS has access to many of the high-profile AI tools through Microsoft's Azure cloud offering, including the now-very famous ChatGPT product.
"This is secure enterprise computing by the one of the world's largest enterprise software companies, wrapping this powerful technology in a way that it can be made safe to use in the enterprise," Katzman said.
As Pack pointed out, the federal government is "one of the largest de facto companies in the world" and that means every employee has access to consumer tech in their personal lives. It also changes their expectations of what they can and cannot access at work.
Pack's role at Wolf Den saw her lead a team that watched many of those drivers like the consumerization of technology and is a lens she is looking to bring to AIS.
"I want to continue that and infuse that into our partners, what we're trying to do and how we are doing it," Pack said. "We want to continue to be in the forefront of that."