CGI Federal brings the metaverse to Marine logistics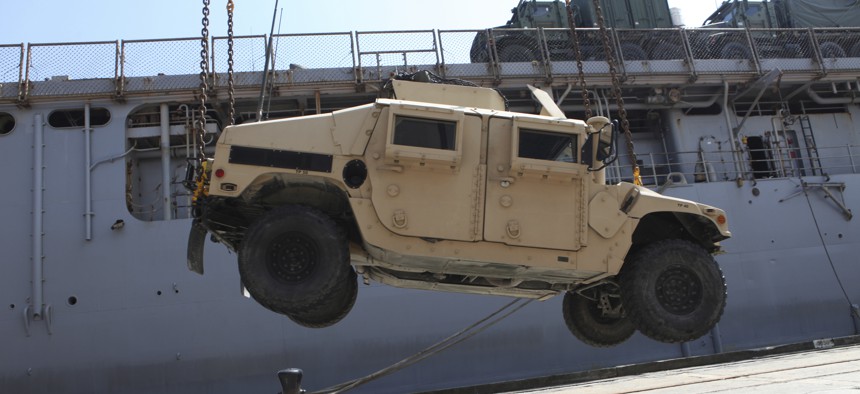 CGI Federal has completed a pilot to help the Marine Corps use metaverse-based solution for logistics operations in an approach the company believes as having broad applications across the government market.
The pilot with the Blount Island Command and its Platform Integration Center saw CGI Federal build a digital twin of the Earth to pull in huge datasets including information on assets, sensor data and telemetry and other information,
CGI Federal worked with its partner Battle Road Digital to create a twin that operated under the same laws of physics as the real world does, which is an important important detail.
"When you create a twin with real word physics limitations and you have the ability to integrate deep, rich metadata, you create an immersive metaverse that is human, interactive and realistic," said Victor Foulk, a vice president of emerging technology at CGI.
Right now, this isn't a metaverse that relies on virtual reality and augmented reality headsets. Headsets are viable, but Foulk told Washington Technology that on-screen interactions will remain the norm for years to come in part because of how expensive that equipment is.
"We need to normalize the adoption of the interactive platforms first, build out the data sets, build the engines," Foulk said.
As users get used to the metaverse and see the business cases develop, then the market will see total immersive experiences evolve. How people interact with the metaverse isn't as important as the power it can deliver, according to Foulk.
"We are implementing these capabilities for three primary uses cases: operations planning, interactive training and evaluation, and real-time operational oversight," Foulk said.
Those use cases blend modeling and simulation capabilities with sensor and telemetry data in one environment to improve outcomes, he said.
CGI Federal has been working with the Marines on asset management and logistics systems for decades. Foulk cited the Blount Island Command as one of the more forward leaning organizations when it comes to trying new technologies to deliver its mission, particularly pre-positioning and logistics movements.
"They have been a phenomenal partner so we brought this to them and said we want to demonstrate how this can improve logistics and operations," Foulk said.
After that conversation, CGI Federal got the green light.
The pilot digital twin also incorporated a local 5G network and low-earth orbit communications because those can be pain points when the command deploys globally.
CGI Federal demonstrated solutions in those areas earlier and incorporated the solution into the metaverse pilot because they allow for the collection of real world data in real time via application programming interface connections.
Foulk used the example of loading a ship with equipment.
"You have to get the right assets on the ship in the right order. It requires a lot of sensors and data and logistics planning," he said. "Being able to simulate that and do more detailed analytics and planning before you actually start moving assets will improve operational efficiency."
The metaverse allows planners to simulate thousands of iterations of a load.
"We can identify the permutations that are more optimal than the ones we're already using," Foulk said.
The technology has applications beyond the military. When Foulk spoke with Washington Technology, he was at the International Association of Chiefs of Police convention in San Diego.
"One of the demos that we are doing is simulating a First Amendment protest and modeling how the San Diego Police Department would plan and manage things," he said.
Some of those elements would include where the buses would drop off protesters, how traffic is rerouted, what personnel is deployed, what medical equipment is on hand, and the weapons and other equipment officers are carrying.
"We can model branches in the scenario and actually show all the participants how the plan would evolve in the event that there's maybe a disruption," Foulk said.
Planning and training related to disaster response and recovery, such as hurricanes, also could be prime applications for a metaverse solution.
The metaverse is gaining some traction as a business opportunity. In fact, the Marine Corps pilot ended just as the service branch released a solicitation for asset management and logistics. CGI Federal plans to incorporate the metaverse into their proposal.
"We are working on how we integrate the approach into that," Foulk said.