On Day 1 of ownership, L3Harris pledges to invest in Aerojet Rocketdyne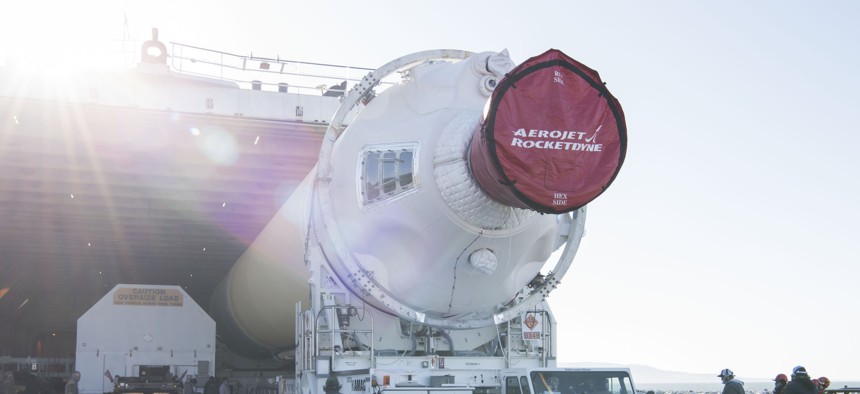 In an interview, the new president of what is now a segment of L3Harris Technologies also touted the rocket-maker's workforce.
On its first day as owner of Aerojet Rocketdyne, L3Harris Technologies pledged to make investments in what is now the company's fourth business segment and to keep selling rocket motors to other firms.
"We'll continue to invest internally over the next few years, as some of the key businesses and programs ramp up," Ross Niebergall, who was named Aerojet Rocektdyne's president on Friday upon closure of the $4.7 billion acquisition, said in an interview. 
Niebergall, who was L3Harris' chief technology officer until he was tapped to figure out how to integrate Aerojet into the company, touted the Pentagon's April investment of $216 million to increase production of rocket motors for Javelin, Stinger, and Guided Multiple Launch Rocket System rounds.
"I think we really have a great confluence of opportunities here to uplevel Aerojet Rocketdyne and, and really deliver to the primes and for the national security needs," Niebergall said.
While Niebergall repeated many of L3Harris' arguments for buying Aerojet, such as "improve Aerojet's product line" and "strengthen the industrial base," he also touted the skills of the 5,000-plus employees who build rocket motors for some of the U.S. military's most important weapons.
"We believe that Aerojet Rocketdyne has some of the most talented individuals in the liquid-fuel and solid rocket motor industry, as well as some of the most innovative," Niebergall said.
Aerojet has been hampered by executive management and quality problems in recent years, frustrating its customers.
"The challenges aren't inconsistent with what other industries and what other companies in the defense industry have experienced over the last few years with macroeconomic headwinds, supplier performance, increased demand for labor and the availability of it," Niebergall said. 
Aerojet Rocketdyne will become L3Harris's fourth segment, run from Palm Bay, Florida, co-located with the company's Space and Airborne Systems segments.
"I really want to make sure that we're focusing on integrating them into the company and getting that alignment, as well as having those resources to pull from the rest of the company to support this segment," Niebergall said.
L3Harris has renamed Aerojet's two segments and retained their leaders. Missile Solutions is being run by Tyler Evans and Space Propulsion and Power Systems by Jim Maser.
Other senior positions are being filled by Aerojet executives, some L3Harris employees, and some outside hires, Niebergall said.
"We've created a blended team recognizing that we have great talent in Aerojet Rocketdyne, but also recognizing that we want to have people help with that integration," he said. "I couldn't be happier with the team we've put together."
The acquisition expands L3Harris' growing portfolio. Overnight, the company has become a major player in both missiles and hypersonic weapons.
In recent years, L3Harris CEO Chris Kubasik sought to grow the company to better compete against the five largest U.S. defense firms. He's called L3Harris a "trusted disruptor," meaning it operates like a nimble tech firm with the know-how of a defense giant.
"Now the opportunity to expand that out to…a group of people in Aerojet Rocketdyne that are equally innovative is just very exciting for us," Niebergall said.