Viasat's bigger picture for its business and network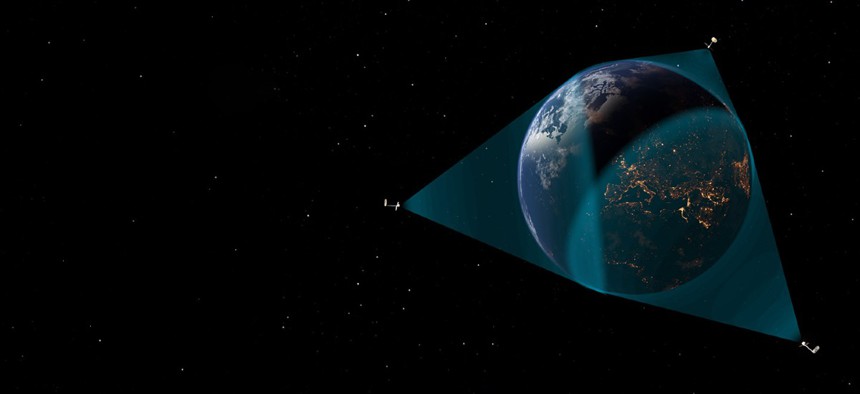 The satellite operator's pending sale of its Link 16 product business is all about focusing on the core network and related offerings ahead of a transformational series of launches.
Viasat's government business is quick to highlight what the pending divestiture of a secure data communication product business does not mean for the satellite network operator, as much as what it does mean.
It certainly is significant for Viasat to sell its Link 16 Tactical Data Links product business to L3Harris Technologies for roughly $2 billion. Viasat co-founder and CEO Mark Dankberg acknowledged such in this blog post to explain the transaction and what it means for the overall corporation.
Craig Miller did so as well in an interview at the Association for the U.S. Army conference in Washington, D.C. on Thursday.
"We've never done a transaction of this scale before, so for us this is really a big event, but it's a strategic big event and is something we didn't do lightly," said Miller, president of Viasat's government segment.
But as Dankberg wrote and Miller pointed out to me, the fact that L3Harris was a subcontractor to Viasat on the MIDS airborne terminal aspect of Link 16 meant the buyer and seller had great familiarity.
"They're going to nurture this business, they're going to value the people that are really the core of this business," Miller said. "L3Harris is going to continue to cultivate this and perhaps even accelerate the technology associated with it, faster than we would because it is their core."
As for Viasat: Miller said the transaction represents his employer's shift back to the rest of its portfolio of broadband satellite communications and service-based models.
"This isn't something we did as a signal that we're getting out of the defense business," Miller added.
Viasat has two upcoming milestones of its own that represent strategic big events for the company, to borrow Miller's description regarding the sale, and highlight what it views as in the core.
Launch number one for the future three-satellite constellation called Viasat-3 is slated for later this year. That will be followed by two more satellites being launched over the course of next year.
Miller estimated that constellation will have nearly 10 times the capacity of the current Viasat-2 network and added capability to surge bandwidth into hotspot regions on an as-needed basis.
Viasat-3 has been years in the making for the company given all the design, fabrication and testing needed for this kind of network used by governments and commercial enterprises.
"It's transformational for us because it will take us global, take the capability we have in the U.S. and basically have the equivalent of it everywhere in the world," Miller said.
Then there is Viasat's agreement to acquire fellow satellite communications network operator Inmarsat, which was first announced in November 2021 and in the midst of antitrust reviews.
In that blog post on the Link 16 sale, Dankberg said Viasat would have greater financial flexibility to undertake the combination with Inmarsat and support other reinvestments back into the business.
Dankberg also touted Inmarsat's extensive spectrum holdings and L-band satellite fleet as presenting growth opportunities to Viasat in narrowband satellite services and direct-to-mobile handsets.
Miller said that while the Viasat and Inmarsat networks operate separately for a period of time post-close as all parties work on bringing them together, they are "very sympathetic already" and that should make the integration more manageable.
"You'll be left with a situation where pretty much anywhere on Earth, you have the option of a Viasat satellite or multiple Viasat satellites, or multiple Inmarsat satellites that you can operate over," Miller said. "As you bring other network operators online and partnerships with operators in low-Earth orbits, it's a really rich strong hybrid network."
That concept of hybrid networks is also where Viasat's work in 5G comes into play, particularly regarding the way Miller defined it in a Project 38 episode last year as an extensible network management architecture.
Or in other words, 5G is more than just a spectrum protocol for more functionality in cell phones.
Viasat has been three several government contracts for 5G experimentation under a $600 million Defense Department initiative focused on that technology, including one announced in June focused on expeditionary advanced base operations.
Miller said that most recent award calls on the company to figure out how 5G can go into a place without any land-based telecommunications infrastructure.
How he responded to my question on what the ideal end state is may help explain Viasat's emphasis and what DOD wants to get to with its connectivity vision.
"The ideal end state is something where you're able to go out to a location where there is no terrestrial, telephony or networking services, drop one of these 5G stations and suddenly you've got a 5G bubble around that," Miller said.
"But it also has broadband satcom backhaul, so you can go out to an austere location where there are no comms, and set something up where you can use your cell phone and reach the internet."
(EDITOR'S NOTE: This story was subsequently modified to clarify the launch schedule for the Viasat-3 constellation)