TD Synnex unveils new brand for public sector shop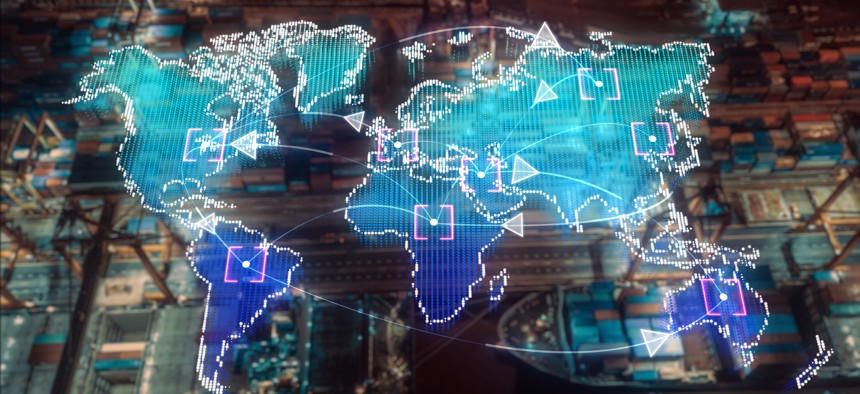 The global IT distributor has gone through a great deal of change over three years, including the transaction that created the company.
A new name is now in the distribution corner of the public sector IT market after a series of mergers and acquisitions to create what is now TD Synnex.
Working backwards should help make sense out of what has gone on so far. TD Synnex launched in September 2021 out of the combination of Synnex and Tech Data, the latter of which was acquired two years prior by the private equity firm Apollo Global Management and a group of co-investors.
In the midst of Apollo's move to acquire Tech Data, the latter was absorbing the public sector-exclusive IT distributor DLT Solutions in a $205 million cash transaction.
TD Synnex today estimates its pro forma annual revenue at nearly $58 billion and the workforce at around 22,000.
Now with all that activity behind it, TD Synnex said Wednesday it has combined the three public sector businesses across the legacy companies into a single solutions aggregation unit.
TD Synnex Public Sector will bring together what was formerly known as DLT, Tech Data Public Sector Solutions and Synnex GOVSolv. DLT was ranked No. 80 on the 2022 Washington Technology Top 100 list of the largest government contractors.
"This announcement comes at a time when the U.S. public sector is under pressure to deliver transformational change in terms of complying with modernization, cybersecurity and customer experience directives, while facing significant supply chain issues," said Reyna Thompson, senior vice president of public sector vendor management at TD Synnex Public Sector.
Carahsoft and ImmixGroup are the two main competitors of TD Synnex in the public sector market. That group of companies holds positions on substantially all contracts federal agencies use to buy commercially available IT products.
Data, analytics, cybersecurity, IT infrastructure and application lifecycle are among the key focus areas of TD Synnex Public Sector. That unit aims to offer into the market a technology portfolio that covers endpoint devices, edge computing and integrated software solutions.
"Our people are industry-leading practitioners with decades of experience serving the U.S. public sector," added Eddie Franklin, senior vice president of public sector sales for TD Synnex Public Sector. "We can now bring their collective insights to bear to best support our technology vendors and channel partners, as well as their customers across the federal, state, local and education landscape."