Lockheed sketches out a partial outlook along with the complications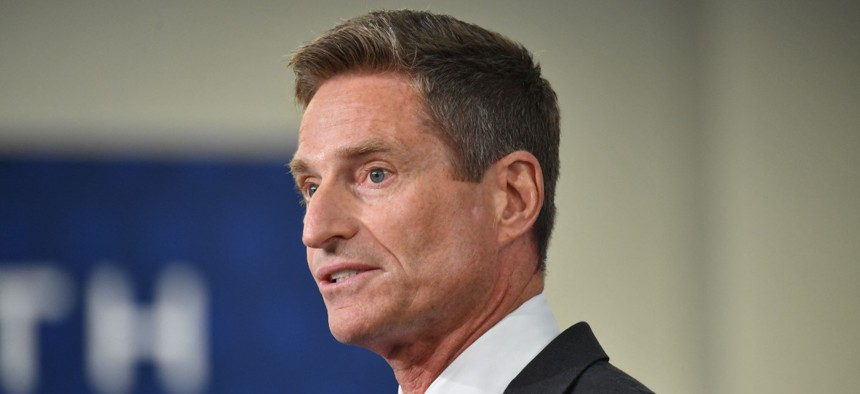 The world's largest defense company believes it knows when growth will return even while facing several unknowns.
Talent headwinds, dysfunctions in supply chains and inflation have certainly taken up a lot of attention and space in our coverage of the government market.
Yet they remain significant as factors in how companies plan for the future and articulate how they go about their strategies, particularly the publicly traded firms and the way they talk about themselves to investors.
During Lockheed Martin's third quarter earnings call Tuesday, CEO Jim Taiclet acknowledged the unknown of what supply chains will look like in 2023 as one of three big-picture issues "we just don't have clarity on."
"If there's another COVID spike in the winter like there was last time, we're going to have effects in our supply chain," Taiclet said.
A second unknown Taiclet mentioned is what the defense budget will look like in January. That is the same month Lockheed reports its fourth quarter and full-year results for 2022, plus gives an initial financial outlook for 2023.
Knowing the defense budget's general status will also help answer this third unknown Taiclet cited, which is not unique to Lockheed itself:
"Along with that (budget), what's the status of the major orders and contracts that get put into that budget because as you're again pointing out, what's the mix of the budget increase going to be as far as what the contracts and orders come from that," he said.
Lockheed already sees 2023 as one of flattish sales compared to how it sees this year ending at $65.25 billion, which represents a nearly 2-percent decline from that recorded in 2021.
In looking at those figures: consider that substantially all publicly-traded companies tend to not tip their hand that much on how they see next year looking on the financial performance front when the current year has one quarter to go.
But there are some occasions when they will at least give some parameters on their outlook, as Lockheed has done in this instance.
The world's largest company also has painted a picture of how inflation is impacting its operational cadence and in turn the financial aspects.
During the call Tuesday, Chief Financial Officer Jay Malave connected inflation to what Lockheed sees on its labor front and in the supply chain.
Given that 60% of Lockheed's business is fixed-price, Malave said much of its contracting action and implementation to manage the risk revolves around supply chain management.
That means for "whatever duration of time that we commit in our contract with our customer, we have the same commitment to our supply chain to us over that same period of time," Malave said. "In many of those cases, we don't bear that risk either."
Work to pursue and compete for future programs are where inflation apparently becomes much more prominent, however.
"We are seeing different changes both on the labor side and in supply chain, and it does have an impact really going forward on bid and proposals," Malave said. "It's something that we have to keep in front of us, and we're having dialogues with the customer."
Economic price adjustments to contracts with the Defense Department have been difficult to obtain even with the Pentagon's slight shift in policy about how those work, Malave added. (See below for an interview with Malave on CNBC.)
One broad category of knowns for Lockheed remains this piece Taiclet has spoken of since he became CEO two years ago: get more small and midsized companies into the overall defense ecosystem by investing in and partnering them.
The Lockheed Martin Ventures fund's size doubled to $400 million over the summer in a move aimed at giving more resources for backing startup technologies whose offerings are of promise to Lockheed's customers and the companies itself.
For the partnership aspect, Taiclet said Lockheed has created a new initiative called "LM Evolve" for what he described below in the form of a question:
"How do we do joint ventures or commercial alliances with midsized companies, co-invest... there on the commercial side, or the defense industrial base side, or space industry in ways that we can take that outside of our rate structure and manage it and fund it in a different, more creative way?"