How to track potential new partners and competitors entering the market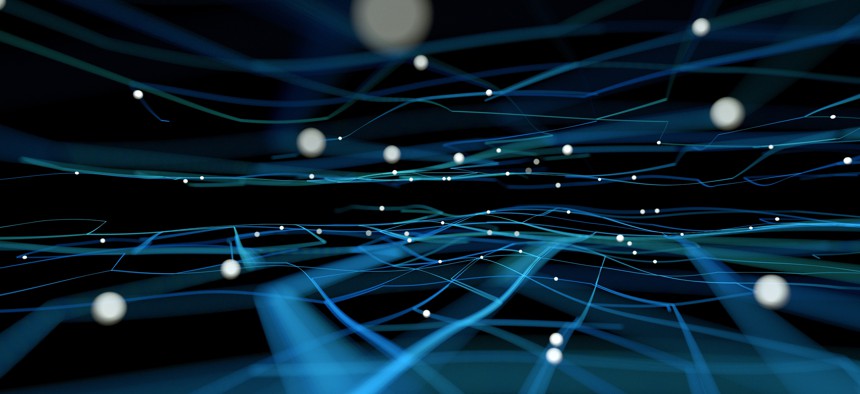 We have launched the first quarterly Washington Technology Market Disruptors, powered by GovTribe, to help the WT audience track new entrants into the government market. Nearly 500 companies in the last quarter of 2022 won their first government contract; here's how you learn about them.
Well-established players dominate the government market. They attract the most attention and capture the most lucrative contracts. But do they disrupt the market?
The answer is no for the most part.. Disruption most often comes from new entrants and that's why we've teamed with our sibling organization GovTribe to create this new quarterly feature -- Washington Technology's Market Disruptors, powered by GovTribe's New Entrant Report.
GovTribe has created its New Entrant Report tool for helping identify companies that win their first award as a prime contractor in the federal market. The tool can tap into any NAICS code or product and service code.
For our Top 100 report, we used the PSC codes that we use to analyze federal procurement data to rank the largest contractors providing IT and systems integration services in the federal market. Those companies are the biggest of the big.
But with Market Disruptors, we turn the Top 100 analysis on its head to discover companies that are just earning their stripes in the market as prime contractors. Those companies are potential partners, competitors and maybe even eventual acquisition targets.
---
To watch Nick Wakeman, Nate Nash of GovTribe, and Stephanie Geiger of Government Marketing University discuss the value of the Market Disruptors and the new GovTribe tool click here to registered for a free webinar.
---
Our report looks at government obligations for the quarter that ended Dec. 31, 2021.
During the quarter, 497 new entrants won $357 million in awards. That represents less than 1 percent of the $38 billion in total awards, but another measure might be more significant.
The average ceiling of awards won by the 497 new entrants was $718,000, compared to the average of $463,000 average for all awards.
It is also interesting to note how these companies are winning. A clear majority – 290 of the 491 we were able to analyze in detail -- were not designated as set-aside contracts.
Of the small business awards, 190 were small business competitions. Just five awards were 8(a) sole source, and two awards were competitive 8(a) awards.
The level of competition across all awards also was high with 339 competed and 145 not competed. There were five awards that were tagged as not available for competition.
Our analysis also revealed that the Air Force is the most open to working with new companies.
The Air Force clocked in with 134 transactions in the quarter, which far outpaced the next-on-the-list Army with 23 transactions. The U.S. Geological Survey issued 22 awards and U.S. Agency for International Development had 20 awards.
Looking at the top product and service codes, 183 transactions were tagged under the R family that represents a broad range of professional services work. The AC family of codes for national defense research-and-development had 139 transactions. The next closest was the U codes for training with 23.
Analyzing the contract type gives a clear picture of how these companies captured their first prime contracts and that's through purchase orders. Of the 491 awards we analyzed in depth, 355 were via purchase orders. As a side note, other transaction authority awards only numbered three.
While initially surprised by the large number of purchase orders, it makes sense that they were the dominant method. New entrants to the market likely don't have a spot on any large contract vehicle.
For any newcomer to the market, a purchase order is the easiest path to follow. Government buyers have greater leeway to use a purchase order, especially for these relatively small contract actions. Plus, it is a low-risk way of trying out a new contractor.
You see that low-risk approach in the range of sizes of the contract awards. At the high end, we have a $109 million award over five years. On the low end is an award for just $161 over five days.
Below I've pulled out the top 25 companies by the size of their award and in just that sampling you see the breadth of the market. Most of these are small businesses, even if they aren't in a set-aside program. But several of these companies are joint ventures.
In the case of the Baker-AECOM Environmental Compliance joint venture: that was formed by large businesses Michael Baker International and AECOM to provide architectural and engineering services for environmental compliance programs.
But there also are joint ventures comprised of small businesses such as BFS Solutions and NuvoSum Consulting. Small businesses often form joint ventures to pool resources and past performance to pursue larger contracts.
In these two cases, BFS won a five-year, $8.1 million to provide professional services to the Air Force. BFS was created by Spartan Operations Group and Blue Force Inc.
NuvoSum is a mentor-protégé joint venture between Nuvologic Consulting and Summit Consulting. They won a one-year, $3.4 million contract with Housing and Urban Development.
Another from the top 25 new entrants worth mentioning is Envizi Inc. of Sydney, Australia. They won a $12 million contract in October for business application and application development services to the General Services Administration. IBM acquired that company in January.
Below is a chart of the top 25 new entrants but remember at GovTribe you can explore this tool and get deeper analysis on individual companies and transactions. You can also use your own parameters to narrow your analysis or make it broader.
| Company Name | Headquarters | Award Value |
| --- | --- | --- |
| | | |
| | | $49M |
| Strategic Technologies Analytics Group LLC | San Antonio | $16M |
| Alpha Communications Services LLC | Fairfax Station, Virginia | $14M |
| Strata Decision Technology, LLC | Chicago | $13M |
| | Sidney, Australia | $12M |
| Sierra Wireless America Inc. | Richmond, British Columbia | $11M |
| Next Phase Solutions and Services Inc. | Columbia, Maryland | $10M |
| National Institute Of Innovation And Technology Inc. | Hanover, Maryland | $9.5M |
| Virginia Manufacturers Association Inc. | | $8.2M |
| | | $8.1M |
| | | $7M |
| Baker-Aecom Environmental Compliance JV | | $6.2M |
| Savannah River Mission Completion LLC | | $5.5M |
| | | $4.5M |
| Sopham Consulting Group Inc. | | $3.6M |
| | | $3.4M |
| Coagulo Medical Technologies Inc. | Auburndale, Massachusetts | $2.9M |
| Jacobs BV A Joint Venture | | $2.2M |
| | | $1.7M |
| | | $1.6M |
| | | $1.5M |
| | | $1.3M |
| | | $1.3M |
| | | $1.2M |