BigBear.ai to go public via SPAC merger deal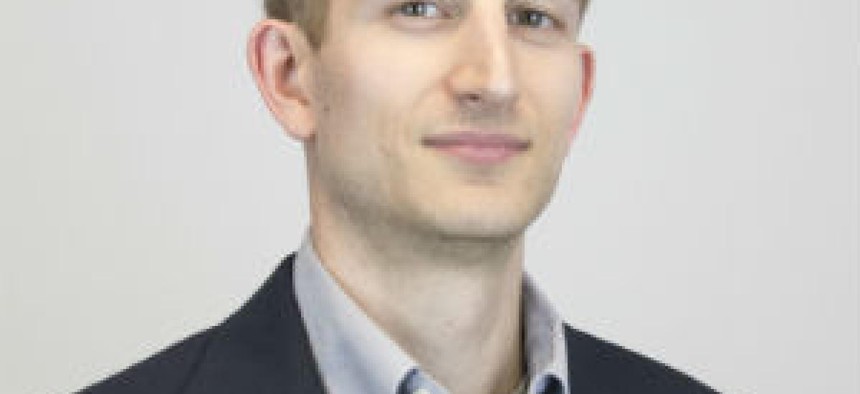 BigBear.ai, a private equity-backed artificial intelligence firm formed in February, has agreed to a transaction that will result in it becoming a publicly-traded company later this year.
BigBear.ai said Friday it will merge with GigCapital4, a special purpose acquisition company or so-called blank check firm, and plans to list on the NASDAQ stock market in the third quarter of this calendar year.
Currently owned by AE Industrial Partners, BigBear.ai works with government agencies and customers in certain commercial industries on taking in real-time data and applying both new technologies and techniques to make decisions in complex situations.
AE Industrial will continue on as an investor after the deal closes. That private equity firm and other existing BigBear.ai stockholders will then hold 73 percent of shares in the company, with public shareholders having 21 percent and GigCapital4's sponsors owning 6 percent.
Led by CEO Reggie Brothers, BigBear.ai was formed through a merger of two other AE Industrial portfolio businesses in NuWave Solutions and PCI.
AE Industrial acquired NuWave in Summer 2020 and hired Brothers as chief executive in the wake of that transaction. He will continue to lead BigBear.ai after it lists on the public stock market.
Brothers is also a former undersecretary of science and technology for the Homeland Security Department and before that was deputy assistant defense secretary for research.
When I spoke with Brothers last year after he became CEO of then-NuWave, he said the same problem set of data volumes and quick decision cycles exists among both federal agencies and the business communities.
Artificial intelligence and machine learning is not the only area of focus for what is now BigBear.ai. Brothers told me at the time that the front end work of aggregating and cleaning data is just as key as the analytics component in the latter phases.
"We're really here about how do we dominate the decision space," Brothers said then. "How do we take dirty data because so much of it is dirty, and quickly and accurately put it in an environment, put it through an analytics cycle that produces a cycle and gives the desired outcome."
If all goes according to plan, BigBear.ai will fetch an enterprise value of approximately $1.57 billion from the trading of its stock. The company posted $140 million in revenue last year, sees $182 million in sales this year and is projecting that number to hit $764 million in 2025.
BigBear.ai also sees its bottom line improving further over that time span, going from $23 million this year to $159 million in 2025 adjusted EBITDA (earnings before interest, taxes, depreciation and amortization).
This deal also represents the second portfolio company that AE Industrial is helping take public, following the pending listing of space infrastructure company Redwire that was announced in March.
Regarding BigBear.ai's SPAC partner in the deal: in February, GigCapital4 closed on a $358.8 million initial public offering that represents the capital it raised from public investors to merge with another company and take the latter public.
GigCapital4 focuses on the technology, media and telecommunications and sustainable industries. This SPAC is led by Executive Chairman Avi Katz and CEO Raluca Dinu, respectively veterans of 30 years and 20 years in the technology industries.
Management of BigBear.ai and GigCapital4 are hosting a webcast and conference call for investors Tuesday morning to reveal more on the transaction and long-term strategy.
William Blair is serving as exclusive financial adviser, Kirkland and Ellis LLP is serving as legal counsel and Grant Thornton is serving as auditor to BigBear.ai.
Oppenheimer & Co Inc. is serving as capital markets adviser and placement agent, BMO Capital Markets is serving as exclusive financial adviser, DLA Piper LLP is serving as legal counsel and BPM LLP is serving as auditors to GigCapital4.
Mayer Brown LLP is serving as legal counsel to Oppenheimer & Co Inc., BMO Capital Markets and William Blair.